It has been a mere 2 months since Cliffs Natural Resources Inc. (NYSE:CLF), the iron-ore producer from the US was taken over by hedge fund Casablanca Capital. Through the course of these 2 months, problems for the mining company have continued to mount, particularly for its mines in Australia, showing no signs of relenting in the future. This has made the company prone to takeover bids as competitors are sensing urgency and looking to seize the opportunity. Cliffs has attracted interest from Australian mining companies and is expecting bids in the very near future.
Problems facing Cliffs Natural Resources Inc.
Production and extraction for Cliffs Natural Resources Inc. is based mainly on iron-ore and met coal. Prices of iron ore have shown a significant drop over the years and their slide has continued throughout this year with no upward changes expected. Moreover, prices of met coal have also fallen significantly over the years and are showing no signs of a rebound. Sales revenue forecasts for 2015 are showing negative sales margins.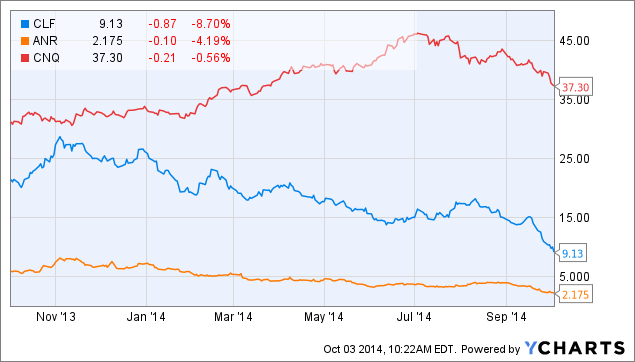 Cliffs Natural Resources Inc. was affected by slowdown in the growth of the Chinese economy, as their consumption of steel showed a significant decline. Trends in iron ore prices indicated a 42% drop in 2014 to a 5-year low. This was spurred by expansion of low-cost output by Australian producers thus resulting in a global surplus. The surplus is expected to more than triple over the course of the next year as Australian producers continue their tremendous output growth. As of 26th September 2014, Cliffs' stock prices spiraled downward 4.4%, closing out at a new yearly low of $10.94. Shares have shown an overall decline of 58% since the beginning of this year. These alarming figures highlight severe inefficiencies not only in production but also in investment. Cliffs has either invested in low-productivity mines or has failed to utilize its existing resources in a productive manner.
Possible solutions to their problems
Casablanca Capital has several options to weigh, as it plans to save Cliffs Natural Resources Inc. from its current crisis. Competitors have made their intentions clear particularly when it comes to Cliffs' mines in Western Australia. Currently Casablanca Capital has decided to pursue the sale of assets along with a $200 million buyback. The Chief Executive Officer of Cliffs Natural Resources Inc. Lourenco Gonclaves has revealed his intentions of selling Cliffs' mining assets abroad as well as divesting from coal operations in the US.
Cliffs is working with Jeffries Group LLC on the sale of its assets in Australia and with Deutsche Bank AG (NYSE:DB) on the divestment of coal operations in the US. At the forefront of the producers interested in buying Cliffs' Australian mines are Mineral Resources Ltd. (NYSE:MIN) and Mount Gibson Iron Ltd. (MGX). Australian assets in Cliffs' books reveal a value of $1.08 billion. Valuation from investors shows a value of $878 million. If such a deal were to come to fruition, Cliffs would suffer a $130 million loss. On the other side, the resulting liquidity boost from this would enable Cliffs to green light its $200 million buyback program. With stock prices hitting a yearly low of $10.94, this will allow Cliffs to buy back over 18 million shares which account for almost 12% of its total outstanding shares.
This might help save the company's spiraling share prices if implementation of this program is efficient and complete. If this deal is moved forward with then the assets left at Cliffs' disposal will include its iron ore mines in the US and Canada along with some of its North American coal assets. Casablanca Capital does have a huge task at their hands as they have continuously suffered since taking over control of Cliffs, this deal might turn out to be a major turning point if implementation is robust.
Conclusion
Having analyzed the problems faced by Cliffs Natural Resources Inc. and its proposed action plans to counter those problems on multiple fronts; it would be fair to say that these are dire times for their investors in particular, seeing how Casablanca Capital has struggled. Counter measures on the part of Casablanca do suggest a clear intent of turning things around on the part of the hedge fund. However, future prospects remain shaky at best, considering the fact that any concrete turnaround would depend on the efficient implementation of the targeted counter measures. Stock prices have dropped alarmingly and show no signs of going any other way. In its current situation, Cliffs Natural Resources Inc. would be an extremely risky prospect for investors, with any potential rewards not kicking in until the very distant future.
Disclosure: The author has no positions in any stocks mentioned, and no plans to initiate any positions within the next 72 hours.
The author wrote this article themselves, and it expresses their own opinions. The author is not receiving compensation for it (other than from Seeking Alpha). The author has no business relationship with any company whose stock is mentioned in this article.