Coca-Cola (NYSE:KO) is the world's largest beverage company led by Coca-Cola, the world's most widely recognized brand. KO has 14 billion-dollar brands, including: Diet Coke, Fanta, Sprite, Coca-Cola Zero, vitaminwater, Powerade, Minute Maid, Simply and Georgia. Through the world's largest beverage distribution system, KO has ultimate consumers (you and me) in more than 200 countries (the company says more countries than the UN).
Last year, KO acquired the North American assets and liabilities of Coca-Cola Enterprises (NYSE:CCE), the largest bottler in the world, for $12.3 billion while CCE acquired KO bottling operations in Norway and Sweden for $822 million. KO will integrate its five business components into a 21st century bottling and customer service operation in the U.S. and Canada. Operational synergies of at least $350 million per year are expected over the next four years.
Business was good in 2010. KO had a strong 6% volume growth in Q4 and 5% in 2010, led by North American volume growing 8% in Q4 and 2% in 2010. Q4 EPS was $2.46, with comparable (continuing) EPS at $0.72, up 9% from the prior year. The larger number for EPS includes the CCE transaction, which resulted in a one-time gain. Full-year EPS was $5.06, with comparable EPS at $3.49 (again, the "real" ongoing number), up 14% from 2009. Q4 net revenue was $10.5 billion, up 45% (including a 37% benefit related to the CCE transaction). For 2010, revenue was $35.1 billion, up 14% (including an 8% related to the CCE transaction). Worldwide volume growth was led by brand Coca-Cola, up 4% in Q4 and in the full year.
KO has been a worldwide company for most of its 125-year history. Its website has a picture of a Coca-Cola sign in China from the 1930s. Minute Maid Pulpy, introduced in China in 2005, reached the $1 billion sales mark in only five years. Last year, KO opened the first of three new bottling plants in China (a $240 million investment), as part of a three-year, $2 billion investment. KO has also renewed its pledge to increase investments in the Philippines by $1 billion over five years.
Net operating revenue by operating segment as a percentage of total sales for 2009 (latest year) was:
| | |
| --- | --- |
| Eurasia & Africa | 6.4% |
| Europe | 13.9 |
| Latin America | 12.0 |
| North America | 26.4 |
| Pacific | 14.6 |
| Bottling & corp | 26.4 |
| Total | 100.0% |
Operating Income by operating segment on a percentage basis for 2009 was:
| | |
| --- | --- |
| Eurasia & Africa | 9.8% |
| Europe | 35.8 |
| Latin America | 24.8 |
| North America | 20.7 |
| Pacific | 22.9 |
| Bottling & corp | (14.0) |
| Total | 100.0% |
KO has strong finances, which allowed it to purchase over 1.2 billion treasury shares (as of 2009) at a cost of $25 billion. In 2010, share purchases were another $3.1 billion and the company expects to purchase $2.0-2.5 billion this year. The treasury shares in 2009 were worth $78 billion, more than the market caps for many S&P 500 Dividend Aristocrats.
The stock has gained traction in recent years. In the last 30 years, the stock had a fabulous run during the 1980s and much of the 1990s. After its peak in 1998, it fell and has largely been in a trading zone since then. However, the stock has done well in the five years ending December 2009, when KO stock (with reinvested dividends) gained 58% versus only 2% for the S&P 500. When the chart is updated in the 2010 annual report, its five-year record should still beat the S&P 500, but with a narrower spread.
Coca-Cola: 30 years
[Click to enlarge]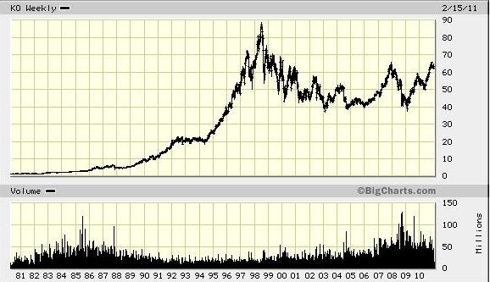 A dividend has been paid every quarter since its IPO in 1920. The 49th consecutive annual dividend increase (one of the longest streaks for any company) was just approved, raising the quarterly dividend 7% to 47c per share ($1.88 annualized). KO returned $7.2 billion to shareowners in 2010, $4.1 billion in dividends and $3.1 billion in share repurchases.
As a stockholder, I've been reading annual reports for almost 20 years, and the big picture plans of expansion have not changed. Now it's called the 2020 Vision, aimed at broad-based worldwide volume and market share growth. KO is expanding both business lines, sparkling beverages, and more quickly growing its still beverages. Additional new brands should join the 14 brands with more than $1 billion in annual sales. Even more important for growth is expanding brands in emerging countries, where per capita consumption is low. The last year that KO reported per capita consumption for selected countries was 1999. Per capita figures below have grown, but the large disparity between developed and lesser developed countries remains:
Mexcio____412
U.S._______395
China_______7
India________3
Indonesia____8
Analysts expect EPS this year will rise 11% to $3.87 and are looking for a 10% increase to $4.26 next year. KO will continue increasing EPS and dividends in this decade. Growing dividends, providing a 3% yield, are a good start on earning any target rate of return. Revenue growth should supply higher earnings needed for capital appreciation. KO is the real thing for investors.
Disclosure: I am long KO.