USD / EUR stands at 1.2654 at time of writing. The greenback is approaching 2 year highs against Euro. Unemployment at 6.1%, was at an 8 year low. The US shale revolution is the outlying attributable factor in the current economic revival. Previous periods of growth simply did not have such a powerful contributing stimulus as cheap shale energy. Intriguingly, on September 17th, Republicans voted to extend the charter of the Export Import Bank of the United States until June 30th, 2015. Soon after on October 1st, the controversial bank wrote a $1 billion bond guarantee in favor of Petroléos Mexicanos (PEMEX). Commentators say the move supports 6,700 US jobs as PEMEX will purchase oil and gas drilling services, platforms, turbine generators and mud pumps from US based producers. Just like the shale revolution, the pursuit of the next big idea or the next new frontier will underpin the US economic position. Below I shall discuss the hottest new frontiers and the pioneering companies, big and small, who stand to benefit the most from first mover advantage.
Mexico - an under-developed frontier
In 2015, Mexico will be a new frontier for worldwide oil and gas companies. In August, Mexican legislators ended the 76 year old PEMEX monopoly. The new laws allow for any worldwide oil operator to bid for profit sharing, production sharing contracts or licenses. Earlier this year the US Energy Information Agency (EIA) stated Mexico could increase long term oil production (2020-2040) by 75% from the current 2 million barrels per day. Halliburton (NYSE:HAL) and Schlumberger (NYSE:SLB) are immediately poised to capitalize on this Mexican energy renaissance. Halliburton were successful in winning over $3 billion worth of contracts in Mexico in 2013. On their Quarter 1 earnings call, Halliburton CEO commented
"We believe the opportunity for foreign investment to come into this market will be very beneficial to our business, beginning as early as 2015"
Schlumberger CEO Paul Gibsgaard recently stated:
"I am a lot more optimistic about 2015 and hope we can get back on track to have a really good year, next year in Mexico"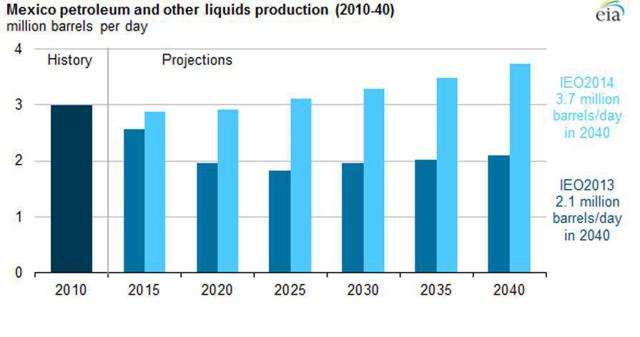 The Mexico bid round will open Mexico to US companies such as Halliburton and Schlumberger who've cut their teeth on oil field stimulation and rejuvenation techniques, including fracturing. They have first mover advantage already, applying their technological competences to oil optimization support and oil field services such as in the Mesozoic and Alianza projects which themselves are worth billions in top line revenue to both companies.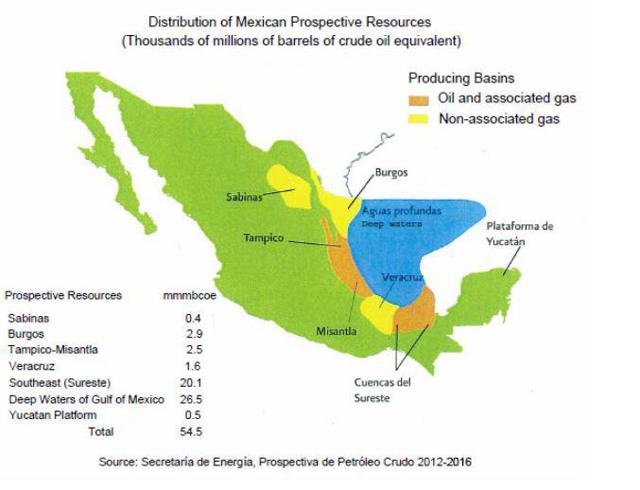 The Schlumberger 2010 annual report profiles the Mexican project successes and how Schlumberger assists in optimizing drilling difficult reservoirs:
"By 2010, the two projects had exceeded all expectations, with their wells delivering over 90,000 bbl/day to the region's production, more than 30% higher than was planned. Over 300,000 feet has been drilled and more than 40 new technologies deployed."
The Kara Sea
A 1988 CIA paper on the Kara Sea was released in 1999. The paper estimated the Kara Sea could hold up to 20 billion barrels of oil. It cited logistical challenges as the main impediment to development. The lack of infrastructure coupled with extreme sub-zero temperatures meant developing or even exploring the resource would be challenging. Even in 1988, the CIA report explored the idea of possible US/Soviet joint ventures to develop the Kara Sea, utilizing the US/Canadian experience gained in both Alaska and the Beaufort Sea. On September 29th last, Rosneft and Exxon Mobil (NYSE:XOM) announced a big discovery in their first drill in the Kara Sea, operating the West Alpha rig at the Universitekskaya-1 well. Head of Rosneft, Igor Sechin welcomed the oil find as an "outstanding result" and lauded the expertise of Exxon Mobil, Schlumberger, Halliburton and others. Due to the new sanctions on Russia however, further exploration or technological assistance have been mothballed for now, but once relations with Moscow thaw, the US trio can employ their expertise in tapping into the apparently huge resource.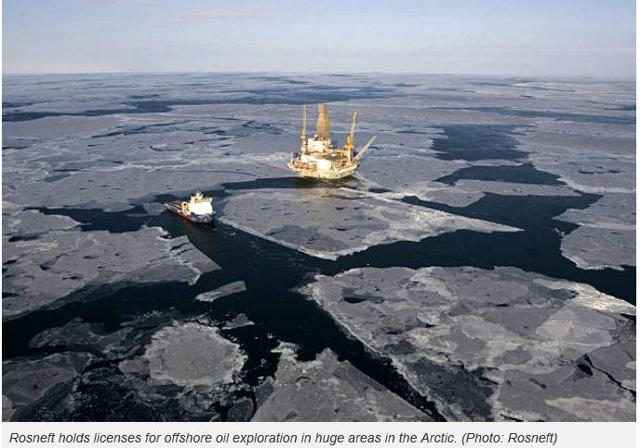 Kenya
Kenya is an example where a new idea can be applied to an old frontier, previously not regarded as a hydrocarbon province. The early 1990s round of exploration ended in disappointment as the maximum result yielded from a programme of wells was a measly 9 liters of oil in Loperot-1 well in 1989. Roll onto 2012 and Tullow Oil Plc (OTCPK:TUWOY) and Africa Oil Corp. (OTCPK:AOIFF) partnership drilled the same basin and this time have hit the jackpot with 8 discoveries totalling 616 million barrels so far. Seismic technology improvements and discoveries in other 'East African Rift' branches like Uganda have perfected the geological know-how. The new idea was to drill the thick shale-sand zones along basin margins. The shale both generates and traps the oil within the sand reservoirs, the faulted-basin-edge provides additional seal where required. These new ideas have resulted in 3,000 - 5,000 barrels / day conventional wells and an increased sense of urgency within Kenya to develop the Lapsset pipeline project from Uganda through Kenya. Taipan Resources Inc. (OTC:TAIPF) is pushing the technological boundaries further in this new frontier. They shot the highest ever resolution 2D seismic (540 folds) on their blocks adjacent to the Tullow / Africa Oil discoveries. CEO Maxwell Birley in an interview with Oilprice said:
"We will be acquiring world class seismic data with an extremely high fold in Block 2B. We may record data with fold as high as 540 (other operators in Kenya usually only record at 60 fold). We will do this so that we get excellent signal to noise ratio and seismic data improvement. This will then enable us to predict with some certainty the areas that have high shale to sand ratios. This in turn will indicate where the Tertiary lakes sediments were deposited. This will dramatically increase the chances of drilling a successful oil well."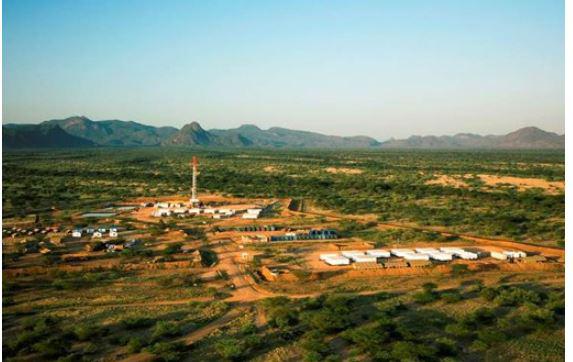 Africa Oil Corp. share price fell from $7 to $4 over the last two months as their reserve numbers were not as market had hoped. The fall was unjustified as their barrels in the ground more than underpins the whole value of the company presently with 13 more oil basins to explore as upside. They have a stated end-2015 strategy to look to do an industry deal in the hope they will have significantly increased their discovered reserves by then. Taipan Resources is a small capitalized company but have the makings of a successful one, as their CEO previously drilled wells for Marathon Oil and their December Badada-1 drill could be a company maker, but it's the use of a pioneering approach plus the fact that they hold the third largest concession in Kenya, that gets them mentioned here among esteemed peers. They are one to watch in the following two months. Zacks have recently rated them a short term $0.79 speculative buy while GMP securities have rated them $0.95 for their immediate drilling catalysts and approach to using high end seismic shoots on large prospects.
Conclusion
When all the world's explorers descend on Mexico in the coming years Halliburton and Schlumberger should stand to benefit most and represent a good medium term investment opportunity. The same companies with Exxon Mobil hopefully will return to explore the Kara Sea some day when relations with Russia improve. In Kenya, some big and small explorers are using new theories combined with new technology to pinpoint hydrocarbons and unlock complex but rewarding reservoirs. US oil companies lead the search for new ideas, utilizing new technologies in new frontiers, a continuous improvement approach combined with first mover advantage, a lethal combination for superior medium to long term returns.
Disclosure: The author is long HAL, SLB, AOIFF, TAIPF, XOM.
The author wrote this article themselves, and it expresses their own opinions. The author is not receiving compensation for it (other than from Seeking Alpha). The author has no business relationship with any company whose stock is mentioned in this article.
Additional disclosure: I am long on XOM, SLB, HAL, AOIFF, TAIPF. The opinions expressed here are solely my opinion and should not be construed in any way, shape, or form as a formal investment recommendation. Investors are reminded that before making any securities and/or derivatives transaction, you should perform your own due diligence. Investors should also consider consulting with their broker and/or a financial adviser before making any investment decisions.
Editor's Note: This article covers one or more stocks trading at less than $1 per share and/or with less than a $100 million market cap. Please be aware of the risks associated with these stocks.