Applied Materials (NASDAQ:AMAT) - The semiconductor equipment maker is looking like it may break out and move higher with earnings on the way. The company is well tied to the solar industry and other semis, which have shown no signs of a slowdown in Q4. The company is projected to report an EPS of 0.33 vs. 0.13, and the company has beat expectations for three straight quarters. The company was on a nice breakout last week moving into earnings week, but Monday's pullback has pulled the stock back to a 50 RSI and fair valuation. Moving into earnings, the company should see some buying as investors should be getting excited about AMAT's significant YOY improvements. The company reports earnings on Thursday.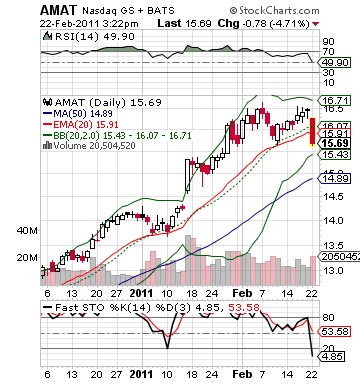 Kohl's (NYSE:KSS) - The mid-level retail company is looking to continue the strong sales trends we have been seeing in retail and apparel especially as a shift from luxury and high-end spending seems to have trickled down to mid-level spending. The company is slated to report an EPS of 1.66 vs. 1.40, but so far, other department stores in Macy's (NYSE:M) and Nordstrom (NYSE:JWN) have reported earnings beats. The company has beaten for four straight quarters. Moving into earnings, the company moved below its 50-day moving average, and if it can break out of this moving average, the stock has a ton of upside moving into earnings. With a lot of positive retail and Kohl's mid-level spending, we may be seeing the beginning of the mid-level retail cycle as more consumer spending is occurring on more economic levels.The company reports earnings on Thursday.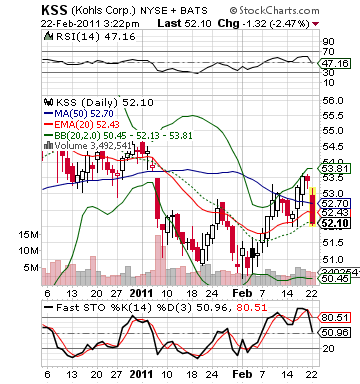 Magna (NYSE:MGA) - Auto parts companies have been mixed with some reporting very strong earnings, but overall, things have been pretty mild. One major auto parts manufacturer that is still scheduled to report is Magna International. MGA is looking strong moving into earnings as the company is expected to report a major profit over loss one year ago, and the company has beaten expecations handily over the last three quarters. The only issue with MGA moving into earnings is low beta, so the stock does not move greatly. Yet, after the headlines read the stock has swung to profit coupled with an RSI below 50 and the stock right above its 50-day MA, this one could breakout post-earnings if they can beat by any margin. The company reports Wednesday evening.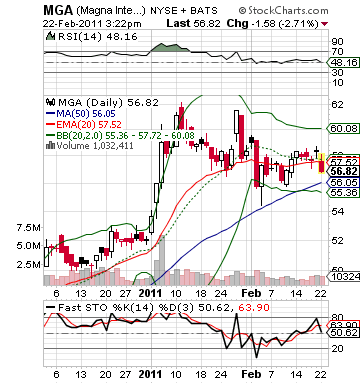 Target (NYSE:TGT) - The major retailer, grocer and variety store has been dogged as of late, falling close to 15% since the beginning of the year. The company is expected to report earnings at 1.40 vs. 1.24 one year ago. These earnings will be one of Target's largest in its history, and the company is majorly undervalued at this time. Moving into earnings, the company is in such an awful downward trend that its upside may be limited. Yet, coming out of earnings, if the company can beat expectations and guide well moving forward, this stock has tons of upside as it is far below moving averages and close to its lower bollinger band. Wal-Mart (NYSE:WMT) gave us a glimpse into Target, which was not outstanding, but other large retail stores like Target have done well. A positive report will send this stock flying higher. The company reports on Thursday.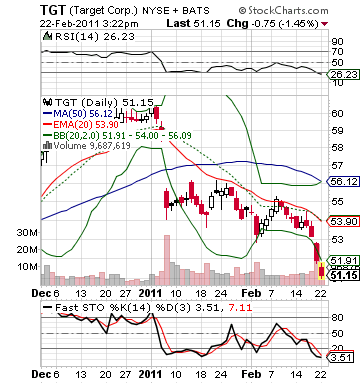 Good Investing, The Oxen Group.
Disclosure: I have no positions in any stocks mentioned, and no plans to initiate any positions within the next 72 hours.