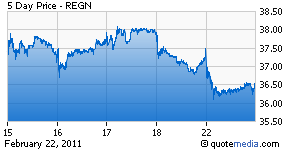 When Regeneron (NASDAQ:REGN) was a development stage firm, it spent a substantial time in developing and validating a solid scientific, technological and industrial infrastructure. At its inception, Regeneron's vision was to provide a self-sufficient capability for discovering and developing far-reaching breakthrough products. Its strategy for its therapeutic discovery has been to establish a solid foundation that enables it to build its pipeline product through in house genomic technology for understand functional gene expression. Its drug design strategy focused on creating a novel approach, which would enable controlling signaling proteins, whose excesses cause cell deregulation. The strategy focused also on designing human monoclonal antibodies that are far-reaching, time consuming and impacting. Until the time these technologies were put in place and was validated, REGN served as a vehicle for daily trading. Both positive and negative players benefited from the yo-yoing of the stock. Stock investors and analysts are not impressed with breakthrough technologies created by development stage biotech firms until they are validated. Otherwise, they consider them untested, hence, not credible and not trustable for long-term investing.
Regeneron has, indeed, validated its technologies. Its "VelociGene technology - a high-throughput process capable of inducing genetic modification in mouse embryonic stem (ES) cells can rapidly produce mouse ES cells, creating mouse models of human diseases. The technology elucidates gene function. Used with the firm's VelociMouse technology, Regeneron's scientists have been capable of generating genetically modified mice directly from ES cells without the need for chimeras or breeding. A mouse gene can be partially or entirely replace with its human counterpart, generating a unique resource for drug development studies. The technology has been selected by the National Institutes of Health (NIH) as part of its Knockout Mouse Project. Regeneron used it to take aim at 3,500 of the most difficult genes to target in the NIH project.
Regeneron's "Trap" technology has equally been validated. This technology is behind the lead products in the firm's pipeline and has been validated through American and European approval of its drug rilonacept (IL1-Trap) subcutaneous injection for Cryopyrin-Associated Periodic Syndromes, including Familial Cold Auto-inflammatory Syndrome and Muckle-Wells Syndrome. The drug was named ARCALYST. The Trap technology involves fusing two receptor components and the "Fc" region of antibodies. The receptor domains recreate the high-affinity binding for the signaling protein, while the Fc portion provides stability and improved pharmacokinetics for the novel molecule. A new generation of blockers is created to trap the signaling molecules, preventing them from binding to the natural receptors, hence, reducing or eliminating their harmful effects.
Investors did not miss the firm's vision. They recognized the fact that validating Trap technology meant much more than the mere approval of rilonacept for a small market. Long-term investors and institutions began accumulating the stock based on expectations of future approvals of the same drug and the other "Trap" drugs for other diseases with huge markets. After years of stagnation, the stock climbed to a higher price bracket level, trading higher on good news and lower at times where news was scarce or unavailable. Currently, REGN looks prepared to move to another higher level, as good news from final phase clinical trials continues to insinuate near approval of Trap products – an upcoming milestone that would bring in tremendous revenues.
As a matter of fact, positive results from Trap drugs have come and are still coming in succession from late-phase clinical trials, including VEGF Trap-Eye for wet age-related macular degeneration and for central retinal vein occlusion. Positive results have also emerged from ARCALYST for the prevention of gout flares in patients initiating uric-acid lowering therapy with more news expected to come soon. Based on the positive results of phase III VIEW 1 and VIEW 2 studies evaluating VEGF Trap-Eye in patients with the neovascular form of age-related macular degeneration (wet AMD), Regeneron plans to submit a BLA to the FDA for marketing approval in the U.S. in the first half of 2011. In addition, Bayer Healthcare intends to submit regulatory applications in the first half of 2011 for marketing approval in Europe.
A reason for extra-enthusiasm is that VEGF Trap-Eye has successfully met the primary endpoint of non-inferiority compared to ranibizumab (the current standard of care) dosed every two months vs every month for ranibizumab. As a matter of fact all regimens of VEGF Trap-Eye dosed every two months have successfully met the primary endpoint of non-inferiority compared to ranibizumab dosed every month.
For results click here.

In central retinal vein occlusion, results from the COPERNICUS study met the primary endpoint of a statistically significant improvement in vision at six months compared to placebo.
For COPERNICUS results click here.
In diabetic macular edema, results from a Phase 2 study (DA VINCI) comparing treatment with VEGF Trap-Eye to focal laser therapy, the current standard of care, the Trap eye drug confirmed previously reported visual acuity gains, which were maintained or improved up to completion of the study at week 52. These gains were observed in all VEGF Trap-Eye study groups, including the group receiving a small, 2.0 mg dose, every other month. At week 52, all VEGF Trap-Eye dose groups reported mean gains in visual acuity of 9.7 to 13.1 letters, compared to a mean loss of 1.3 letters for patients receiving focal laser therapy. Trap-Eye was generally well tolerated.
For results from DA VINCI Trap Eye Trials, click here.
Based on these positive results, Regeneron and Bayer Healthcare plan to initiate Phase 3 studies of VEGF Trap-Eye in diabetic macular edema. The partners on the drug have also initiated a new Phase 3 clinical trial in Asia in collaboration with the Singapore Eye Research Institute investigating the efficacy and safety of VEGF Trap-Eye in patients with choroidal neovascularisation of the retina as a result of pathologic myopia. This is important as myopia is prevalent in these countries.
In gout, patients who received ARCALYST at a weekly, self-administered, subcutaneous dose of 160 mg had an 80% decrease in mean number of gout flares compared to the placebo group over the 16 week treatment period. Patients who received ARCALYST at a weekly dose of 80 mg had a 73% decrease compared to the placebo group. Two other studies are ongoing in the Phase 3 program.
For solid tumors: Aflibercept, which is partnered with Sanofi-Aventis (NYSE:SNY) Group is in Phase III trial (VELOUR) as a 2nd-line treatment for metastatic colorectal cancer in combination with FOLFIRI (leucovorin, 5-fluorouracil, and irinotecan) vs chemotherapy + placebo. It is in Phase III (VITAL) trial as a 2nd-line treatment for locally advanced or metastatic non-small cell lung cancer in combination with docetaxel and in Phase III (VENICE) trial as a 1st-line treatment for metastatic, castration-resistant prostate cancer in combination with docetaxel/prednisone. Final results from most studies are anticipated in the mid- 2011, with one study, the VENICE study, where results are to be expected in 2012.
Other pipeline products developed in collaboration with Sanofi-Avantis include:
REGN727, an antibody to Proprotein Convertase Substilisin/Kexin type 9 (PCSK9), a novel target for LDL cholesterol ("bad cholesterol") reduction. The drug has been evaluated in Phase 1 studies as a single agent and in combination with a statin. Phase 2 studies have been initiated in patients with hypercholesterolemia.
REGN88, in a Phase 2/3 study in rheumatoid arthritis and a Phase 2 study in ankylosing spondylitis. Phase 2 results are expected in 2011.
REGN421, an antibody to Delta-like ligand-4 (Dll4), a novel angiogenesis target, is in a Phase 1 study in patients with advanced malignancies.
REGN668 for allergic and immune conditions, has completed Phase 1 testing in healthy volunteers. A Phase 1b study in patients with atopic dermatitis is underway and a Phase 2 study in asthma is planned.
REGN910, an antibody to angiopoietin-2 (ANG2), a novel angiogenesis target, is in a Phase 1 study in oncology.
REGN728 and REGN846 have entered clinical development with indications yet to be announced.
A final word: Regeneron strategies and plans have been well executed, which prompted great expectations about this firm's near future. As we have seen, the firm's pipeline is impressive and so are the results of its lead products, which promise near-term approvals for indications having large markets. The lofty number of investigational products created by this firm's technologies and their statuses promise a continued stream of approvals for years to come. Regeneron's technologies are state-of-the-art, validated and productive. They promise more drug discoveries, thus, guaranteeing a stream of successive approvals for years to come and cementing a prestigious position for Regeneron among the top-tier biotechnology drug developers. The firm's technologies have also proven to be good sources of revenue for Regeneron., as we have seen in the 2010 financial results. The increase in revenues was attributed to its antibody technology collaboration with Sanofi-Aventis and milestone payments from Bayer Healthcare.
The firm's revenues were around $480 million in 2010, yet its expenses were around $556.5 million for the same year. Its cash is over $600. We expect the revenues would double in 2012 and would reach over $3B in 2014 based on drugs' sales. More important is that the firm, if not taken over, is expected to become a full-fledged drug developer in advanced standing.
Disclosure: Long REGN