Asian investor thinking
October - 2nd best month of the year
HSCEI reality check
Fortescue - Focus on costs
Sell Woodside
Contrarian thought - What if the USD fell?
---
1. Asian investor thinking
Back from a weeks' marketing where we noted
Very divergent views on Macau - Growth managers still in love, still too expensive for value managers and hedge fund bears still think further earnings downside, analyst downgrades and PE de-rating to come.
Aviate are in the minority calling for an RRR cut (regardless of growth outlook).
Plenty of interest in upcoming HK-Shanghai connect http://asia.aviatelive.com/hk-shanghai-connect/, especially surrounding the 1st week of trading and how Northbound quota will be obtained/regulated.
Recognition of the progress China are making on reform.
Renewed interest in Japan on expectation BOJ has to expand its balance sheet before year-end.
Agreement with Aviate bearish view on AUD and Australian economy.
Agreement that junior iron ore sector will see many more companies go into receivership and BHP, RIO and FMG will continue to lower costs and enjoy healthy margins over the next couple of years. FMG back at historical support level, with record short interest gathering interest as long into seasonally supply constrained period.
People becoming more concerned about India longs with rally losing steam and government reform agendas starting to show some holes.
Indonesia - concern about government's ability to deliver on reform, valuation stretched and JCI index likely to struggle under steepening US yield curve environment.
HK protests - Plenty of concern although today is a very important day in terms of progress in resolving the HK pro-democracy protests that escalated at the end of last week. The HSCEI index has lost -3.5% in the last 5 trading days on concerns surrounding the protests, so any sign of resolution or protester numbers declining should see a decent bounce in HK markets this week.
2. October - 2nd best month of the year
The -5.96% fall in the HSCEI caught a lot of investors off guard in September with IP hitting 5 year lows, weak PPI implying poor domestic demand, PMI concerns and pro-democracy protests causing a big sell-off into the last week of the month.
We continue to see reform accelerating in China which is largely responsible for some of the poor recent data i.e. we continue to see significant de-gearing in China particularly in the riskiest segments of off balance sheet (trust and trade finance). Also overcapacity sector PPIs suggest capacity is being cut, demand remains solid and pricing is improving.
We continue to expect more volatility into year-end given divergent monetary policies in the world's major economies, political and social unrest but can't ignore that the HSCEI is currently 5% cheaper than when it troughed in 2008… a time when China growth and the global economy was in a much worse situation (see note 3).
Good news is October is historically the 2nd best month of the year to be long China with HSCEI on average returning over 3%.
With the HK-Shanghai connect, likelihood of further stimulus and imminent RRR cut as part of reform, we continue to be long the following names into year end: BUY BOC (OTCPK:BACHY), Ag Bank (OTCPK:ACGBY), ICBC (OTCPK:IDCBY), BUY PetroChina (OTCPK:PCCYF), BUY Anhui Conch (OTCPK:AHCHY), BUY Country Garden (OTCPK:CTRYY), China Vanke (OTCPK:CVKEY), China Overseas Land (OTCPK:CAOVY), BUY Nine Dragons (OTCPK:NDGPY), BUY Dongxiang (OTCPK:CDGXY), Tencent (OTCPK:TCEHY).
October - historically 2nd best month of year for HSCEI returning on average over 3%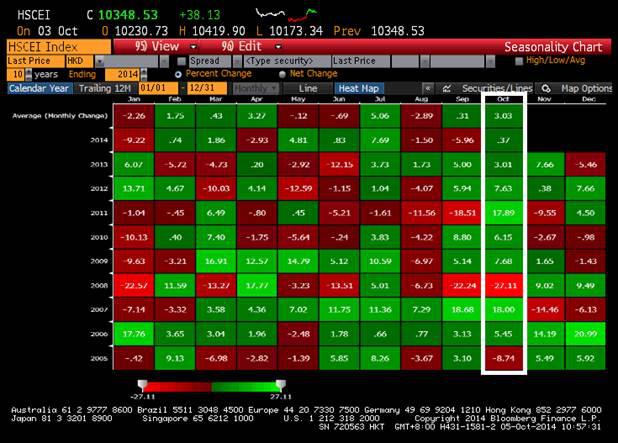 3. HSCEI reality check
Despite PMIs remaining in growth territory (and likely to remain expansionary into year-end) the current HSCEI PE:
is 20% lower than it was the last 2 times the PMI reflected a shrinking market,
is lower than the GFC trough in 2008
is the lowest in the last 13 years (since 2001)
Looking back over the last 6 years (see chart below) is the situation in China today worse than
2008 when China PMI hit 38.9 and corporate collapses were rife (Lehman Brothers, Bear Sterns, AIG, Wachovia, Washington Mutual, Indymac Bank, Babcock and Brown, Freddie Mac, Fannie Mae, Northern Rock, AMBAC, MBIA, Merrill Lynch, Allco, Countrywide Financial, Kaupthing, Landsbanki etc)
2011 when China PMI hit 49 (1 of only 3 times has been in contraction), US lost its AAA credit rating and excessive debt and rising sovereign bond yields pushed European countries to the verge of default.
2013 when tightening liquidity triggered spikes in SHIBOR rates, fueling concerns about credit quality in the trust and property markets. We also saw regional instability from South China sea disputes and a big regional allocation into Japan following Abenomics launch.
Jan 2014 when similar to 2013 we had tightening liquidity and concerns over trust defaults.
Compare the above to today were
China remains the ONLY market in Asia seeing consensus earnings upgrades
China has the highest 3-yr consensus earnings CAGR in the region.
China has the 3rd highest 3-mth upward earnings revisions for 2014 and 2015
Liquidity situation (Jan 2014 concern has dramatically improved)
Majority of risky trust defaults (Jan 2014 concern) have been cycled without any blow-ups
PMIs remain in expansion
Reform is accelerating
Export growth is strong and outlook robust with positive US growth and EU stimulating
Bank NPLs remain contained and well provisioned against
80% of China's Provinces reported accelerated growth in Q2 (pre stimulation)
Stimulatory policy on property, reform on the privatisation of debt and potential of bad banks being set up improving credit quality outlook
Inflation suggests there is yet more room to stimulate further
Consumption remains robust and Hukou reform will see 12% added to per capita consumption (a near doubling)
HKMA has been forced to defend of the HKD PEG in order to sterilise inflows - 1st time since 2012 pre a 24% rally from similar valuations to current.
CDS trends approaching all time lows, are 60% below previous credit events and imply 30% upside to equity index
Inflows last month very strong - Widening QFII and RQFII limits and many ETFs already hitting their limit on increased inflows.
Potential RRR cut (implied by credit market, historical trends and specifically being mentioned in policy)
Listed property sector seeing 1st sales growth coupled with ASP growth this year
We continue to see a divergence between sentiment and reality in China, as such remain comfortable owning HK/China exposure in the seasonally strong Q4 period were we expect stimulus, RRR cut and positive sentiment from the HK-Shanghai connect.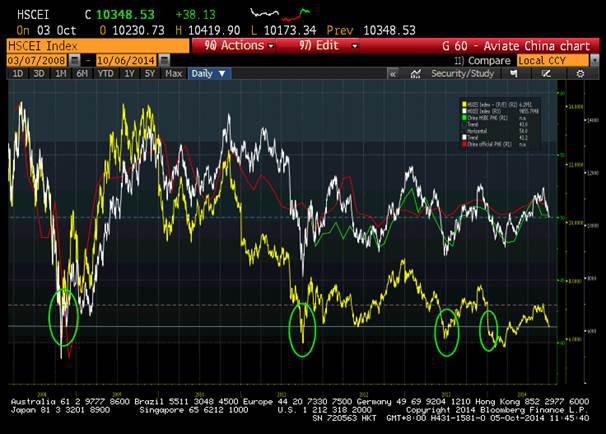 4. Fortescue - Focus on costs
S&P downgraded Atlas Iron (OTCPK:AGODY) on Friday to B from B+ on "prospect of weak cash flows" at the same time mentioning "all in cash costs aren't sustainable if iron ore prices stay below $85/tn for a prolonged period." At the same time "BHP (OTCPK:BHPBF) (A+/Stable/A-1) and Fortescue Metals Group Ltd. (OTCQX:FSUGY) (BB+/Stable/-) are unaffected following its revised assumptions for benchmark iron ore prices." Regarding FMG S&P noted "In our view, the company's efforts to prepay debt and the successful completion of the 155 million metric ton expansion have significantly improved its cost position and ability to weather price volatility."
FMG site visit October 21-23
FMG site visit October 21-23 will include a management presentations and visits to Port Hedland (Rail and Port operations), Solomon and Cloudbreak mines. FMG already provide a great deal of colour and clarity on their costs but I would expect analysts to get more comfort around FMG's ability to lower C1 costs below the current $31-$32/tn. For example:
Gas will be available to Solomon project in 2015 once the pipeline is complete in March 2015
50% of the mining fleet use diesel fuel (diesel bill is ~$800m/yr). Caterpillar are expected to have gas run trucks available in the next 12mths
Increasing use of Autonomous Haulage System amongst fleet of trucks
Increased production i.e. every 10 months of throughput realises a $1/tn saving
FX - The 6c fall in the AUD from 93c to 87c in September effectively reduced per tn costs by $1.80
Like us, S&P seem to have comfort with FMG's position on the iron ore cost curve and ability to reduce debt. At $80/tn, FMG will be able to continue to reduce debt but likely without dividends. Above $90/tn we see FMG able to pay 5%+ dividend yield.
BUY FMG / SELL MIN
5. Sell Woodside
2 Weeks ago we highlighted Woodside (OTCPK:WOPEY) as a short. Despite the recent fall the chart below highlights potential downside to both WPL, OSH and STO given strong correlation to the weakening oil price.
In regards to WPL, the other thing to bear in mind is Shell's $5bn (13.6%) Woodside stake came out of escrow last month and Shell is a known seller. The current share price of $40.68 is below the $41.35 price they sold a 9.5% stake in June this year and below the $42.23 price it sold its 10% stake in 2011.
Oil price is -16% since June, AUD is -8% over the last month alone plus WPL LNG assets sit at the top of the LNG cost curve and trading on 12.7x is expensive for a commodity business that's ex growth i.e. without any new projects, WPL production will fall from 90mmboe today to 80mmboe in 2016 and <75mmboe in 2020.
SELL WPL
WPL (white) outperforming oil price (yellow) which it has historical strong correlation too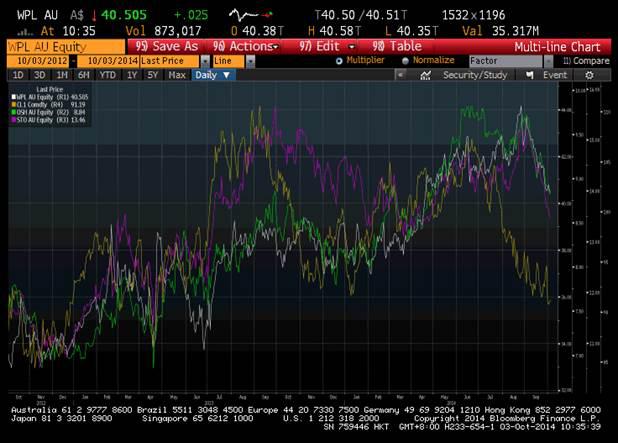 6. Contrarian thought - What if the USD fell?
The move in the DXY has been so fast and aggressive it has caused extreme divergences that look unlikely to last. For example, with the tightening effects of stronger currency inflation expectations have been in freefall, such that the Fed's own measure (5y break evens) are at levels seen during Operation Twist and at the widest extreme with the DXY since the crisis began in 2008.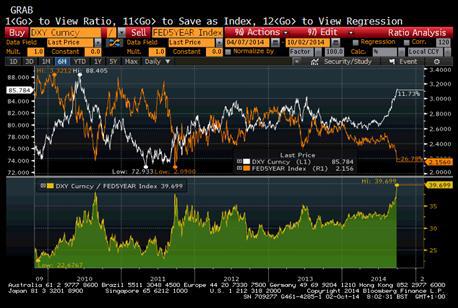 Can this be consistent with rate rises?
The spread between German bunds at the US 10 Yr is at the widest level ever and the ratio is massively overbought, with a record RSI.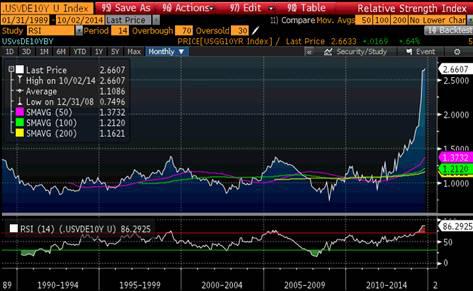 What if Draghi can engineer a recovery via private-QE, and NOT through buying sovereigns?
The speculative position in the $ is at record highs, as is the RSI.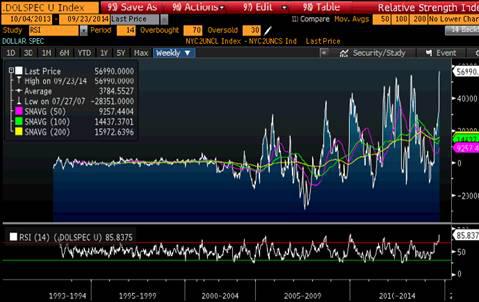 Contrarians take note….
Given the deflationary impulses from a strong $, weak oil/commodities, a stagnating Europe and a collapse in US inflation expectations we struggle to see how the FED (who are Keynesian by nature) can remain hawkish with respect to rate-rises. Add some weaker macro prints (last week) and pressure could be building for a U-turn of sorts. It seems incongruous to think the alternative. Now, if such was to happen, one would expect a reversal of form in things that have been punished due to DXY strength: US liquidity proxies (RXY Index), EM currencies (which recently fell below March 2009 levels), EM stock markets (and Euro exposures thereto) and possibly commodities. With respect to the latter we can't help but think the news from China as to opening new funding channels to property developers and removing restrictions on home purchases is bullish for certain bulk commodities.
Food for thought.
Disclaimer: Aviate Global LLP is authorised and regulated by the Financial Conduct Authority (FCA reference 465131). Aviate Global LLP is not covered by the Financial Services Compensation Scheme (FSCS).
The material contained within this presentation is NOT INTENDED FOR RETAIL CLIENTS i.e. those who are not:
a) Per Se Professional Clients or an Eligible Counterparty as defined in the European Parliament and Council Directive on Markets in Financial Instruments (MIFID);
b) 'Professional Investors' as defined in the Securities and Futures Ordinance (Chapter 571 of the Laws of Hong Kong) and its subsidiary rules;
c) Persons other than "major institutional investors" as defined in SEC Rule 15a-6 in the United States)
Aviate Global only trades on instruction from clients. Aviate Global does not hold proprietary positions and nor does it manage portfolios.
IMPORTANT INFORMATION FOR UNITED STATES PERSONS
This document / report / presentation has not been prepared, reviewed or approved by Aviate Global (US) LLP, Aviate Global LLP's affiliated U.S.-registered broker-dealer and a member of FINRA. This report is intended to be distributed by Aviate Global LLP in the United States solely to "major U.S. institutional investors" as defined by Rule 15a-6 of the Securities Exchange Act of 1934, as amended. For the avoidance of doubt, this report is not intended for individual or non-institutional investors and should not be distributed to any such individual or entity. Interested "major U.S. institutional investors" should contact Aviate Global, (US) LLP, our U.S. registered broker-dealer affiliate, or another U.S.-registered broker-dealer, to effect transactions in the securities that are the subject of this report. Aviate Global (US) LLP also is registered as an Introducing Broker with the National Futures Association (NFA ID 0439324). Aviate Global (US) LLP does not deal with or for U.S. persons that do not meet the definition of an Eligible Contract Participant (as defined in the U.S. Commodity Exchange Act).
Editor's Note: This article discusses one or more securities that do not trade on a major U.S. exchange. Please be aware of the risks associated with these stocks.