Vivus (NASDAQ:VVUS), a specialty pharmaceutical company, has faced some setbacks with its drug candidate, Qnexa, an investigational treatment for obesity, obstructive sleep apnea and diabetes. In October 2010, Vivus received a Complete Response Letter from the FDA, outlining a path to approval, which left investors who expected approval dissappointed. In January 2011, the company met again with the FDA to finalize a path to approval. During that meeting the FDA signaled to Vivus that they want more non-clinical safety data.
Qnexa is a combination of two FDA approved treatments, topiramate and phentermine. Phentermine is a stimulant that basically boosts the metabolism, while topiramate is an anti-convulsant that seems to inhibit binge-eating. Currently, the maximum approved dose for Topiramate and Phentermine is 500mg and 30mg, respectively. Qnexa comes in three doses, and even the high-dose of Qnexa has only 92 milligrams of Topiramate and 15 milligrams phentermine, which is well below the maximum FDA approved dose.
images

Both of these drugs have years of safety data, as both have been on the market for quite some time. Phentermine was approved by the FDA in 1959. In 2010, over 7 million prescriptions were filled in the US alone. Topiramate was approved by the FDA in 1996, and in 2010, over 9 million prescriptions were filled. Vivus is applying Qnexa as a 505(b)(2), which allows Vivus to rely on the FDA's previous findings of safety for each of Qnexa's ingredients, which typically makes for an easier approval.
But clearly the 505(b)(2) pathway wasn't as easy as expected. The FDA has brought up two main issues with Qnexa. First, there was a 1.6 beat per minute increase in heart rate for patients using Qnexa. The FDA asked Vivus if they can demonstrate the impact of the minimal elevation in heart rate noted in the studies. Specifically, the FDA wanted to ensure that the increase in heart rate doesn't increase the risk of cardiovascular events.
Below are the cardiovascular outcomes from Qnexa's CONQUER and EQUIP trials, which demonstrates that Qnexa improves several cardiovascular risk factors.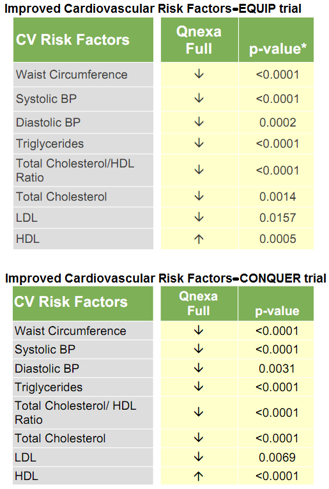 The other major safety issue is the teratogenicity of topiramate. The FDA has also asked Vivus for a detailed strategy to evaluate and mitigate the potential teratogenic risks in women of child bearing potential. To evaluate the risks of teratogenicity, the FDA asked Vivus to search health databases and pregnancy registries for issues pertaining to cleft lip and cleft palate. The FDA wants Vivus to delineate any differences in the low dose topiramate, typically used for the prevention of migraines, and the higher doses used for seizures. One interesting caveat is that during all clinical trials with Qnexa, there were 15 women who conceived, while on treatment, that all had healthy babies.
The issue of teratogenicity is a major one for all anti-convulsants, especially since most animal studies at high doses demonstrate a slightly higher incidence of cleft lip and palate. But years of aftermarket safety studies demonstrate that this high incidence in mice is not an accurate model for prediction among humans. In fact, only a handful of case-reports have been reported and the FDA's issue was born from one lone study that aggregated only 203 pregnancies in the UK.
And obesity itself is a teratogen. So even if there is a small incidence of birth defects, the FDA may have to weigh those risks against the benefits of weight loss. Of course there are after-market measures to reduce the risks of birth while on QNEXA. For example, the SMART and iPLEDGE program with isotretinoin, or Accutane, were FDA approved mitigation strategies. The iPLEDGE program is a mandatory distribution program in the US for Accutane, intended to prevent the use of the drug during pregnancy due to its high risk in birth defects. The program requires that physicians, patients and pharmacists fill out certain information on a website. Female patients who want to take Accutane are required to use two forms of contraception. Despite these cumbersome measures, Accutane brought in $1.2 billion for Roche (OTCQX:RHHBY) during 2010.
Vivus has also completed a 2-year study, to supplement its two previous 1-year studies. The SEQUEL study was a two year extension study of CONQUER, which included 675 obese and overweight subjects who had multiple co-morbidities. The results were very impressive. After two years, patients on the top-dose of Qnexa sustained 11.4% weight loss or an average of about 30 pounds. No other pharmacotherapy has produced such sustained weight loss. But more interestingly, there was a 76% reduction in the progression to diabetes, as well as a significant improvement in blood pressure and several cardiovascular risk factors.
The FDA will have to weigh these minimal risks against Qnexa's remarkable efficacy. Below are charts demonstrating the efficacy in each of Qnexa's trials, EQUIP, CONQUER, and SEQUEL.
EQUIP Trial: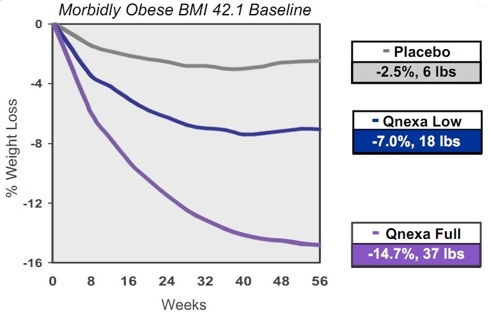 CONQUER trial: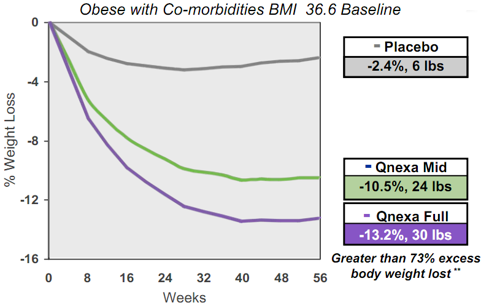 SEQUEL trial: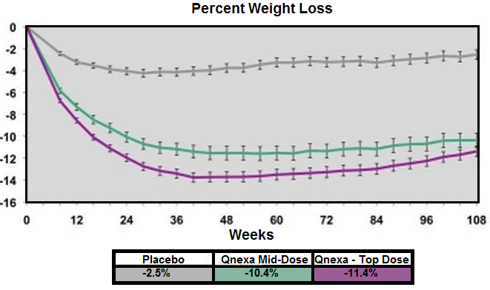 In EQUIP and CONQUER, the top dose of Qnexa demonstrated an average of 37 and 30 pound weight loss respectively. In SEQUEL, the top dose of Qnexa was able to maintain a weight loss of about 30 pounds or 11.4% even after two years. The efficacy of the drug is not in question!
Clearly, Vivus has experienced setbacks with the FDA. Last year, the CRL devastated the stock price. More recently, the FDA's request for data regarding cleft lip and cleft palate has also spooked some investors. But I view these events as an opportunity to continue accumulating shares.
Above all, investors should realize that Topiramate is already on the market, with millions of scripts written annually. Moreover, the FDA is not asking for more clinical data or animal studies. These points in themselves imply that the drug is generally safe. And the FDA cannot ignore the compelling efficacy not only for weight loss, but also in preventing diabetes, treating sleep apnea, and improving cardiovascular risk factors.
In December 2010, Vivus submitted Qnexa for approval in Europe. Most likely, Vivus will resubmit the NDA for Qnexa this year. Vivus will also submit an NDA for Avanafil, Vivus's investigational treatment for Erectile Dysfunction ("ED"), later this year. Obesity and ED are huge potential markets. With three regulatory approval dates within the next year, now may be the time to add shares.

The Advisory Committee transcript for Qnexa is here.
The UK study on Topiramate is here.
Topiramate prescribing information is here.
The corporate presentation on Qnexa is here.
The recent corporate presentation is here.
Upcoming Vivus events and presentations can be found here.
For my previous articles, click here.
Disclosure: I am long VVUS, DEPO, ABT, MRK, SNTS, NGSX, OTC:BNVI, DRRX.