Book Value
Petroleo Brasileiro Petrobras SA (NYSE:PBR) is greatly undervalued if we compare book value of $49.81 to stock price of $13.97 as of this moment, 4th of October. I get book value by taking all assets and deducting liabilities, intangibles and goodwill. It should also be noted that in March Petrobras' book value was only $21.59. I am not aware of any details why this large and sudden change in book value occurred. However, the following picture by Google Finance does show a large and sudden increase in assets. Therefore it seems that Petrobras has included new assets, such as new oil fields in its books.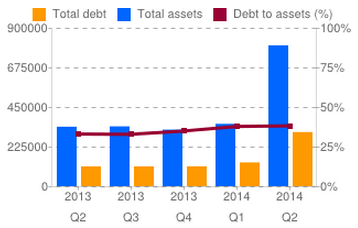 If anyone has any insight into this asset growth, please enlighten me. In any case, this gives Petrobras a very low P/B of 0.28. It is very rare to find such a low valuation in such a large and well established company. Therefore Petrobras demands to be studied more carefully.
Now I have made clear what the company is worth, according to its latest financial statement from June 30, 2014. Next I will ponder why the stock price is so low, and maybe we will be able to understand if an investor has a real value gem on his hands, or merely a value trap.

Petrobras' stock graph in USD. Source: ft.com
Troubles of Petrobras
There is one clear reason that creates many other problems for Petrobras. This main reason is the government of Brazil, which is also a major stock holder of the company. Sadly, the government is not a silent owner, as I will explain next.
Government ownership in itself is not unacceptable. Sometimes it is strongly needed, however, what is not acceptable is interfering in the process of how the company is run, and diverting it from a fairly functioning capitalist market.
For the government, Petrobras appears to be its money milking machine, and an excellent way to offer a cheaper fuel for the people, thus having a bit more control over inflation and keeping the nation happier. This "money milking" is done by dividends and payments for production rights. For more information, you may find this article by Financial Times to be interesting. It is clear that the government is protective of oil assets on its own soil, which is understandable, but not acceptable, when it goes to the extreme. The government clearly wants Petrobras, its own oil company, to be the leading company in any oil project, yet it does not give Petrobras a free market to sell its products.
About 40 percent of Petrobras' sales happen in Brazil as fuel, but that price is kept low by the government, as it continues its long battle against inflation. Inflation is currently about 6.5 %, which is a lot smaller than it has been in history, so the government's attempts have not been absolutely in vain. Sadly, it isn't just Petrobras' own production that is being sold at a low price, but also imported petrol and diesel. To control inflation, Petrobras is forced to import petrol and diesel and sell those at a certain, predetermined price, so inflation won't rise. If that price is lower than what Petrobras originally paid, sadly, costs of this fuel subsidy program are not repaid to Petrobras by the government, so we can see a clear money leakage here. For more information, I suggest this article by Financial Times as further reading.
This kind of behavior from a major stock owner and the government of a country is certainly not acceptable, and does not provide sustainable long-term growth for anyone. In the worst case, the government would bankrupt one of South America's largest companies and cause a loss of thousands of jobs.
Besides the Government
Brazil is listed as a BRIC country, a shining star of all emerging economies, but the truth is that Brazil is still just an emerging country with plenty of problems. One thing I refer to is that shareholder's rights need to be improved. Let me explain this in another way: World Bank Group performs studies to compare the ease of doing a business in various countries. The latest results give Brazil a rank of 116 out of 189 countries (1 being the best one).
When you also factor in the fact that Brazil still has a "strong" level of corruption, you have every reason to think that business life is not as smooth as in a developed country. According to Transparency International, Brazil is ranked number 72 out of 177 countries (1 again being the least corrupted country). Lately, it was revealed that Petrobras and some politicians had unacceptable affairs between each other. Please read this article from The Economist to learn more.
Brazil's economy has lately reached a recession status according to news sources such as (BBC). This is unlikely to help Petrobras to be viewed differently by the government, as it is likely to need more money for their budget to stay in the black. Moreover, real, Brazilian currency, is not doing great at the moment. Petrobras borrows a lot in dollars, and weakening really means higher borrowing costs. Weak currency could be good for exports, but as previously said, Petrobras does a lot of its sales in Brazil and also imports a lot.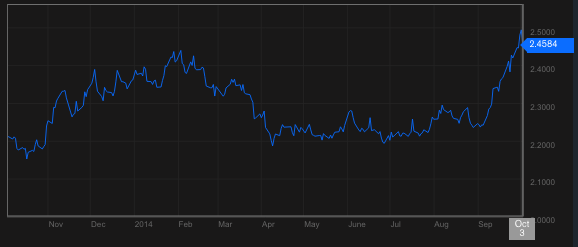 USD-BRL exchange rate (Bloomberg)
Asset-wise, Petrobras is a strong company. By current and quick ratios, Petrobras is actually in a stronger position that many of its competitors. Its large assets help it with that, as it can always sell some of those when needed. Sadly, it is forced to do so more and more these days, as the current situation stretches its limitations to the maximum. Petrobras is, despite its good assets selection and current ratio, also a global oil producer with the largest total debt to total capital ratio of 0.45. Petrobras owns many promising oil fields, but is forced to sell some of its assets in order to be able to develop its most promising ones. You may also want to read other news concerning Brazilian oil rights.

Source: Google Finance
Summary
Petrobras owns large and prospective assets, but is having trouble being able to use those assets optimally. Currently, it is the oil giant of Latin America, even with its problems. However, without interference from the government of Brazil I am certain Petrobras would be a much bigger company, more appreciated overseas. If the government of Brazil was to suddenly let Petrobras act absolutely without government control, we would see a huge appreciation happen. Some analysts expect coming elections in Brazil to offer some changes in the matter.
Governmental elections could bring changes and make Petrobras' operating easier. Personally I can't see any big changes in the short-term, as the current recession troubles the country and therefore even a more positive government would find it difficult to distance themselves from Petrobras.
A fact is that Petrobras is a very undervalued company with valuable assets. It could be a great investment in the long-term, but it won't be such, until it can once again act freely, like a modern company should be able to. It is impossible to know for sure when this situation will be fixed, so I would advise any investors to hold off for now and wait patiently. Any investment now is more likely to keep losing value for a long time period, a risk few are willing to take.
If you have a different opinion and basis for it, please take a moment to write a comment and enlighten me.
Disclosure: The author has no positions in any stocks mentioned, and no plans to initiate any positions within the next 72 hours.
The author wrote this article themselves, and it expresses their own opinions. The author is not receiving compensation for it (other than from Seeking Alpha). The author has no business relationship with any company whose stock is mentioned in this article.