Priceline (PCLN)
is scheduled to report 4Q10 results after the market close on Wednesday, February 23, 2011. Consensus is looking for gross bookings of $3.17 billion, revenues of $736 million and pro-forma EPS of $3.10. The buyside is looking for pro-forma EPS of $3.20. That figure, plus the 2011 guidance will determine whether the stock continues to rally or pulls back. For 2011, consensus is calling for gross bookings, revenues, adj. EBITDA, and EPS of $18 billion, $3.9 billion, $1.2 billion, and $17.65, respectively. The buyside is looking for an EPS number of approximately $20.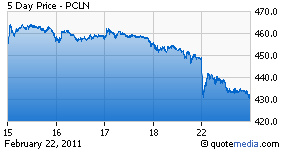 Results out of Expedia (NASDAQ:
EXPE
) and Orbitz (NYSE:
OWW
) for 4Q10 suggest a positive trend for PCLN as the results show market share gains for online travel agencies. However, both stocks sold off on the 1Q guidance due to weak top-line trends in the domestic market and increased marketing and investment spending. In addition there were marketing partner issues at both EXPE and OWW. We do not believe that those concerns will apply to PCLN because of the lower relative domestic exposure and no partner issues that was have heard. We do note that both EXPE and OWW reported better international results and that bodes well for PCLN due to its relative strength in international or specifically the European hotels markets.
Our only concern is the traffic trends in both the domestic and international markets were not as strong as we have seen in the past several quarters. Domestic unique visitors declined 1% y/y versus the 10% y/y growth in 3Q10. On the international side, traffic to Booking.com was up 9% Y/Y in Q410 versus 36% Y/Y growth in Q310.
On the call, we will be looking for management thoughts on the potential entry of Google (NASDAQ:
GOOG
) into the market via the acquisition of ITA Software and the status of the Dutch tax rate reduction, which is a material positive for the company.
Our thinking is that both results and guidance are likely to come in within expectations and as such the stock is unlikely to experience a material rally to the upside post the earnings.
Disclosure: I have no positions in any stocks mentioned, and no plans to initiate any positions within the next 72 hours.