As we see more instances of the European tax man going after large American tech companies, it becomes apparent to us that Big Tech is going to see another wave of European regulators engage the companies on everything from privacy and business practices to corporate taxes. The tax issue could be the most detrimental to these companies' business models as recent cases have shown.
The latest target of the Europeans is Amazon.com (NASDAQ:AMZN), which regulators believe may have received illegal subsidies from Luxembourg via a 2003 court ruling which gave the tech giant a favorable tax treatment.
Markets are marginally lower ahead of the open and as we stated yesterday we think that there will be little movement one way or the other until the FOMC minutes come out tomorrow.
Chart of the Day:
Investors are once again flocking to the safety of the US treasury market and driving rates lower. With the fear in the market, we would not be surprised if rates tested the lows of late August should the FOMC minutes not show a change in the Fed's timeline.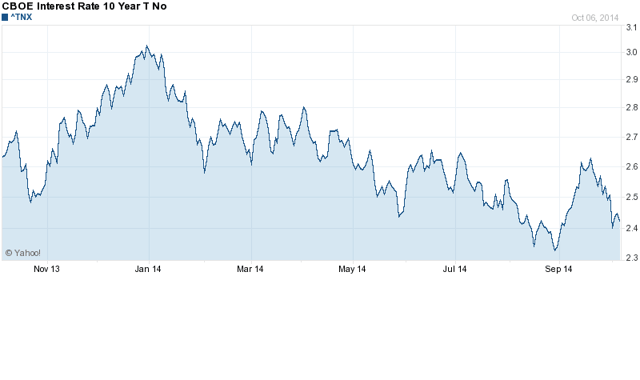 Source: Yahoo Finance
We have economic news today, and it is as follows:
JOLTS - Job Openings (10:00 a.m. EST): Est: N/A
Consumer Credits (3:00 p.m. EST): Est: $20.0 B
The Asian markets are lower today:
All Ordinaries - down 0.16%
Shanghai Composite - CLOSED
Nikkei 225 - down 0.67%
NZSE 50 - down 0.11%
Seoul Composite - up 0.23%
In Europe, the markets are lower this morning:
CAC 40 - down 1.01%
DAX - down 0.46%
FTSE 100 - down 0.36%
OSE - down 1.33%
A Surprise Bankruptcy
Yesterday the market was quite surprised by GT Advanced Technologies' (GTAT) bankruptcy filing. It is quite rare that the market is caught off guard when it comes to a filing, but this is one of the rare cases, as the move from above $10/share to below $1/share demonstrates.
GT Advanced had a market capitalization of around $1.5 billion before the filing, as investors were counting on Apple (NASDAQ:AAPL) to become a large customer. While no one knows exactly what caused the bankruptcy filing at this time, the thinking is that Apple most likely called in a portion of the loan they gave GT Advanced to increase production of sapphire glass at their Arizona plant.
GT Advanced Technologies rose on speculation that they would be supplying Apple with a lot of glass. When those plans did not materialize, shares fell to around $10/share and with yesterday's bankruptcy filing shares now trade below $1/share.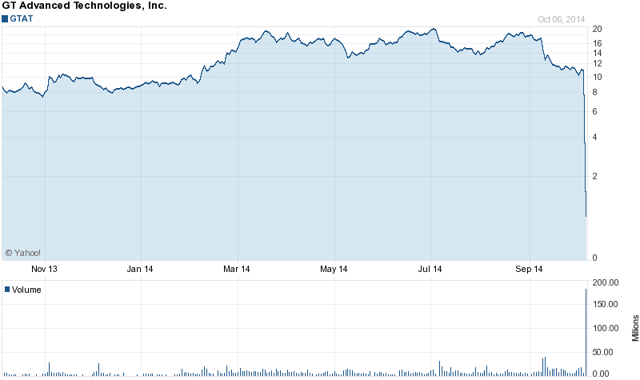 Source: Yahoo Finance
According to some of the reports we have seen from analysts, the loan had certain provisions and covenants which allowed Apple to speed up certain payments if production and quality goals were not met. With Apple deciding to use sapphire glass only on its watches, due out early next year, and not the popular iPhones, GT Advanced Technologies most likely decided that it needed to conserve cash, restructure and start anew as they wait for the next product cycle in Apple devices to hopefully expand upon their relationship.
Boeing Continues To Log Strong Sales
Alaska Air (NYSE:ALK), which has long been a loyal Boeing (NYSE:BA) customer, ordered another 10 planes which will be the next generation 737. Currently, Alaska Air's entire fleet consists of Boeing planes and the carrier now has a total of 74 planes on order.
While Airbus has made inroads into certain regions with their planes, Boeing has done very well in maintaining their market dominance around the world and keeping loyal customers from switching to rivals. We are quite bullish of the aerospace sector and continue to believe that investors should look at adding long-term exposure to the sector on weakness. Boeing had strong results this past quarter, and we would not be surprised to see another strong quarter, as the company ramps up production and streamlines their supply chain to boost production efficiencies.
Disclosure: The author has no positions in any stocks mentioned, and no plans to initiate any positions within the next 72 hours.
The author wrote this article themselves, and it expresses their own opinions. The author is not receiving compensation for it (other than from Seeking Alpha). The author has no business relationship with any company whose stock is mentioned in this article.
Editor's Note: This article covers one or more stocks trading at less than $1 per share and/or with less than a $100 million market cap. Please be aware of the risks associated with these stocks.