By Stuart Rae and Rajeev Eyunni
As developed-market equities continue to scale multiyear highs, their emerging-market counterparts - most notably Asian ex Japan stocks - have been more hesitant. Is it time for investors to take a closer look at the region?
For much of the past few decades, emerging-market economies have been the engine of global economic growth. However, emerging-market equities have lagged the rally in developed markets over the last two to three years, particularly in Asia. China's economic reform has raised concerns about a slowdown in growth, and political uncertainties in major economies like India, Indonesia and Thailand have kept investors jittery. Worries that an eventual end to the US Federal Reserve's asset-purchase program would cause capital outflows from emerging markets hurt, too.
Early Stages of Recovery
Despite the caution, things may finally be falling into place. Indeed, many Asian markets have made a solid recovery in recent months. But they aren't in full swing yet. Parts of the market are still lagging-unduly, in our view - and those may offer the most attractive investment opportunities as the recovery gains traction. In other words, cheap Asia ex Japan stocks - i.e., those whose earnings power remains underappreciated - may be due for a rebound (Display 1).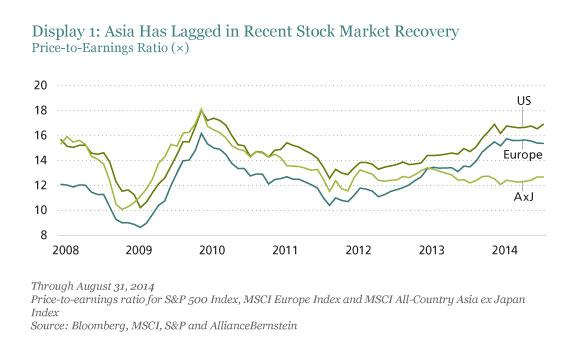 Fundamentals Are in Place
The steady recovery of developed economies in the past few years has fostered improvements in the region. Fundamentals for Asia ex Japan companies were looking good even when the market was going through a soft patch in early 2014. For instance, according to consensus estimates, earnings at MSCI Asia ex Japan Index companies are expected to grow by about 11% in both 2014 and 2015, compared with about 9% in 2013.
Most of the macroeconomic uncertainty has been fading. China has put in place some targeted monetary easing measures to balance support for near-term growth with its need to pursue long-term reform. Election outcomes in India and Indonesia have been well received by the markets, and Thailand's leaders - after a military coup in May - have been restoring stability.
As a result, mutual fund industry data show that flows into Asia ex Japan equities have returned to positive territory in recent months.
Pockets of Value
We think there's value to be found in individual companies, industries and countries in Asia. We measure this using valuation spreads - the divergence between valuations (such as price-to-earnings and price-to-book ratios) of the cheapest stocks and the most expensive stocks in the market.
The valuation spread for the Asia ex Japan market as a whole is well above its long-term average. While the spreads in each country are quite varied, those in the Chinese and Taiwanese markets are suggesting an exceptional opportunity. The last time we saw valuation spreads at these provocative levels was in 2009, which in hindsight proved to be a great entry point for the Asia ex Japan market (Display 2).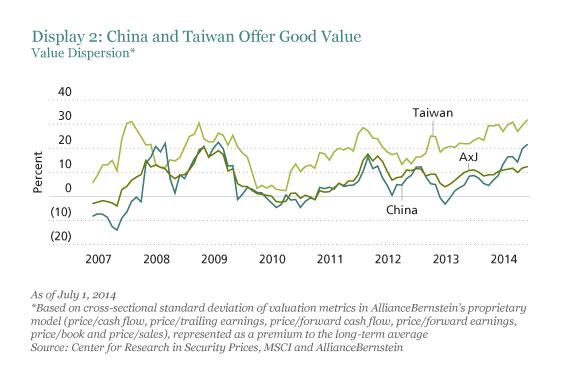 Today, the "risk-off" or "risk-on" mentality, which fueled a flight to quality during the height of the recent financial crises, is fading, as indicated by a significant decline in the average correlation of stock prices from peaks in 2012. This is good news for the market in general and for stock pickers in particular. In our view, contrarian positions in undervalued stocks are a good way to gain exposure to Asia ex Japan as investors become more comfortable with the region - and more confident in rewarding strong company fundamentals.
The views expressed herein do not constitute research, investment advice or trade recommendations and do not necessarily represent the views of all AllianceBernstein portfolio-management teams.
Stuart Rae is Chief Investment Officer - Asia ex Japan Value Equities and Rajeev Eyunni is Director of Research - Asia ex Japan Value Equities.