As energy prices fall, both in the US and abroad, analysts are turning their attention towards names which could benefit from the lower oil and natural gas prices. Some of the recent reports we have seen have looked at the refiners, especially those who are fully capable of taking advantage of the WTI-Brent Crude differential. Citi highlighted some of these names, including Valero (NYSE:VLO), Phillips 66 (NYSE:PSX) and Marathon Petroleum (NYSE:MPC).
Gold, oil and copper are all trading near levels which are both technically and psychologically important for investors. We are interested in the FOMC minutes tomorrow and think that some of the confusion in the market could be put to an end based off of what the Fed's thinking is moving forward. The language in those minutes has the potential to move each of those three markets significantly tomorrow, so investors need to be alert around the release time.
Chart of the Day:
Brent Crude has fallen dramatically in recent weeks and thanks to certain international events in the energy market it has fallen at a faster rate than WTI Crude. The economics of the world energy market are quite complex, but we would bet that the price of Brent rises at a faster clip than WTI when oil finally does bottom.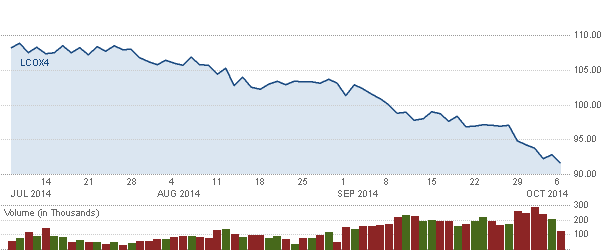 Source: CNBC
Commodity prices are as follows (at time of submission):
Gold: $1,211.90/ounce, up by $4.90/ounce
Silver: $17.19/ounce, down by $0.035/ounce
Oil: $89.44/barrel, down by $0.90/barrel
RBOB Gas: $2.3713/gallon, down by $0.0419/gallon
Natural Gas: $3.935/MMbtu, up by $0.035/MMbtu
Copper: $3.0285/pound, down by $0.007/pound
Platinum: $1,261.90/ounce, up by $12.70/ounce
Rio Tinto Targeted
Shortly after we published yesterday's commodity article we saw news break that Glencore (OTCPK:GLNCY) had approached Rio Tinto (NYSE:RIO) about a possible merger between the two companies. The market immediately pushed Rio Tinto's shares higher on the reports, but today we know that the companies have not held discussions in months.
While a deal would likely be good for the industry as a whole, as capital spending would be reigned in, the benefit to Rio shareholders is the real question. It appears that the company's board saw very few synergies with a Glencore-Rio Tinto tie up and based off of the press release the management team thinks they can deliver better returns to shareholders by going it alone rather than selling their cheap equity for Glencore's stock which trades at a premium.
If Glencore is truly looking to do a deal, we would suspect that the company will focus on names which have a strong presence in markets which Glencore has expertise in. Iron ore was not one of those markets and the synergies would have been minimal. We think that if Glencore wants to do something in the near term, then they will need to focus on smaller players with key assets that could be bolt-on acquisitions for the European mining and trading house.
Trouble On The Farm?
AGCO Corporation (NYSE:AGCO) is lower by over 8% today after the company lowered their Q3 and full-year earnings figures after demand dropped off during the quarter. The company highlighted a few problem areas, including a strong US dollar and weakening demand across all regions as commodity prices retreat.
This is not good news for the agriculture equipment makers and matches what the management team at Deere (NYSE:DE) has been discussing lately. Also lower on the news is CNH Industrial (NYSE:CNH), and with the current state of the grains and agricultural commodities, we would not be surprised to see this weakness show up in other companies' numbers, looking specifically at the seed and fertilizer companies.
Disclosure: The author has no positions in any stocks mentioned, and no plans to initiate any positions within the next 72 hours.
The author wrote this article themselves, and it expresses their own opinions. The author is not receiving compensation for it (other than from Seeking Alpha). The author has no business relationship with any company whose stock is mentioned in this article.
Editor's Note: This article discusses one or more securities that do not trade on a major U.S. exchange. Please be aware of the risks associated with these stocks.