It is almost a sport on CNBC to blame things on Qaddafi, Libya, Egypt and the socialists that are taking over our country. As a lover of freedom (just look at my constant tweets @acornnyc), I truly feel for all of the people striving for freedom. I wish for them peace and to achieve freedom and democracy in truer formats than we even enjoy here. For this post, please do not think of me as callous, this is purely from a portfolio manager's perspective.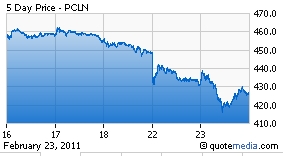 One of our holdings is a mostly web-based firm: Priceline.com (NasdaqGS: PCLN). It reported earnings Wednesday (see earnings call transcript here). With a P/E of over 46 before Wednesday's news, compared to arch rival (even if much smaller) Expedia (NasdaqGS: EXPE), with a P/E just under 14, there needs to be many reasons to garner such a high multiple. Wouldn't the value play in Expedia be the long-term smarter investment?
If one held the two stocks over the past six or 12 months, the gap in performance is a 50% and almost 100% difference, respectively. Multiples are usually given for good reasons over time and this post focuses on PCLN.
For those who don't know the company, below is a direct cut and pasted from Yahoo Finance, generally supplied by the company's IR team.
It provides various travel services, including airline tickets, hotel rooms, car rentals, vacation packages, cruises, and reservation services. The company also provides destination services, such as parking, event tickets, ground transfers, tours, and other services available at their travel destinations; and travel insurance package that provides coverage for trip cancellation.
The market loves to prove two things over and over. One, it is really not an efficient market. When panic or uncertainty sets in, fundamentals go out the window and havoc spreads. This leads to number two; Uncle Warren says when others are fearful be greedy, and when others are greedy be fearful. These words hold most true for those of us who manage our portfolios both long and short, adjust position size to lock in profits, take advantage of short-term opportunities, and enjoy measuring volatility along with tracking deltas gaps patterns to uncover unusual movements.
PCLN has tracked the inverse of oil prices rather than its sector (Consumer Discretionary) or the broader market, as measured by the S&P 500, since the crisis began. It seems the Street assumes that if airlines are being hurt by the crisis in the Middle East due to higher oil prices (jet fuel), that Priceline will be hurt as well. I did not bother checking to see what percentage of PCLN's business was booking trips to Libya or Eqypt.
Now, hotels and car rentals might be hurt if the price of oil goes up. The spike based on the price set by Saudi Arabia of $90 is now over 9% higher – I get it. However, the 24 hour news cycle likes to take this to the limit. Scenarios set forth today include Libya cutting off all Middle East oil exports. From that, we could see a three month spike even further, and I am fearful. I admit to being overweight energy right now, owning stocks like Devon Energy (NYSE: DVN), which is focused on the US and Canada, and holding SPDR Gold Trust (NYSEArca: GLD).
The Point: Priceline is a classic play in a recovering economy on a global basis for both businesses and consumers. The firm is well positioned to continue benefiting in affluent markets.
Of course, being far from naïve, I believe that PCLN should be influenced by world events. However astute investors understand that over-reaction presents opportunity. Wednesday's release beat analysts' consensus for earnings and missed slightly on revenue, but still climbed 35%. Even with the crisis, the firm set the bar for the next quarter higher than analysts predicted, and the stock was up nicely in after-hours trading.
At least once a quarter we get to hear from the companies instead of the media and the Street. Fundamentals prevail and the concept of fair valuation takes hold.
I so enjoy earnings season.
Disclosure: Mr. Corn is Chief Investment Officer of E5A Funds LLC. He is currently long PCLN, GLD and DVN.