For those looking for a trend to ride in the coming days, the S&P 500 is sending a potentially significant signal.
The S&P 500 is our favorite proxy for overall risk appetite, and it appears likely to test lower in the coming days. That means we can expect to see most other major global indexes testing near term support levels which, like those of the S&P 500, are still potentially a few days away.
Here's why:
Fundamental Drivers
A genuine threat to both global oil production and to profits for oil companies with stakes in Libyan production. Libyan leader Gadaffi is facing a growing mutiny in his military, diplomatic, and administrative apparatus. He has reneged on oil production contracts claiming force majeure and has ordered the destruction of his own oil pipelines to the Mediterranean.
There are other negatives out there but this and related Mideast turmoil (including the implied threat of stability to the key oil producing Gulf States) is the big one. Spanish, French, and Italian oil companies' have all reported reduced production. Italian stocks have been very hard hit due to their extensive Libyan exposure.
Note that the core of the matter for markets is oil prices. April futures on crude have touched $100/bbl. Oil is rapidly approaching that $100- $120 zone at which the consensus is that it starts to become a significant drag on the global economy.
Note also that if that happens, correlations between oil and most other risk assets will start to reverse. Oil has usually followed optimism higher. But when oil hits that $100-120 range rising oil price trends start to mean falling trends in other risk assets.
A Key Technical Sign of More Near Term Downside
Since the S&P 500 bottomed in March 2009 we've seen repeated cases of the index climbing its upper Bollinger Band. We've noted often that a pullback from that upper Bollinger band comprised of 2 consecutive lower daily closes, the index tends to test down to its 50 day Simple Moving Average, now about 20 points further down.
Here's the daily chart (click to enlarge):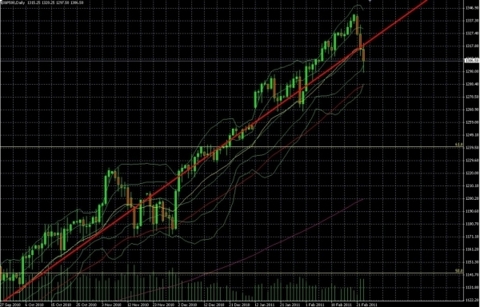 S&P DAILY CHART COURTESY OF ANYOPTION.COM 01feb 23 2350 d
We got that signal Tuesday, and the downtrend continued Wednesday. At the current rate of decline we could well have our test by the end of the week.
Wednesday's close also showed the first decisive violation of its up-trend line since late November.
Note that we're only talking for now about a likely lower trend for the coming days. The longer term technical picture remains bullish and could absorb a dip as low as one into the 1250 range before we'd get a decisive violation of that 50 day SMA and the lower Bollinger Band.
Until then, unless we get a more bearish set of fundamental drivers, we must treat the pullback as short term.
Trading Ramifications For The Coming Days
This means not only is the S&P 500 looking at a lower move in days ahead, so should most other major indexes.
For stock index and ETF traders: that means near term short bias for the SPY, QQQQ, DIA and bellwether sector leaders that tend to follow the indexes. Companies with major Mideast exposure like Enersis (ENI), Total (NYSE:TOT), are vulnerable, as are ETFs with heavy Mideast exposure like PowerShares MENA Frontier Countries (NASDAQ:PMNA), WisdomTree Middle East Dividend (NASDAQ:GULF), and Market Vectors Gulf States Index (NYSEARCA:MES).
Binary Option Traders: For stock indexes, those playing the daily trend are likely to find better rewards riding this downtrend rather than trying to time its reversal.
Interestingly, correlations between stocks and some other risk assets are not holding up, though the reasons aren't hard to fathom.
Forex
The EUR and GBP aren't following stocks lower because both have gotten support from hawkish indications from key policy makers that rate hikes are coming sooner than expected. In both cases we disagree, because both the EU and UK have enough economic weakness to stack the odds in favor of further delays in rate hikes until the affects of new austerity measure becomes clearer. In the case of the EU, until the necessity of at least partial default is acknowledged and the damage quantified, EU leaders will be reluctant to risk a rate hike that could be fatal to hopes that the PIIGS block can somehow avoid default.
We remain surprised at the EUR's resilience. Greek austerity riots? Irish elections that could bring in a government set on partial default? Not bothering the EUR much yet.
Those without direct access to spot forex can play the recent bounce in the EUR and GBP via their related ETFs:
Meanwhile, the EUR's strength on rising rate hike expectations relative to that of the USD continues to pressure the USD, which we would think should be benefitting from safe haven flows. Not yet. It's too soon to declare a short term USD downtrend, however, at least not until we see the EURUSD break robustly over 1.3700.
Note that while these currencies have risen on hawkish talk, their 3 month LIBOR rates have not moved up much, suggesting that bond traders are less enthusiastic.
Commodities
Oil's (OIL, DUG) rise is understandable as Mideast oil production is threatened by the recent spreading turmoil.
However, gold and silver have also been strong of late despite the EUR's strength. Perhaps this is more a reflection of concerns about the US Dollar as rate hike expectations are lower relative to those for the UK and EU.
Commodities traders have an uptrend to play in oil, gold and silver.
In addition to going long the common ETFs like GLD and SLV, there are also the major miners.
Stock and ETF players can do the same with short term longs on GLD, SIL, OIL and other related ETFs as well as gold miners (Barrick (NYSE:ABX), Agnico-Eagle (NYSE:AEM), AngloGold Ashanti (NYSE:AU), Gold Fields (NYSE:GFI), etc.) and oil drillers (ExxonMobil (NYSE:XOM), Chevron (NYSE:CVX)) as long as they don't have major Libyan exposure.
Conclusion: What To Watch: Mideast Turmoil Spread, Oil, PIIGS Bond Yields
In addition to Mideast tension, keep an eye on the US durable goods data and jobs reports today, Thursday, and preliminary GDP Friday. Good news could help halt the near term downtrend in stocks. The same goes for US preliminary GDP Friday. The weekend threatens to seat an Irish government with a mandate to renege on at least some of its debt. Any sign of that and the EURUSD is likely to be headed lower. You'll know markets are again seriously worried about the EU when PIIGS bond yields start jumping.
Most important: if protests start to hit the major oil producers, watch oil's trend continue to spike higher, and stocks plummet lower.
Disclosure: Author is short the EUR for personal portfolio with no leverage as a multi-week trade awaiting a EUR breakdown as the reality of restructure dawns.
Disclaimer: The above is for informational purposes only and not to be construed as specific trading advice. Responsibility for trade decisions is solely with the reader.