Last July, I penned Part I of this article, suggesting that consumer discretionary would underperform energy E&P firms due to higher energy prices stealing limited opportunity dollars from consumer budgets.
The investment thesis is still intact. Higher consumer energy prices and higher taxes, instigated by escalating oil prices, higher cost to produce alternative energy, and increased taxpayer funded subsidies for alternative energy projects, will ripple through the economy. Higher traditional energy prices will become a drag on consumer discretionary spending.
The update is two fold:
Not much has changed to dramatically increase the US domestic supply of oil. Natural gas is virtually gushing out of the ground on its own, but there is no government drive for preferred fuel conversion. Natural gas for transportation should be a no-brainer, but it is not. Alternative energy is still more expensive and still achieves the rare status of taxpayer support for its lifeline. The Keystone XL pipeline from Cushing to Port Arthur and Houston is still being debated. The State of NY continues its moratorium on hydro-fracing.
Oil prices are 30% higher than when Part I was published. This will begin to negatively impact consumers, but it also tends to close the gap with higher priced alternatives. However, natural gas is still in the doldrums, and is substantially less expensive than solar or wind for generating electricity.
The tug of war between traditional energy and alternative energy continues. Investors should be better positioned, seeking companies in the traditional energy field.
Part I suggested investors review Apache (NYSE:APA), Conoco-Phillips (NYSE:COP), Suncor (NYSE:SU), Dorchester Minerals (NASDAQ:DMLP), ATP Oil and Gas (ATPG), and GMX Resources (GMXR). Part II adds Norwegian deep-water driller SeaDrill Limited (NYSE:SDRL) and Canadian fracing services provider GasFrac (OTC:GSFVF), (GSF.TO), along with nuclear power producer Exelon (NYSE:EXC).
SeaDrill Limited is currently valued at a 30% discount to its US peers, and in line with its Norwegian peers. SDRL operates submersibles, semi-submersibles, and jack up rigs. Their fleet is one of the newest, which is critical for better day rates and lower maintenance costs. Their high debt is reflective of their fleet's low age. SDRL offers a 5.1% dividend yield, almost 70% higher than its US peers. Like many in the drilling business, SDRL has seen a great run recently, and could be considered fully valued. While dividend growth will slow a bit in the foreseeable future, the above average current yield compensates investors while earnings grow at low-double digits rates.
GasFrac provides unconventional fracing services to the unconventional horizontal drillers. Rather than using water for the process, GasFrac injects a propane gel. The gel was developed by Chevron (NYSE:CVX) and is licensed to GasFrac, and the company has patents pending on its injection equipment. According to the company, this process is exempt from the NY moratorium. More information can be found here.
Exelon is the largest nuclear power producer in the US. Due to the economic slowdown, electricity demand has fallen with an especially weak 4th quarter. Add lower demand with lower natural gas powered electricity generation costs, and the overall wholesale market becomes depressed. As natural gas pricing firms over the next two years, and as electricity demand improves, EXC should see a rebound in electricity pricing and profitability.
As the traditional energy sector continues to strengthen, the consumer discretionary sector will continue to underperform. The sector includes hotels, travel and tourism, consumer retailing especially high-end, household durables, and automobiles.
Below is a 5-yr chart of the SPDR Energy (NYSEARCA:XLE) and SPDR Consumer Discretionary (NYSEARCA:XLY) ETFs, along with the S&P 500: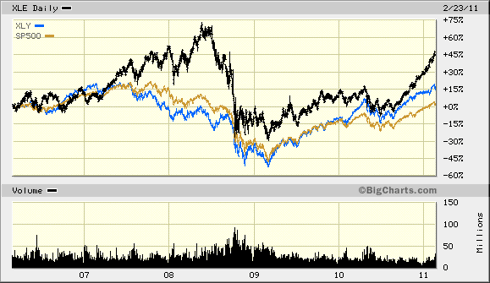 In Jan 07, there was the beginning of a divergence between XLE and XLY. As energy prices rose into mid-08, consumer discretionary fell. Since early Oct last year, XLE has outperformed XLY. Consumer discretionary spending may be at an inflection point with XLY positioned to roll over, similar to 2007.
Every spike in oil prices since the first "oil shock" of the early 1970s has been followed by a recession. With the domestic economy 70% reliant on consumer spending, there needs to be a balance between strong oil markets and consumer spending so as not to tip the scales towards general economic interruption.
Let's hope the current political turmoil in the Middle East does not tip the scales past the inflection point. If that becomes the case, both energy and consumer discretionary will suffer.
As always, investors should conduct their own due diligence, should develop their own understanding of these potential opportunities, and should determine how it may fit their current financial situation.
Disclosure: I am long APA, SU, DMLP, ATPG, GMXR, OTC:GSFVF, EXC.