Cree, Inc. (NASDAQ:CREE) has strong financials (see table 2, below). In addition to increasing EPS and Net Operating Cash and a Debt-to-Equity ratio of zero, the company has a gross profit margin of 45.4% and a P/E of 34.15.
Yet, Cree opened October 7, 2014 at $33.15, 55.2% below its October 18, 2013 high of $73.86.
I see the stock price as an example of "Mr. Market" misunderstanding the value of the company. It seems to me that Cree is developing and profitably marketing disruptive technology, but Mr. Market is focused on the dip in earnings and margins, rather than on Cree profitably marketing the technology and the long-term size of the market.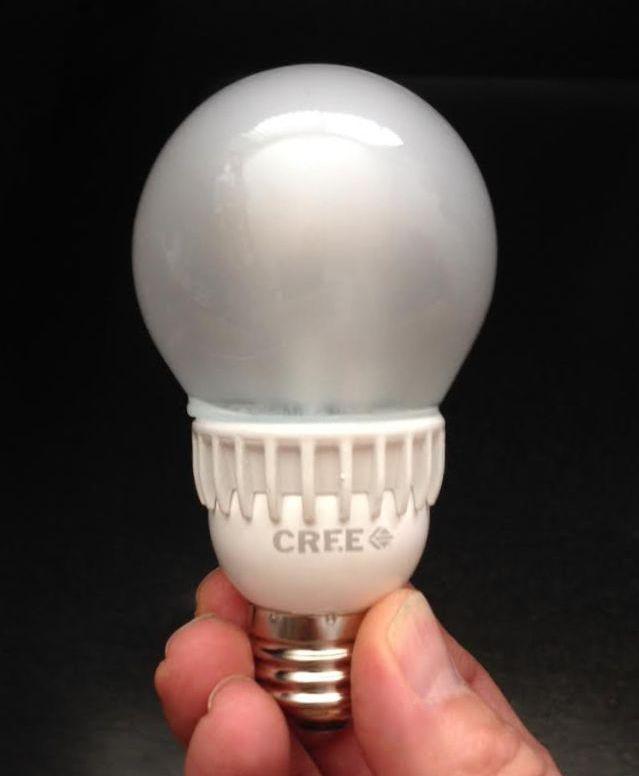 Cree makes light bulbs built around LEDs, also made by the company itself. These use less electricity, generate less waste heat and last longer than incandescent and compact fluorescent bulbs.
The Cree 60 Watt-Equivalent bulb, pictured above, is a 9.5 Watt bulb, which uses 84% less energy than an incandescent 60 Watt bulb. The Cree 100 Watt-Equivalent bulb is an 18 Watt Bulb, which uses 82% less energy than a 100 Watt incandescent bulb.
Cree bulbs have an expected life of 25,000 hours, and are guaranteed for 10 years. Incandescent bulbs and compact fluorescent (CFL) bulbs typically last for one to two years.
As described in Table 1, below, this adds up to modest cost savings compared to CFLs, and dramatic cost savings compared to incandescents.
LED, CFL, Incandescents - 100 Watt Equivalents

ITEM

Cree 18 Watt

CFL 23 Watt

Incandescent 100 Watt

Annual electricity cost *

$5.16

$6.59

$28.67

10-year electricity cost

$51.60

$65.90

$286.70

Number of bulbs

1

5

5

Cost of bulbs (Internet)

$20.00

$12.50
($2.50 Each)

$12.50
($2.50 each)

Total cost of lighting

$71.61

$78.44

$299.21

* Assumes 5 hours per day, at 15.71¢ per kwh.

Table 1
Compared to CFLs, in addition to using less energy and lasting longer, LEDs are also fully dimmable, do not hum, emit a more balanced light, and do not contain methyl mercury vapor, a hazardous gas.
This is why I see Cree as developing and marketing disruptive, paradigm-shifting technology.
In "Why Cree (CREE) Stock Is Plummeting Today" on TheStreet.com, 10/2/14, Shawn Ingram wrote:
The chipmaker said it expects fiscal first quarter revenue of $428 million, below its previous guidance of $440 million to 465 million.
Describing Cree as a "Chipmaker" would be like describing the Walt Disney Company (NYSE:DIS) as an animated film company. Cree makes chips, and Disney makes animated films. But both companies do much more. Along with animated films, Disney makes motion pictures, owns and operates theme parks, owns and operates television networks, sells merchandise based on the films in retail stores and at the theme parks, et cetera.
As for Cree, in its 2014 Annual Report (available here), it says:
Cree is leading the LED lighting revolution and making energy-wasting traditional lighting technologies obsolete through the use of energy-efficient, environmentally friendly LED lighting. Cree is a market-leading innovator of lighting-class LEDs, LED lighting, and semiconductor solutions for wireless and power applications.

Cree's product families include LED fixtures and bulbs, blue and green LED chips, high-brightness LEDs, lighting-class power LEDs, power-switching devices and radio-frequency/wireless devices. Cree solutions are driving improvements in applications such as general illumination, backlighting, electronic signs and signals, variable-speed motors, and wireless communications.
To return to the financials, Table 2 below shows key financial data for 2011 through fiscal 2014, and offers estimates for fiscal years 2015 and 2016.
Cree, Inc., Selected Financial Data

Metric / Year

2011

2012

2013

2014

2015 (est.)

2016 (est.)

Revenues

$988M

$1,165M

$1,386M

$1648M

$1,829M

$2,113M

Rev. Growth

13.9%

17.9%

19.0%

18.9%

11.0%

15.60%

Profits

$436M

$409.5M

$523.3M

$618.8M

$654.0M

$745.0M

Margins %

44.1%

35.2%

37.8%

37.6%

35.8%

35.3%

EPS

$1.39

$0.60

$0.86

$1.01

$1.58

$1.89

Actual data for fiscal 2011 to 2014. Forecasts / Estimates for 2015 and 2016

Table 2
I see Cree as a profitable company with disruptive technology; a paradigm-shifting company. The forecast drops in revenue growth, and margins from 2013 to 2015 suggest why the stock dropped from its high of 78 in October, 2013. Given that LED lighting is a paradigm-shifting technology, investing in CREE in 2014 could be like investing in Microsoft (NASDAQ:MSFT), Intel (NASDAQ:INTC) or Apple (NASDAQ:AAPL) in 1986, or Disney in 1940. That scenario, however, depends on management execution. If they can't execute, then investing in Cree could be like investing in Ashton Tate, Borland or Informix.
Disclosure: The author is long CREE, AAPL, DIS, IBM.
The author wrote this article themselves, and it expresses their own opinions. The author is not receiving compensation for it (other than from Seeking Alpha). The author has no business relationship with any company whose stock is mentioned in this article.