The National Retail Federation presented an optimistic outlook for retail sales this holiday season, but economic data may not support such a claim. The NRF said Tuesday that it expects holiday sales to increase 4.1%, to $616.9 billion, from $592.7 billion a year ago. Recent U.S. economic data, however, regarding the wealth effect, disposable income, and the high level of part-time work may indicate that consumers won't be as willing to spend as the trade group believes.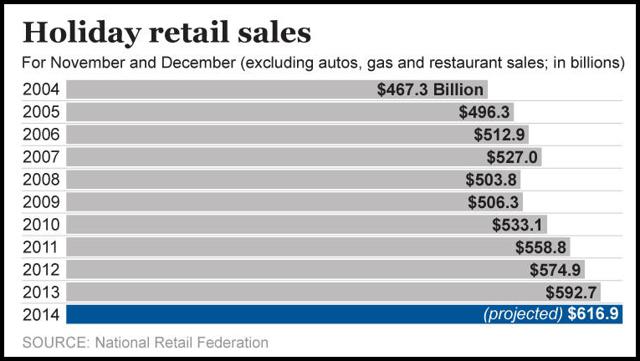 Consumers tend to spend more when either incomes rise or wealth increases. Although U.S. stock markets have reached record levels this year, few Americans say that they feel they are in a financially better situation due to the rise. According to a recent Bloomberg National Poll, three-quarters of Americans say the five-year bull market in U.S. stocks has had little or no effect on their financial well-being. Seventy-seven percent of respondents dismissed the benefits of the 120% rise in the SPDR S&P 500 (NYSEARCA:SPY) since its March 2009 financial crisis low, according to the poll, taken March 7-10. Moreover, only 21% said the market's gains have made them "feel more financially" secure. "I'm not invested in the stock market, never have been," Rich Gleason, 61, of Suttons Bay, Michigan, whose floor-covering business failed amid the 2008 credit crunch said in the Bloomberg study. "That's somebody else's game."
Of those that do own stocks, their relatively small exposure to financial markets through 401(k) retirement plans may have done little to increase feelings of wealth as well. Half of Fidelity Investment customers have less than $25,600 in their 401(k) accounts, according to Fidelity spokesman Michael Shamrell.
So considering the wealth effect is not a valid reason for a majority of Americans to go out and spend this holiday season, what about disposable income. The chart below shows the percent annual change in U.S. disposable income since 2000. The chart naturally declined during both the bursting of the tech bubble in 2000, as well as during the financial crisis in 2008-2009, but more surprisingly is its downturn at the beginning of this year. This year the average annual growth rate has risen between 0-1% in each month. If consumers are seeing little to no gain in disposable income, while not fully participating in the rising stock market, it is difficult to see where the National Retail Federation came up with its 4.1% growth figure.

Data provided by the Federal Reserve
The tepid growth rate of disposable income can be attributed to continued slack in the labor market. The percent of part-time jobs for economic reasons among those in the labor force quickly rose from 3% to 6% during the financial crisis. The indicator of part-time jobs for economic reasons is simply economic speak for those who are employed part time, while they would prefer to be employed full time, but they must take the job to pay the bills. Since peaking near 6%, the level of part-time jobs in the economy has remained elevated. Although the indicator has decline from 6% to 5% in five years, it is still well above its average level prior to the crisis. As the quality of jobs in the economy remains poor, disposable income is likely to continue to increase at its uninspiring 0-1% pace.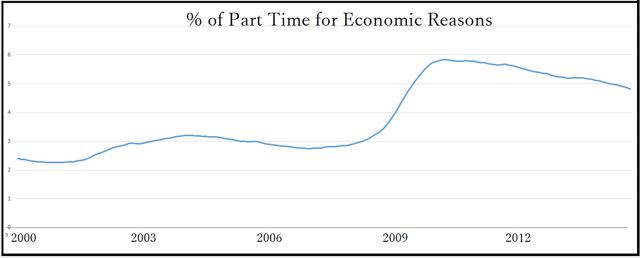 Though The National Retail Federation was optimistic on retail sales this holiday season, they did remain cautious, while competing analysts have come out with more pessimistic projections for sales. PricewaterhouseCoopers released its holiday spending forecast on Tuesday as well, and it was much gloomier. The accounting and consulting firm projected that the average household will spend $684, down 6.9% from $735 last year, based on a survey of more than 2,200 consumers nationwide. PwC's survey found that U.S. consumers could be classified into two groups: Selectionists, households with incomes of more than $50,000 who plan spend an average of $978, and Survivalists, households with incomes less than $50,000 who plan to spend only $377.
"The spending divide among shoppers is widening, creating two distinct groups that we are tracking - survivalists and selectionists - and retailers must cater to both segments," Steven Barr, PwC's U.S. retail & consumer practice leader, said in a statement. Meanwhile, NRF President and Chief Executive Matthew Shay cautioned, "While expectations for sales growth are upbeat, it goes without saying there still remains some uneasiness and anxiety among consumers when it comes to their purchase decisions."
While SPDR S&P Retail (NYSEARCA:XRT) trades near record highs, it may have trouble breaking above $90 resistance as economic data simply do not justify strong retail sales this holiday season. PwC said the survivalists who make less than $50,000 represent 67% of American shoppers, up from 65% last year, another sign that the economic recovery has not made life better for everyone.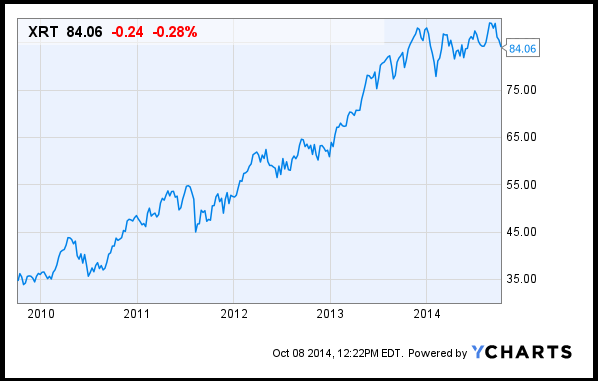 Disclosure: The author has no positions in any stocks mentioned, and no plans to initiate any positions within the next 72 hours.
The author wrote this article themselves, and it expresses their own opinions. The author is not receiving compensation for it (other than from Seeking Alpha). The author has no business relationship with any company whose stock is mentioned in this article.