The bleak glimmer of hope that remains for Tengion, Inc. (TNGN) is worth more than the $30M investors valued the company at, as of the close on Thursday. Shares slid for the sixth consecutive session after Tengion
told investors
that a potential acquirer it had been in merger negotiations with folded
his
hand. In response to the news, the company issued a statement; one part stood out:
If Tengion cannot secure either a sale transaction or alternative financing through partnership or equity investment, Tengion may need to take steps to wind down its operations.
Tengion now finds itself at a probable end. To make matters worse, the company only has enough cash to fund operations until April. So it's essentially imposed a one-to-two month deadline, by which time it needs to come up with more cash. But here's where it gets interesting.
As of September 30th, 2010, Tengion had a breakup value of $16.72M or $1.35/share, according to its quarterly (10Q) SEC filing. Subtract that from a market cap of $30.40M and you have $13.68M that a potential acquirer would actually be paying to acquire the intangible value behind this company. That's $13.68 million for the company's entire pipeline of product candidates for the treatment of organ and tissue failure, using TNGN's proprietary regenerative technologies. Below is a look at the complete pipeline and product candidates in various stages of development:
[Click to enlarge]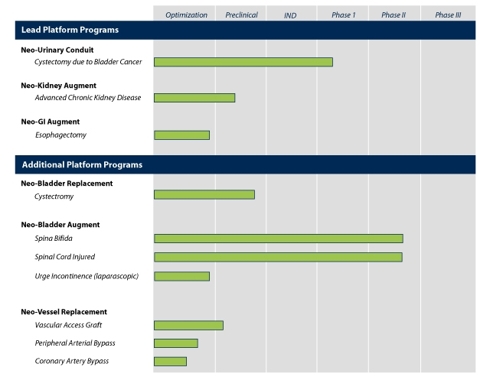 Without reiterating what you can already tell by glancing at the pipeline (above), according to the company's website:
Tengion Neo-Bladder Augment™ has completed two Phase 2 clinical trials in patients with neurogenic bladder: Pediatric patients with spina bifida and adult patients with spinal cord injury.
Welcome to the same circle of ongoing research that pharmaceutical giants Pfizer (NYSE:PFE), Merck Co. (NYSE:MRK), Bayer AG (OTC:BYERF) and others are sinking billions into. The regenerative medicine industry is estimated to grow to $118 Billion by 2013. And a quick run by the old clinical trial database reveals startling numbers in clinical trials for spinal cord injury.
So it becomes a question of whether or not an arm of a stable pharmaceutical company values Tengion's technologies enough to enter into a relationship with the company or simply spare some change and buy it out.
Besides, it seems that any biotechnology company with a multiple-product pipeline and at least one candidate in late-stage clinical trials comes with a sticker price of $100M+, so why not Tengion too?
In addition, in the next week or so, Tengion will report fourth quarter financials. The report itself will be telling of management's strides in securing a partnership and may reduce fears that have plagued investors for a considerable period.
Disclosure: I am long TNGN.