Several years after the disappearance of bipolar markets (also called risk on/risk off), are we witnessing the vanishing of safe haven trades?
The last 30 days have been characterized by an increase in risk aversion, coupled with a common downward trend for both stock indexes and commodity prices.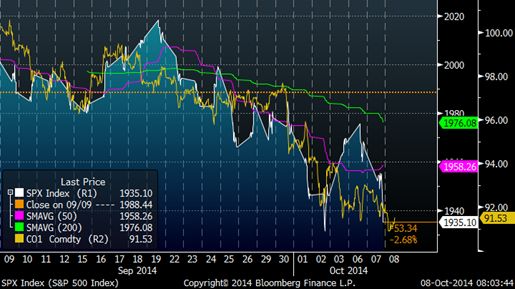 Interestingly the traditional pattern of safe haven flows has seen a huge reversal since the beginning of October. Both charts below highlight what is at stake.
1. Through September, U.S. Treasury yields fell while the U.S. dollar appreciated, something that is typical of a risk aversion trade. Over the last few days though, they are moving hand in hand suggesting that a long position on U.S. Treasury bonds is no longer associated with a FX gain for non-U.S. investors. The relationship between the USD and U.S Treasury yields has turned significantly positive for reasons linked, among others, to the growth momentum and monetary policy stances across the globe. But we would have expected a break in periods of uncertainty and sell-offs.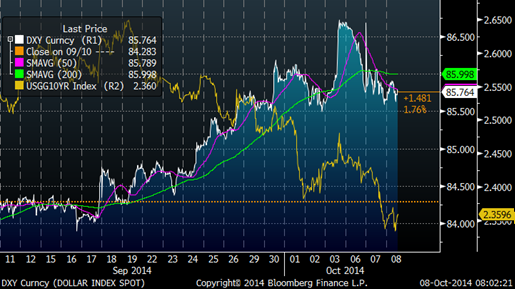 2. Also, the relationship between the VIX and the USD has also inverted. A stronger dollar is no longer associated with an increase in the "fear index". It is not the case since late September.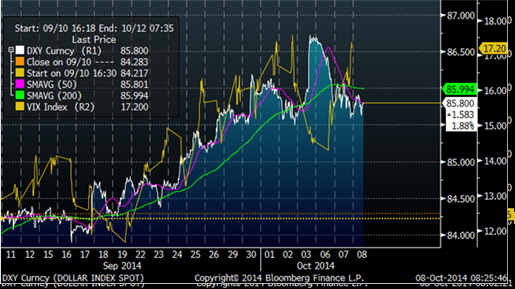 This suggests that there is something wrong with the U.S. dollar. I suggested in a previous post that the DXY might had gone too far too quickly. Given the adjustment that we have seen in the short ends of swap curves, the fall would be economically justified.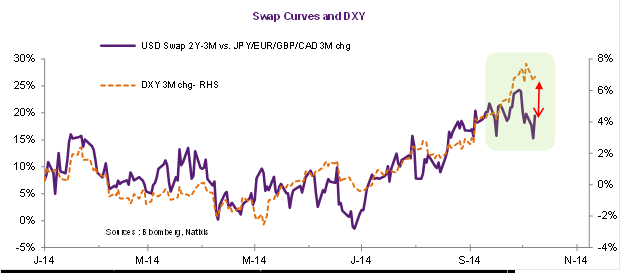 Add to this the "alarmist" comments of several Fed members on the rapid appreciation of the U.S. dollar ("If the dollar were to strengthen a lot, it would have consequences for growth," according to New York Fed's Dudley). There was room for a dollar adjustment based on its idiosyncratic factors.
Bottom Line: Safe haven trades are probably not over, the only oddity being that being long the U.S. dollar was a crowded trade and required a short run adjustment. The fact that the gold prices did not distance themselves from the U.S. currency is, to me, linked to the fact that it was oversold (see below the level implied by real yields, to me the best structural driver of the yellow metal).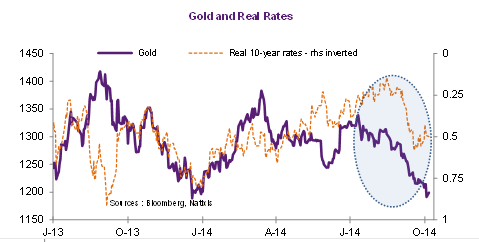 Disclosure: The author has no positions in any stocks mentioned, and no plans to initiate any positions within the next 72 hours.
The author wrote this article themselves, and it expresses their own opinions. The author is not receiving compensation for it (other than from Seeking Alpha). The author has no business relationship with any company whose stock is mentioned in this article.