I spoke with a reporter recently looking to get some commentary on what's going on in the oil markets. I told him that I believed that investors who are betting on Oil prices are not betting on a trend, but rather on a gap. After all, a supply shock to the oil market should instantly cause the price per barrel to jump in a very short amount of time. Trends in the oil market are more driven by changes in demand resulting primarily from global growth. Supply disruptions are ultimately what results in kurtosis/skew/black swans in commodity prices.
Having said all that, there does appear to be growing rhetoric that oil prices will cause an inflationary problem in the U.S., and generally this is true. However, the question of whether oil prices are inflationary or not does not have much to do with the current price per barrel, but rather the speed of future price movements.

If oil prices creep up by a relatively small amount every single week, investors, CEOs, Boards, suppliers, consumers, etc. likely would prepare to adjust future spending because of an extrapolation of future oil prices from existing trends. If you own a major company and you see the price of Oil creeping up every week, you have time to adjust your operations and raise prices to pass down that incremental cost to the end Consumer (inflationary).
The point I'm trying to make here is that trends in Oil prices tend to be inflationary because there is time to pass down that cost to final goods. However, what happens when oil spikes? Once again, if you're the owner of a major corporation and Oil suddenly jumps 5% a week, you have little time to adjust your operations, little time to change your prices, i.e. little time to react fast enough to absorb those jumps. You'd be more likely to let go of some of your workers because the cost of Oil jumped in such a way that you are unprepared from a cash flow and liquidity standpoint (deflation.

Given everything that's been going on in the Middle East, and the recent spike in Oil prices, investors in the bond market are not actually betting on it being inflationary. I say this because Bond yields have actually dropped this week, particularly on the long end of the curve. Inflation expectations generally cause bond prices to go down and yields to go up to adjust for changing inflation premiums. That hasn't happened this week. Take a look at the price ratio of Treasuries (NYSEARCA:TLT) to the S&P 500 (NYSEARCA:IVV). As a reminder, a rising price ratio means the numerator/TLT is outperforming (up more/down less) the denominator.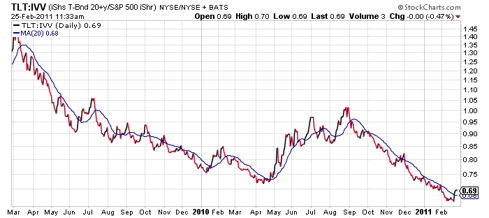 Notice how strongly Bonds have underperformed Stocks since late August. The recent spike in the ratio has coincided with the fear over spiking oil prices. The implication? Should Oil prices continue to spike, the bond market may actually be the favored asset class to position into relative to stocks because of the deflationary impact of those spiking prices, and readjustment in the near-term of inflation expectations.

Disclosure: I have no positions in any stocks mentioned, and no plans to initiate any positions within the next 72 hours.

Additional disclosure: Pension Partners, LLC, and/or its clients may hold positions in securities mentioned in this article at time of writing.