PC Mall (MALL) is not a REIT but a technology distribution company with double digit earnings growth projections. That's a good reason to add it to the Barchart Van Meerten Speculative portfolio of stocks trading under $10.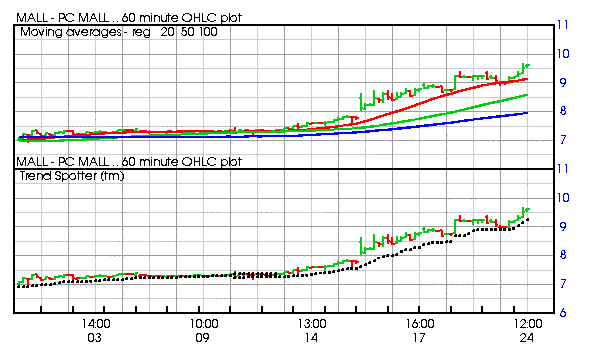 PC Mall is a rapid response supplier of technology solutions for business, government and educational institutions as well as consumers. More than 100,000 different products from companies such as Compaq, Microsoft (NASDAQ:MSFT), Apple (NASDAQ:AAPL), IBM (NYSE:IBM) and Hewlett-Packard (NYSE:HPQ) are marketed to business customers using relationship based outbound telemarketing, catalogs and the Internet. Customer orders are rapidly filled by the company's distribution center strategically located near FedEx's main hub or by PC Mall's extensive network of distributors, one of the largest networks in the industry.
Technical Factors:
100% Barchart technical buy signal
17 new highs and up 37.59% in the last month
Relative Strength Index is 85.79% and rising
Trades around 9.62 with a 50 day moving average of 7.50
Fundamental Factors:
Wall Street brokerage analysts have 2 buy recommendations released
Sales are projected to increase by 5.40% this year and 6.80% next year
Earnings are expected to increase by 49.20% this year, 24.40% next year and 15.00% annually for the next 5 years
Investor Sentiment:
Motley Fool Caps members vote 130 to 10 that the stock will beat the market
The All Stars agree with a vote of 33 to 0
Disclosure:
I have no positions in any stocks mentioned, and no plans to initiate any positions within the next 72 hours.