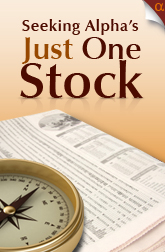 Several times a week, Seeking Alpha's Jason Aycock asks money managers about their single highest-conviction position - what they would own (or short) if they could choose just one stock or ETF.
---
Jack James is technology sector analyst for Camlin Asset Management, a Vancouver, B.C.-based investment firm that applies a catalyst-driven investment approach.
If you could only hold one stock position in your portfolio (long or short), what would it be?
One of our high conviction ideas for 2011 is Blue Coat Systems (NASDAQ:BCSI).
Tell us more about the company behind the stock.
Blue Coat Systems is headquartered in Sunnyvale, Calif., and designs, develops, and sells products that optimize and secure the flow of information over a Wide Area Network (WAN). In 2010, revenue grew 11% to $496 million - a high for the company.
Blue Coat has over 15,000 customers worldwide in five major verticals: Finance, Healthcare, Government, Education, and Business Enterprise. Its products are distributed globally to mid- to large-sized enterprises, with 45% of revenue attributed to the Americas, 35% Europe, Middle East and Africa (EMEA), and 20% Asia Pacific, Australia and China (APAC). Blue Coat partners with industry-leading vendors including H-P (NYSE:HPQ), Microsoft (NASDAQ:MSFT), Oracle (NYSE:ORCL), and IBM to further optimize their infrastructure products with their end ecosystems.
BCSI's roots are Web security. Blue Coat's Secure Web Gateway (SWG) product line acts as the first line of defense against sophisticated cyber-attacks. Its products address these threats with a layered real-time defense system designed to watch over users as they operate on the Web, use e-mail, and utilize Web-based applications, either working in the office or remotely. BCSI is ranked No. 1 by market share in SWG, with an 88% penetration rate among Fortune Global 500 companies. Blue Coat is working to leverage this dominant position by offering lower-priced solutions to the small and medium business segment. Blue Coat is well positioned to protect its clients' data and business services from ongoing cyber-attacks.
WAN optimization was a key technology driver in 2010 due to the increased use of bandwidth-heavy applications, expansive networks, and centralized IT infrastructure. BCSI's WAN solutions help accelerate critical applications for its customers by optimizing traffic, conserving bandwidth and metering/blocking recreational applications. This functionality allows businesses to reduce their capital expenditures on bandwidth upgrades and rely on hardware/software to keep up with the rapidly changing methods of information delivery. Blue Coat entered the WAN optimization market in 2006. They continue to gain share and are now firmly entrenched as the No. 3 player. Blue Coat offers an integrated solution combining WAN optimization with Internet security. This differentiation sets BCSI apart from its peers.
How does your choice reflect your fund's investment approach? Tell us more about your approach and goals.
Our Mergers and Acquisition Mandate focuses on attractive growth stocks within sectors or industries that are experiencing long-term consolidation waves. We focus on company growth metrics, macro industry dynamics and if there is a strategic fit with a potential acquirer.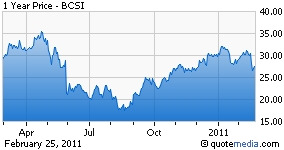 When we have determined where consolidation is likely, we then focus our screening and analysis efforts in those sectors and industries. We then perform bottom-up growth analysis combined with an assessment of franchise value to determine what a company could be worth to a potential buyer. We purchase securities based on these core fundamentals, monitor the company's progress to ensure they do not deviate from our initial investment thesis and wait for a market catalyst to surface value. Our ultimate goal for any holding is that it gets acquired.
Blue Coat fits with this strategy as technology is one of our core investment sectors. The IT security and network equipment spaces are attractive for both growth prospects and potential M&A activity. Blue Coat was identified as an attractive investment straddling two areas in which we wanted to increase exposure.
BCSI's second-quarter 2010 earnings [fiscal fourth quarter, ended April 2010] disappointed the Street as its European division was hampered by the economic slowdown in the region. The company revealed that European sales had been hurt further by its over-reliance on a two-tiered sales platform. We began accumulating stock after the near-40% drop, following our own sensitivity analysis indicating the stock was oversold. BCSI also appointed a new CEO whose near-term strategy is focused on fixing the operational issues in Europe as well as pursuing growth in its WAN optimization business.
How much is your selection of Blue Coat based on its industry, as opposed to a pure bottom-up pick?
Technology is one of our core investment areas combining both growth and consolidation. Understanding the big picture is an important piece of the overall investment process as it helps identify positive trends in technology sub-industries that fit with our M&A mandate. For Blue Coat, these trends include explosive bandwidth demand, increasing adoption of cloud computing applications, the use of virtualization in centralized infrastructure, and data storage. Individually these are all important investment areas, and collectively they contribute to the increased necessity of both WAN optimization and Web security.
How is Blue Coat set up with regard to competitors?
In the Web Secure Gateway market, Blue Coat is the market-share leader (IDC and Gartner). Its Web security solutions are used by 88% of the Fortune Global 500 companies. Blue Coat continues to innovate with its Web security product line and is now rolling out a low-cost security appliance (Proxy One) as well as a cloud-based solution. Both of these products are aimed at small and medium businesses without large IT infrastructure budgets. We believe these new initiatives will be successful and add to top-line growth. Its competition in this segment includes Websense (NASDAQ:WBSN), McAfee (MFE), and Cisco Systems (NASDAQ:CSCO).
BCSI was a late entrant into the WAN optimization space - 2006 - but has steadily gained momentum attributing to its top-three vendor status. Much of its success can be ascribed to what Gartner Group defines as its sound vision of merging security, visibility, and optimization into its ProxySG product line. Its peer group is deep and includes the likes of Riverbed Technologies (NASDAQ:RVBD), Cisco Systems, Juniper Networks (NYSE:JNPR), Citrix Systems (NASDAQ:CTXS), and F5 Networks (NASDAQ:FFIV). The bigger networking players have seen limited traction as their efforts focus on expensive solutions typically integrated within their existing network equipment. Riverbed has set itself apart as a pure play leader in the WAN optimization space and offers a good product with solid brand awareness. Blue Coat offers an integrated all-in-one security/optimization approach which sets it apart from its competitors. They have also managed to carve out a niche in video acceleration which has aided in recent sales as corporate video for communication and delivery of information becomes commonplace.
How does BCSI's valuation compare to its competitors?
Blue Coat's current stock valuation is cheaper than its peers in both Web Security and WAN optimization. BCSI trades at 19 times 2011 earnings compared to 30 times 2011 earnings in the networking sector and 25 times 2011 earnings in the Web security sector. We view BCSI as a "go to" stock at this point. The company is attractively valued versus its peers, it is a leader in both of its business lines, it has differentiated technology, a strong growth outlook and is "unloved" by the street. As the company continues to execute on its business plan, its shares will respond and the valuation gap will be narrowed with its peers.
BCSI's a lot cheaper now after the reaction to last week's slightly lower guidance... but earnings still grew 66% Y/Y. Are sellers getting hasty ahead of new operations plans kicking in? Because they're measuring against faster-growing tech stocks out there.
The recent decline in BCSI's share price reflects the negative earnings surprise as well as a general sell-off in the market due to the turmoil in the Middle East. BCSI shares have retreated approximately 13% since earnings. We view this pullback as equally split between the two events. Longer-term, investors will realign focus on fundamental metrics such as earnings growth. With an estimated 15% Y/Y earnings growth increase for its upcoming fiscal year-end (April 2011), we expect investors realize the value opportunity BCSI presents.
What about the cash flow story? BCSI has been steadily adding to cash (a 50% growth in cash and equivalents in nine months last year) without a significant run-up in debt. How does its balance sheet stack up in this space?
We have been encouraged by BCSI's ability to increase its cash flow throughout its turnaround efforts without compromising key expenditures such as R&D. The record cash flow seen this quarter puts the company on track to see 33% Y/Y increases for its upcoming fiscal year 2011. With strong secular growth drivers in its two key operating markets, and as turnaround efforts continue, we expect to see both revenue and cash flow further validate BCSI moving forward.
BCSI's balance sheet is comparable to its peers in the WAN space, and generally stronger than those in Web security. Things such as large cash positions and negative net debt are comparable metrics when measured against WAN peer Riverbed Technologies, and what separate it from security peer Websense.
Does your view differ from the consensus sentiment on Blue Coat?
First let me start by saying there are two types of shareholders in BCSI - one group who held the stock pre-Europe and the other group (like us) who bought post-Europe [after last year's earnings miss]. Approximately 40% of the company's float turned over in the two weeks around the miss. The new investors are cautiously optimistic and see the opportunity both on a reasonable valuation and future growth. To the rest, the company remains a "show me story" that is surrounded by questions such as: Has Europe stabilized? Will future sales reflect the growth seen by WAN optimization space peers like Riverbed? Can new products generate a meaningful contribution to top-line revenue (particularly on the security side)? Downside volatility arises when these two groups view the future of BCSI differently.
Does the company's management play a role in your selection?
Management's role is influential in our investment process. It is important that management have a proven track record in successfully executing a business plan. We examine current and past performance as well as effective communication with the investor base, industry recognition, as well as previous involvement in M&A transactions. Our assessment of the BCSI management team has us feeling confident in the current stewardship of the company. New CEO Mike Borman brings 30 years of executive experience at IBM with a strong track record of execution and proven leadership ability. These qualities are desirable to help lead the turnaround in Europe as well as drive growth through the company's business lines. After Mr. Borman left IBM, he was CEO of Avocent - a leading developer of server switching systems and software. He is seen to have been the key architect in Avocent's turnaround and eventual sale to Emerson Electric (NYSE:EMR) in 2009. Mr. Borman has a solid track record in the Technology sector. He has "C" level experience and has successfully rebuilt and sold a company.
What catalysts, near-term or long-term, could move the stock significantly?
Near-term/long-term catalysts include:
Stabilization in EMEA and a return to growth.

Positive macro drivers leading to continued IT enterprise spending.

Large contract wins in WAN Optimization.

Introduction of lower-end security products for SMB and traction in the market.

Driving sales growth in Asia Pacific.

More M&A activity - consolidation will continue.
What could go wrong with your pick?
The main macro risk factor will be uncertainty surrounding global growth. If expectations of future growth became cautious or negative, IT budgets will be curtailed. The entire technology sector would face not only earnings revisions but also multiple contraction as risk is reduced.
On a company-specific level, we see the main risks as operational. In other words, how long will it take to turn Europe around, can BCSI successfully implement its new low-cost alternative in the security space, and will it continue to participate in WAN optimization growth?
Thanks, Jack, for sharing your choice with us.
Disclosure: Camlin Asset Management has a long position in BCSI.
Read more Just One Stock interviews »
If you are a fund manager and interested in doing an interview with us on just one stock or ETF position you'd hold, please email us at Just One Stock.