The recent rally in crude oil due to Middle East tensions has been extraordinary. As the chart below shows (click to enlarge), crude oil has rallied 16% in the last 11 days.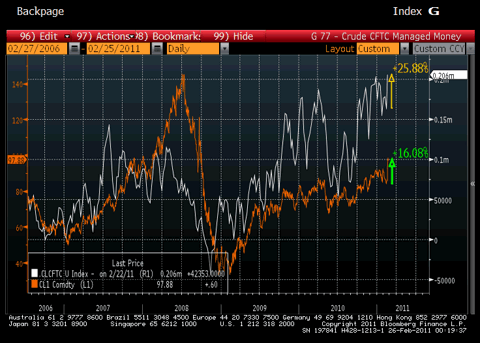 CFTC Commitment of Traders Report

The amber line shows the price of crude oil while the white line shows Managed Money net longs for crude oil futures.
As can be seen, Managed Money net longs are the highest they have been in the past 5 years, and more than 100,000 contracts higher than when crude hit its all-time high of $145/barrel in July 2008. Furthermore, Managed Money longs increased more than 25% in the last week alone.
To us, the explosion in Managed Money speculation to the upside is a cause of great concern for crude oil bulls. While events in Egypt, Libya and other Middle Eastern nations have been sudden and unexpected, the actual disruption to crude oil supply appears minimal to date. Managed Money and other speculators are betting huge that turmoil will persist in the region, and eventually spread to energy production.
With such a rise in crude oil already pricing in significant supply tightness, any unexpectedly good news coming out of the Middle East could cause crude bulls to rush for the exits all at once. While we remain bullish on crude in the long run due to macroeconomic fundamentals, the current surge seems a bit overdone, and we prefer to be slightly bearish on the move.
Relationship with Natural Gas
As we highlighted in our article on Thursday, the ratio of crude oil to natural gas has reached extreme levels, and is not sustainable. While we have more conviction in a strong rally for natural gas than a decline in crude oil, we do believe the pace of crude oil's ascent must moderate.
Trade Recommendation
Since crude oil retains the possibility of rallying on further deterioration of the situation in the Middle East, a cautiously bearish strategy seems prudent. We recommend selling the June 120 calls for $1.79, or $1790 per contract. With the June crude futures contract trading around 100, the trader would profit from this trade as long as crude remained below 121.79 until May 17, less than 3 months from today.
Considering that the trade only needs crude to not rally more than 21% from current levels, the trade is conservatively bearish on crude oil in the near term. If the situation becomes aggravated in the Middle East or if crude rallies above 110, the trader could buy a June crude oil futures contract to hedge.
Disclosure: We are short crude oil calls, and may add to this position on another rise in crude oil prices.