Prepare yourselves. The mobile advertising market is about to explode. As the proliferation of smart-devices accelerates faster than even the most bullish forecasts, we expect 2011 to be the year when corporations direct big money to the mobile advertising space. According to Gartner, the U.S. mobile advertising market is expected to grow at a 3-year CAGR of nearly 50%. By 2013, this sector should be approaching $2.5B in revenues.
What is the best way an investor can get in on this trend? Sure, you can buy Google (NASDAQ:GOOG). With its acquisition of AdMob 16 months ago and with its Android operating system dominating the smartphone market, Google is an obvious way to play this trend. Having said that, mobile is currently a very small part of Google's business and it will take years before it becomes a significant percentage of its overall business. Another way to play the mobile ad market is by going long Velti (VELT). By all accounts, Velti is a very good company with big exposure to Europe. Therefore, for those looking to find a pure play on the US mobile ad market, Velti does not seem to be it.
Don't fret. There is a pure play, one that you most likely have never heard of before. It is called Augme Technologies (AUGT.OB). Currently trading for $4, Augme is poised for accelerating growth in 2011 and 2012. Although some investors may fret over Augme's high-priced market cap of $284M, we do not have such reservations. Based on our research, there are multiple upcoming catalysts that could propel the stock toward a $600M market cap by the end of the year.
Let's discuss:
Revenues Are About to Take Off: After spending the past few years perfecting its proprietary AD LIFE advertising platform, Augme is now well-positioned to enjoy the fruits of its labor. Based on the nearly $30M in bookings received over the past nine months, Augme's revenues appear set to grow from $3-$4M to $20M over the course of this year. The market loves dynamic revenue growth and new institutional investors will gladly pay up for the stock as they discover the Augme story.
Further on into the year, institutions will direct their attention toward FY 2013 numbers (Augme will close out FY 2011 at the end of February). For a company set to expand their revenues by 450% in FY 2012, a growth rate of 200%+ for its next fiscal year is not an unreasonable expectation. This would imply a revenue run rate of over $60M. As Augme begins to deliver on its growth curve, the market could easily award it a price-to-sales multiple of 10. Such a valuation on a fully diluted share count of 80 million shares would find the stock trading around $7.50.
High Margin Business: As the company introduces its SAAS-based model later this year, with its fixed costs and high rate of recurring revenues, Augme's gross margins should trend above 70% over the next few quarters. The market has an affinity for high-margin stories. Look no further than APKT and ISRG to see what we mean.
Lean Operating Structure: Through its channel partnerships with both Inmar and Graphic Packaging International (one of the largest global consumer package goods manufacturers), Augme has gained access to an indirect sales force of over 500 reps, while maintaining a relatively small sales force of its own. These partnerships should allow Augme to retain a lean operating structure, achieve highly profitable operating margins and quickly move to profitability as early as next quarter. Given the valuations awarded to other high-margin businesses such as APKT and ISRG, we believe the market will place a premium on Augme's multiple as well. As it stands now, AUGT is trading for 21x its forward estimates of $0.19. With earnings expected to grow 1800% year-over-year, AUGT's forward earnings multiple seems quite reasonable.
Augme's ADLIFE Is Device-Agnostic: THIS IS A VERY IMPORTANT DISTINCTION. With its patented-device detection and the industry's most advanced mobile content adaptation software, ADLIFE enables brands to access targeted audiences, regardless of the device type or mobile operator, by using 2D barcodes, text messaging and mobile couponing.
To gain a better understanding of the technology behind ADLIFE and the advantages it can offer to advertisers, take a look at this excerpt from Augme's investor kit below. You will soon see that ADLIFE offers a true end-to-end marketing platform that is instantly valid on all devices and operating systems and is designed to grow with the evolution of mobile technologies.
images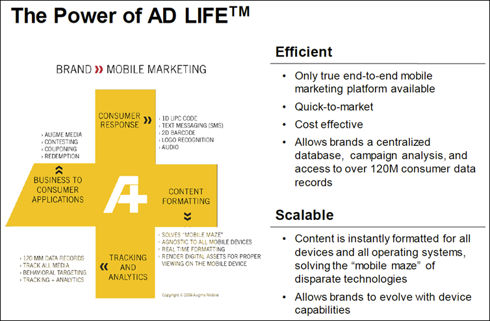 Source: Augme Technologies Investor Presentation
Augme's Blue-Chip Client List Is Expanding. With its rapidly expanding blue-chip client base, including names like HBO and Kellogg's, we expect Augme to land additional Fortune 500 customers as these companies scramble to create their own mobile advertising campaigns. We also expect Augme will begin to enjoy incrementally higher pieces of mobile ad spend from its blue chip clients as we move further into 2011. As proof of this, look no further than Augme's recently announced contract with Smartsource.com, NewsCorp's division focused on couponing.
Last month, Smartsource selected Augme to lead its push into mobile couponing. Although the terms of this deal have yet to be announced, this has all the makings of a home run for Augme. After all, why would one of the world's largest couponing companies choose Augme, if its platform for delivering mobile coupons was not amongst the best?
Groupon I.P.O. The highly-anticipated Groupon I.P.O. is rumored to be slated for some time in 2011. Should this occur, we expect the market to search out any secondary, related plays on the name. In our opinion, Augme could certainly fit the bill. While not the central part of its business, given Augme's mobile couponing relationship with NewsCorp (NASDAQ:NWS), this could quickly place the company in the same conversations as any mentioning Groupon. Though this catalyst could be something of a reach, we all know what happens when a hot I.P.O captivates the Street. Investors love sympathy plays and sister stocks.
Expect a Succession of Quarterly Beats and Raises. With a recently completed secondary offering and $10M in cash to fund its accelerating sales, we expect Augme to post a number of "beat and raise" quarters this year. In fact, if history is any guide, we should receive a business update from company CEO, Paul Arena, at some point in the next few weeks. Shortly after each of Augme's two most recent quarters, Mr. Arena has given investors an update on how the company fared with its revenue ramp.
Given that Augme's quarter and fiscal year ends on Monday, February 28th, we hope to see a press release as early as next week, possibly timed with the company presentation at the Northland Capital Markets Growth Conference on March 3rd.
NASDAQ Listing. With AUGT's chart in perfect position to break out to all-time highs, a sustainable move above $4 will usher in a NASDAQ listing, allowing the company to reach a new institutional investor base. Currently, there is only one analyst following Augme, Northland Capital Markets. Needless to say, new analyst coverage will go a long way toward "getting the word out" on Augme's growth prospects.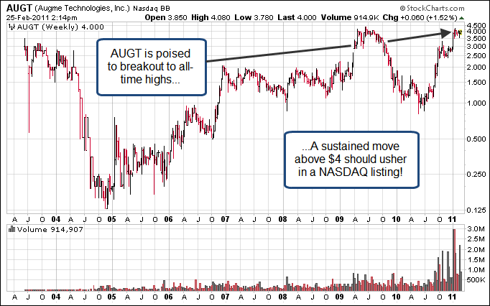 Source: StockCharts.com
On a side note, Northland raised their price target on the stock to $5.75 this past Thursday morning, noting:
In short, recent channel checks for Augme have come back very positive. We note that we are hearing a number of positive trends including increased order size, the Company's ability to drive deeper into existing customers, as well as expansion to new verticals. We believe the recently raised "growth capital" should serve to build out a larger direct sales group that can focus on expansion to new verticals.

We are incrementally more confident our estimates could prove conservative, and more so on FY'2013, when we believe the Company could truly "scale" its model. As such, we are raising our FY2012 and FY2013 estimates and raising our price target to $5.75 from $4.50 based on a probability weighted sum-of-the-parts analysis, which separates our estimated fundamental value from the "embedded call option" of Augme's intellectual property (NYSE:IP) portfolio.

Since new CEO, Paul Arena, has taken over the helm, the Company has given quarterly updates along with backlog/guidance roughly 1-2 weeks following the quarter. We believe the Company will most likely continue with this trend going forward. Augme's FY'11 ends on February 28th, 2011.

We believe the Company understands that its opportunity is now, and strongly feel that if it executes on its long-term strategy, not only can its model scale, and profitability, but more importantly into a business model with a high degree of stickiness (and revenue visibility) as it integrates its platform with back-end CRM and ERP systems.
Impressive Management Team / Strong Board. Do not underestimate the importance of a strong and experienced management team at the helm when it comes to a young growth company such as Augme. Led by CEO, Paul Arena, the Augme management team has almost 120 years of corporate experience combined. This is not some whimsical start-up being run out of a garage. During the 1990s, Mr. Arena was the founder and CEO of Cereus Technology Partners, which he cultivated from a start-up all the way to a $350M market capitalization. This is an important element which will surely win over new institutional investors to the name this year.
Patent Portfolio. The most i mportant aspect to the Augme story may well be its current patent portfolio which covers the "methods and systems for additional function to a web page." At present, Augme is involved in two patent infringement litigations with both AOL and Yahoo (YHOO). Should the company win or settle on one of these two cases, it would potentially open the door to an extremely profitable licensing model. Augme could be sitting on a goldmine potentially worth hundreds of millions should the patents be successfully upheld in court. What is particularly noteworthy, given the ultimate ramifications of these lawsuits, is that despite AOL's attempts to have the case dismissed over the past 18 months, their efforts have remained unsuccessful. Perhaps this was the impetus for Dan Stout, one of the leading intellectual property lawyers in the country, to recently join Augme's board of directors.
From the company's press release:
Mr. Stout's counsel bolsters our ability to protect and enforce the Company's intellectual property rights, which we believe have been violated by a number of companies in the mobile and Internet advertising and marketing industries. Infringements of our patents and trademarks have, we believe, negatively impacted our sales and created confusion among customers and potential customers, while depriving Augme of significant licensing revenue. Don Stout has led a number of patent cases to victory and is notable as the co-founder of NTP Holdings, which won a $612 million case against Research In Motion, Ltd. (RIMM) a few years ago.

Needless to say, having Mr. Stout on the board, should go a long way towards the company's efforts to make progress on this legal front. While nothing is guaranteed, should there be any type of positive news on these proceedings, it would be a major catalyst for Augme's stock.
Taken as a whole, Augme is one of the most impressive growth stories in one of the hottest upcoming industries we have seen in a long time. With revenues set to scale in a dramatic manner, profitability on the horizon and a very high margin structure to go with it, we remain patient buyers of Augme stock. If all goes well, its current market cap may prove to be quite reasonable after all.
Disclosure: We are long AUGT.OB.