This article offers insights about Commerzbank (CRZBY), Allianz (OTCPK:AZSEY) and Deutsche Bank (NYSE:DB) The goal is to get a more detailed picture of the companies and their recent market environment.
Introduction:
The German banking-sector can be characterized as a market with many small and regional players, very few large banks and a growing number of foreign institutes pushing into the market.
For a first approach to this complicated environment we decided to compare Commerzbank to two other large players that share a common listing in the most important German Index DAX 30.
This approach has certain pros and cons that we would like to point out before starting the analysis itself:
Pros: The companies above can all be characterized as known and frequently traded stocks. This makes them easily comparable in relation to their stock-market behavior. We regard this as a necessary feature for a reliable analysis.
Cons: Within the DAX Deutsche Bank and Commerzbank are the genuine retail banking companies. Allianz was not originally founded as a bank but is offering financial services on a broad scale today.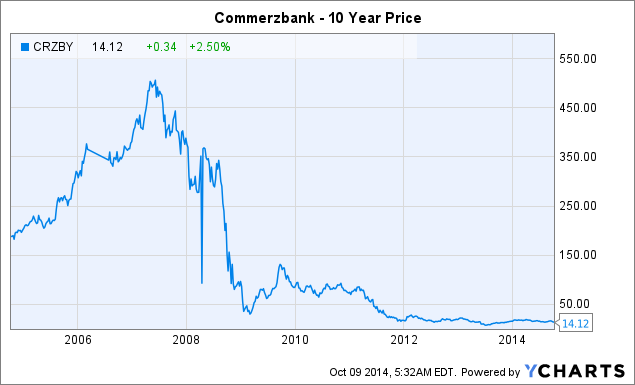 CRZBY data by YCharts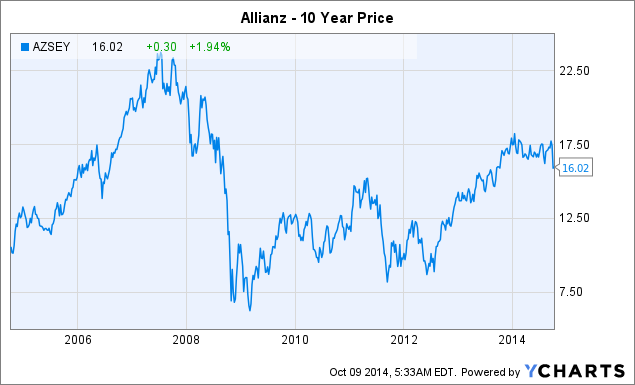 AZSEY data by YCharts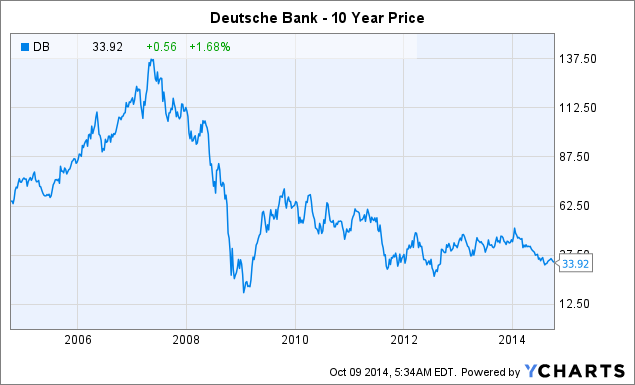 DB data by YCharts
Analysis
We will begin our analysis with an overview of the banks and how their businesses differ from each other:
a) Big Players
Allianz:The company is the world's largest insurance company. Beside all kind of insurances (life, health etc.) it offers a wide spectrum of financial services from asset management to investment vehicles.
Deutsche Bank: The company is the commonly known as the largest banking institution in Germany. It is active in all varieties of banking and financial services and operates worldwide.
Commerzbank:The company is the second largest bank in Germany and also offers all kind of financial services and products. Even as it is globally active, its main business remains still inside Germany.
How they differ:
1) Products
Allianz: The company mainly offers insurances and investment products. They do not offer loans or financing-solutions for individuals (e.g. individual accounts etc.)
Deutsche Bank: As a genuine bank the company offers a vast variety of services from financing, loans and accounts to a broad scale of investment products (securities) and asset management. The company owns a large network of branches.
Commerzbank: The Frankfurt-based company provides all kinds of banking services for its customers. A strong network of branches allows broad individual banking solutions. Another important pillar of their business is the access to financial markets through investment products for individual and corporate clients.
Commerzbank and Deutsche Bank as genuine banks share their focus on banking solutions. Corporate financing and individual banking are important for both. While Deutsche Bank is renown for its globally active investment-banking, Commerzbank offers these services most successfully in Germany.
Allianz is therefore a somewhat different company, especially as it does not provide broad-scale individual banking services like a typical retail bank. With its global distribution of investment-products it is more similar to Deutsche Bank in this respect.
b) Fundamental data and balance sheets
With a look at the product portfolios above we were able to get an impression of the differences between these three large institutions. We will now take a look into their data. This should enable us to relate their current price-level more accurately.
Market Cap
Allianz: With 453 million shares outstanding Allianz currently has a market cap of 56.5 billion Euros.
Deutsche Bank: With 1 billion shares outstanding Deutsche Bank currently has a market cap of 45.8 billion Euros.
Commerzbank: With 913 million shares outstanding Commerzbank comes with a market cap of 12.4 billion Euros today.
Clearly Commerzbank is the smallest player here. The company increased the number of shares rapidly during the last few years. This led to a strong dilution of book value per share.
Book value
Allianz: The last announced book value stated 116.48 Euros per share. This number increased more than 30% since 2009.
Deutsche Bank: For 2013 the bank reported a book value of 70.5 Euros per share. This indicates a decrease of this value by 5% since 2009.
Commerzbank: The book value per share was last reported as 23.66 Euros. This marks a decrease of 85% for the last five-year-period.
Allianz suffered the least from the economic crisis inside the Euro-Zone and grew it's book value impressively. Their amount of issued shares stayed unchanged. Deutsche Bank also managed to keep their book value quite level.
Earnings per share
Allianz: The company reported 13.05 € as earnings per share for 2013.This means a 40% increase of eps since the last five years.
Deutsche Bank: The bank reported eps of 0.62 Euros for 2013. This marks a decrease of 90%.
Commerzbank: 0.09€ eps were reported for 2013. This means a return to positive earnings after a large loss reported in 2009.
Both retail-banks suffered very badly from the mentioned crisis. However, Commerzbank proved to be to big-to-fail.
Assets
Allianz: The large insurance provider held 711.5 billion Euros in total assets. 13.1 billion thereof were Goodwill and 254 billion were 'other' assets. Historically this marks a 20% increase since 2009.
Deutsche Bank: The bank reported assets of 1611 billion Euros for 2013. 13 billion Euros were intangible assets and 123 billion 'other' assets. In retrospective an increase of 7% since the last 5 years.
Commerzbank: The Commerzbank holds total assets of 549 million Euros. 3 million intangible assets and 258.8 'other' assets. Total assets decreased 35% since the year 2009.
Commerzbank is the only player that decreased its assets during the last five years. While Allianz grew its assets significantly, Deutsche Bank saw its assets only slightly growing.
Liabilities
Allianz: Last annual report stated 661.4 billion Euros liabilities for the Bavarian company. This marks an increase of 20% during the last five years
Deutsche Bank: The company reported liabilities of 1556 billion Euros last year. This number has also grown 6% since 2009.
Commerzbank: The bank's liabilities were 523 million Euros. This marks an 27 % decrease since 2009.
We observe a development very similar to the asset-section. Commerzbank lowered its liabilities 27%. Both other companies kept liabilities in line with increasing assets.
Revenue
Allianz: The company stated a 101.4 billion Euros revenue for 2013, an 11% increase since 2009.
Deutsche Bank: As reported the revenue was 31.9 billion Euros in 2013. This means a 14% increase over the last 5 years.
Commerzbank: A reported revenue of 7.5 billion Euros marks an 11% increase since 2009.
Despite all macro-economic nightmares all three companies kept their business running. They all grew their revenue above 10% during the last 5 years.
Net Income
Allianz: For 2013, the business reported a Net income of 5.9 billion Euros. This means an increase of 39% over the last five years.
Deutsche Bank: Net income was at 666 million Euros for 2013, which marks a decrease of 85% during the last half decade.
Commerzbank: 78 million Euros were stated as Net income for 2013.
Allianz seems fundamentally unaffected by the financial horrors that began 2008. This is also due to its diversified business-model that reduces risk exposure. On the other side, both large banks suffered dramatically on the income side.
Commerzbank decreased the size of its business harshly and seems to arrive in calmer waters lately.
Deutsche Bank seems to be the fundamentally stronger and larger retail-bank in comparison to Commerzbank. Commerzbank, even as it cut down its business (with the German state saving the company), does not like a fundamentally weak company. The German state being a large shareholder here does not necessarily mean a bad influence. These public holdings are planned to be reduced slowly over time.
Both Deutsche Bank and Commerzbank are trading below their book-value at the moment. Allianz does not seem to be heavily overpriced while trading around book-value now.
Conclusion:
All three companies seem to be fundamentally healthy, even as they differ widely in their management of the economic crisis and their business-model.
While Commerzbank cut down it's business, Allianz remains pretty much unaffected. Deutsche Bank suffered but survived without state-intervention.
Investors should be aware that Deutsche Bank is a globally diversified business where Commerzbank is mainly active in Germany and Eastern Europe.
Individuals considering an investment in the German banking-sector should also notice that future profits will also be guided by the global and European economy. Therefore both Deutsche Bank and Commerzbank might be especially affected by EU financial-policies.
Beside that, both banks seem to be cheap at the moment. Allianz seems to trade around a reasonable price today.
Disclosure: The author has no positions in any stocks mentioned, and no plans to initiate any positions within the next 72 hours.
The author wrote this article themselves, and it expresses their own opinions. The author is not receiving compensation for it (other than from Seeking Alpha). The author has no business relationship with any company whose stock is mentioned in this article.
Editor's Note: This article discusses one or more securities that do not trade on a major U.S. exchange. Please be aware of the risks associated with these stocks.