Outlook: For a contrarian, the most recent data is a virtual banquet. Individual investors' bullish sentiment is high, equity-oriented mutual fund inflows have been strong, VIX and put/call ratios have been complacent, interest rates are artificially low and there is more uncertainty than risk.
Be Careful Out There: I would continue to remain cautious on equities. Not only are we more likely to go down than up, but the down-draft could be a "white knuckler". I'd recommend the finger "off" the risk trade button until we get some more visibility on the issues of uncertainty. (Financial Video here)
CEF Weekly Review: On average the 13 closed-end fund (CEF) types registered a decrease of 0.5% for the week ending 2/25/11. The high-low spread was +3.1% versus +1.8% the previous week on an average of -0.5% versus +0.6%, respectively. On an aggregate, unweighted basis, the weekly average price change for the 500 plus CEFs in the Eqcome database was down 0.6%.
The PowerShares CEF Income Composite (NYSEARCA:PCEF), an ETF that invests in taxable income CEFs, was down 0.5% for the week. The S&P 500 declined 1.7% for the week and is now up 4.9% YTD. With the exception of Friday's recovery, volume earlier in the holiday week was anemic.

The Eqcome CEF Fear Index for the week increased. The average unweighted price decreased 0.6% while related NAV increased 0.2%. After the 20.5% plunge in the VIX two weeks ago, the VIX dropped another 1.5% the following week and then surged 17.0% this week to 19.22.
Money Flows: For a sixth straight week, money flowed into the coffers of long-term mutual funds increasing $8.5 billion with every category participating with the exception of muni funds. Muni funds continued to see an outflow of approximately $1.5 billion for the week ending February 16th. That makes it the 14th straight week of leakage.
One of the questions associated with money flow into mutual funds is: Does increased flow into long-term mutual funds indicate a "top" of the valuation? An article entitled, "Do Mutual Fund Flows Predict Stock Market Valuations?" (2/18/11), looks at the relationship between net new investment flows into mutual funds and valuations over the last investment cycle.
The inflow into long term mutual funds was followed by a decline of $5.1 billion in money market funds the subsequent week (February 23rd): Institutional investors pulled $2.9 billion (0.16% of balance) while retail investors withdrew $2.3 billion, 0.16% and 0.24% of previously outstanding balance, respectively.
Weekly money flows into the Dow Jones U.S. Total Stock Market Sectors was down 1.7% for the week ending February 23rd, with an Up/Down Ratio of 0.95. Oil and Gas, which was up 3.8% the previous week extended its gain 1.1%; Industrials saw an outflow of money at 3.1%.
CEF Weekly Fund Type Performance: The price change spread among the highest and lowest of the 13 CEF fund types was 3.1% off a fairly narrow 1.8% the previous week. After two weeks of equity-oriented fund types leading on a percentage price change, the chill of the turmoil in the Middle-East shifted investors' preference to fixed-income fund types.
Leading this week's price advance was OtherFnds. This fund type consists mostly of buy/write option strategies and dividend roll program—both, in my opinion designed to increase income, limit upside and increase risk. There are times in the market cycle when these strategies work. However, if you knew of those times you'd be better off playing the market on a macro basis.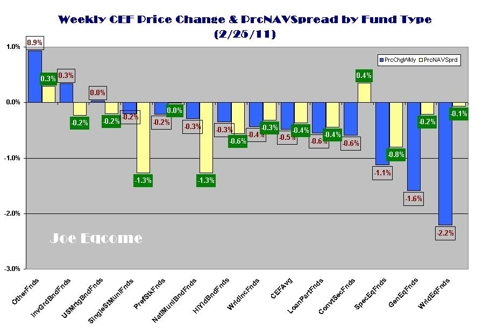 The only other fund type to break into the positive territory was InvGrdFnds. In market downdrafts like this week, ConvtSecFnds was deeper in the pack than one would have expected as it provides a fixed-income coupon, but with the potential of an equity kicker. Despite the average price being down 0.6%, the related PrcNAVSprd was up 0.4% indicating a deeper decline in the NAV.
Weekly CEF Winners and Losers: The CEFs with the greatest positive spreads for the week was the Cornerstone advised trio of Cornerstone Total Return Fund (NYSEMKT:CRF), Cornerstone Strategic Value Fund (NYSEMKT:CLM) and Cornerstone Progressive Return (NYSEMKT:CFP). On average, their prices increased 3.3% versus a decline in NAV of 1.6%. This generated a positive PrcNAVSprd* of 4.9%.
The CEF with the greatest negative PrcNAVSprds was the one with the greatest positive PrcNAVSprd last week: ASA (Bermuda) Limited ((NYSE:ASA)). ASA's price declined 3.1% while its NAV increased 8.4%, generating a negative PrcNAVSprd of 11.5%. The cause of the swing was a function of its NAV declining 4.6% last week and then rebounding 8.4% this week.
ASA invests in public companies that are engaged in the exploration, mining or processing of precious metals including the usual suspects of gold, silver, platinum diamonds, etc. GLD, the gold ETF, was up 1.5% last week.
Economic & Earnings Outlook: (Click here for next week's economic calendar; click here for earnings announcements and estimates.)
ETFs: For a more detailed EFT performance by sectors, click here.
Insider Trading: Insider trading activity for the week was almost non-existent.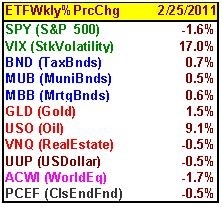 Kinchen C. Bizzell, both a director of Bancroft Fund, Ltd (NYSEMKT:BCV) and Ellsworth Fund Ltd (NYSEMKT:ECF), reported adding to each position. Most of the reporting was to correct the number of shares owned under a dividend reinvestment program ("DRP"). First Trust Portfolios LP own 7.7% of both BCV and ECF.
(Click here for a hyperlink to the CEF Weekly Insider Report.)
CEF Distribution Announcements This Week: The following is a link to a table of CEF distribution announcements this week as well as the previous week's with yet expired ex-dividend dates. The list is not intended to be inclusive. (Click Here for Joe Eqcome's Weekly CEF Distribution Announcements)
Significant CEF Corporate Events: Nuveen Investments announced that it has successfully completed private offerings of over $1 billion of Variable Rate MuniFund Term Preferred Shares (VMTP) as defined pursuant to Rule 144A under the Securities Act of 1933, for three national municipal closed-end funds. The three funds and their corresponding amounts of VMTP shares are as follows: Nuveen Performance Plus Municipal Fund (NPP) $421.7 million; Nuveen Premium Income Municipal Fund (NPI) $402.4 million; Insured Quality Municipal Fund (NQI) $240.4 million
Macquarie/First Trust Global Infrastructure/Utilities Dividend & Income Fund (NYSE:MFD) announced it has approved a share repurchase program whereby the Fund may purchase up to 6% of its outstanding common shares (currently 544,678 shares). The share repurchase program will continue until the earlier of the following: The repurchase of up to 6% of the Fund's current outstanding common shares, or August 23, 2011.
CEF Focus Stock(s) for the Week: As most readers of this blog know, I am not a fan of the Cornerstone funds: Cornerstone Total Return Fund (CRF), Cornerstone Strategic Value Fund (CLM) and Cornerstone Progressive Return (CFP). These CEFs are essentially "fools' gold". Their distributions are almost entirely from return-of-capital. And because they generate such a high yield on that basis, they trade at some of the highest premiums in the CEF market segment.
This is not to say that you can't make money on the stocks on a trading basis. The stocks appear to have become trading vehicles for a few small institutional investors gaming retail investors, due to the trio's high nominal yield.
As an investment, I would recommend long-term investors take a pass. For traders, belly up and take your shot.

---
[*] All things being equal, price and NAV should move in tandem. A price movement greater than the NAV generates a positive PrcNAVSprd and may be interpreted as negative on a near-term basis and indicate that the stock is overvalued relative to its NAV which in theory is the stock's intrinsic value. The opposite would be true for a negative PrcNAVSprd.

Disclosure: I am long ASA. Joe Eqcome (Owns a diversified portfolio of CEFs and ETFs and is long stocks in the CEFBig10™, CEFMuni10™ and CEFDisc10™.)

Additional disclosure: Additional Disclosure: Eqcome CEF Portfolio™: Joe maintains three separate CEF portfolios that have different investment objectives: CEFBig10™, CEFMuni10™ and CEFDisc10™ (see website). The first is a balanced equity-income portfolio (CEFBig10™), the second a tax-exempt income portfolio (CEFMuni10™) and the third a portfolio whose objective is capital gains with a secondary objective of current income (CEFDisc10™).

Disclaimer: The "CEF Focus Stock(s) for the Week" section includes CEF stocks of interest to me—and possibly other retail investors—and are subject to further analyses. Their inclusion in this section should not be viewed as recommendations based on the analysis provided here alone. Such stocks are basically a "heads-up" of something that might be of interest—or, not.