Overview
Earlier in the year, I wrote a ten-part series of articles in which I ranked the Dividend Champion stocks from the best (Heavyweights) to the worst (Flyweights).
In this series of articles, I will be reviewing a majority of the Dividend Contender stocks and ranking them in terms of which stocks I think will eventually become Dividend Champions and provide substantial long-term returns to investors and which ones I believe are less likely to provide positive long-term returns.
More information on Dividend Champions and Dividend Contenders can be found here (maintained by Dave Fish).
For Part 4 of this series, I will be taking a look at the Dividend Contender stocks within the Specialty Chemical industry. These stocks include:
Airgas - (ARG)
Albemarle (NYSE:ALB)
Hawkins (NASDAQ:HWKN)
Oil-Dri Corp. of America (NYSE:ODC)
Praxair (NYSE:PX)
Westlake Chemical (NYSE:WLK)
Revenue
Over the past five years, Westlake Chemical has seen the highest revenue growth at 71.22%, while Oil-Dri has seen the lowest at 18.92%. The remaining four stocks have seen similar revenue growth between 29% and 36%.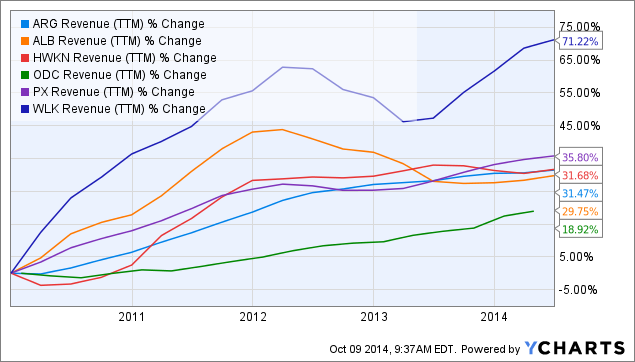 ARG Revenue (TTM) data by YCharts
Earnings
Looking at earnings, Westlake Chemical once again has seen the highest growth over the past five years, while Hawkins is the only company to have seen a decline in earnings over this time period.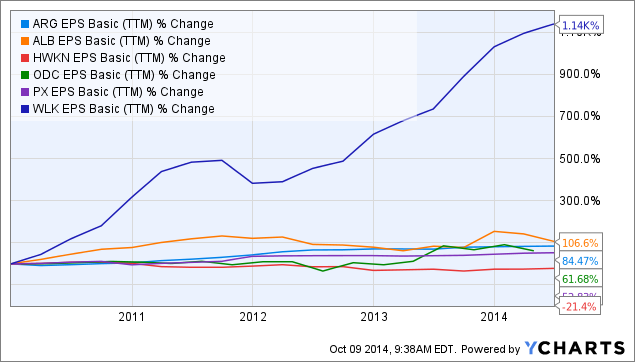 ARG EPS Basic (TTM) data by YCharts
Valuation
Based on trailing P/E ratios, Airgas appears the least attractively valued with a P/E ratio of 23.05x, while Oil-Dri and Albemarle appear to be the most attractively valued with P/E ratios of 14.49x.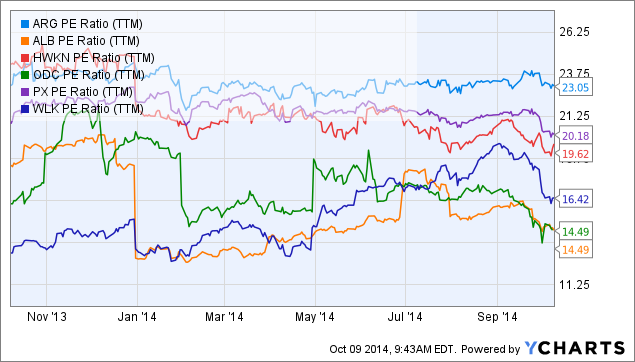 ARG P/E Ratio (TTM) data by YCharts
Looking at forward P/E ratios, the valuation of the stocks does not change much.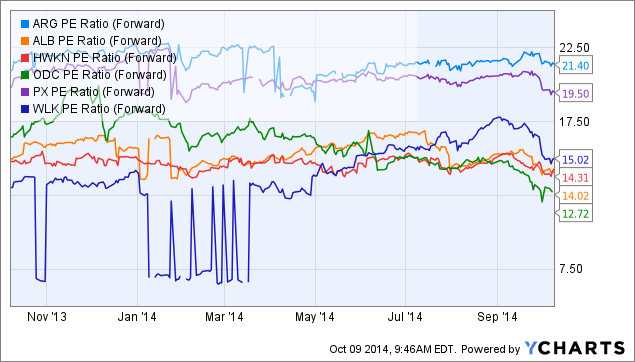 ARG P/E Ratio (Forward) data by YCharts
Payout Ratio
Each of the stocks have stable payout ratios under 50%.
Airgas - 41.46%
Hawkins - 40.21%
Praxair - 40.02%
Oil-Dri - 29.45%
Albemarle - 27.77%
Westlake Chemical - 9.53%
Debt To Equity Ratio Returns (Assets, Equity, Invested Capital)
Assets
Westlake Chemical - 16.53%
Albemarle - 9.35%
Praxair - 9.03%
Hawkins - 8.19%
Oil-Dri - 6.93%
Airgas - 6.20%
Equity
Praxair - 28.43%
Westlake Chemical - 27.65%
Albemarle - 21.54%
Airgas - 20.03%
Oil-Dri - 12.20%
Hawkins - 10.53%
Invested Capital
Westlake Chemical - 21.01%
Albemarle - 12.05%
Praxair - 11.53%
Oil-Dri - 9.92%
Airgas - 8.29%
Dividend Growth (past five years)
Westlake Chemical - 473.90%
Airgas - 205.60%
Albemarle - 120.00%
Praxair - 62.50%
Hawkins - 35.71%
Oil-Dri - 33.33%
Looking Ahead
Westlake Chemical
Net income for the company for the first half of the year increased $0.43 per share from $2.01 to $2.44. In Q2, the company displayed record quarterly income from operations. As Westlake Chemical continues to lower costs and increase production, I believe the company's earnings growth will continue to rise. The company recently completed two strategic iniatives that should help foster this growth by increasing the company's portfolio and market reach: (1) the acquisition of Vinnolit Holdings GmbH and its subsidiaries and (2) the initial public offering of Westlake Chemical Partners, LP.
Praxair
While Praxair hasn't seen growth as high as Westlake Chemical in terms of revenue and earnings, it has still been fairly impressive. In its latest quarterly report, the company stated its backlog remains impressive at $1.9 billion (consisting of 28 different projects). Because of this and the company's growth initiatives throughout active regions such as Asia and the U.S. Gulf Coast, I have little doubt that Praxair will continue to see long term success.
Oil-Dri
Oil-Dri saw a 5.10% increase in revenue during its latest quarter (Q3), but saw a decline in EPS from $0.46 to $0.10. Oil-Dri has seen the lowest revenue and dividend growth out of these stocks over the past five years, and I haven't seen any evidence from the company that this will change going forward. I believe the company's current dividend is safe, but I do not expect much in terms of growth either from dividends or price appreciation over the next few years.
Hawkins
Similar to Oil-Dri, Hawkins has seen fairly low dividend growth compared to the other four stocks reviewed and it is the only stock to have seen negative earnings growth over the past five years. Recently, the company announced that it is acquiring The Dumont Company. I believe this acquisition and others like it will help Hawkins to reverse its negative earnings growth; however, I do not have much faith that the company has an ability to grow earnings outside of acquisitions.
Albemarle
Albemarle is one of three stocks out of the six reviewed that has seen its stock price decrease over the past year (Hawkins and Oil-Dri being the other two). The main news surrounding Albemarle this year was the acquisition of Rockwood Holdings. The company stated in its latest quarterly report that this move was made for one reason -- growth. While it is still unclear just how effective this will be, I am confident that increased revenue and earnings growth will definitely continue. And at its current valuation, Albemarle is attractive to investors who believe that Albemarle will see significant growth throughout its lithium, bromine, catalyst and surface treatment businesses.
Airgas
Airgas is a solid company that, in my opinion, will continue to deliver what it has consistently provided over the past several years: steady revenue and earnings growth, significant dividend growth, and increased shareholder value through share buybacks. The one negative facing Airgas I believe is its current valuation. It is easily the highest-valued stock based on both trailing and forward P/E ratios, which could make some investors nervous about investing in the company.
Conclusion
While I don't feel that any of the stocks reviewed above are stocks that should be avoided, the two stocks that I am most hesitant about are Hawkins and Oil-Dri as they have seen the lowest returns in terms of assets and equity. Hawkins is the one stock out of the six reviewed to have a decline in earnings over the past five years, while Oil-Dri has seen the lowest revenue and dividend growth.
The one stock that I like the best out of this group is Westlake Chemical. The company has seen the highest revenue and earnings growth over the past five years. It also has seen the lowest payout ratio while providing the highest dividend growth over the past five years (earlier this year, the company increased its dividend 31%).
I believe that Westlake Chemical's strategic decisions will provide strong growth across the board going forward. Looking at the charts below, you can see that it doesn't matter if you look at the past six months, the past year, the past five years, or the past ten years, Westlake Chemical has easily outperformed the other stocks in terms of price appreciation, and I have no reason to assume this trend will not continue in the future.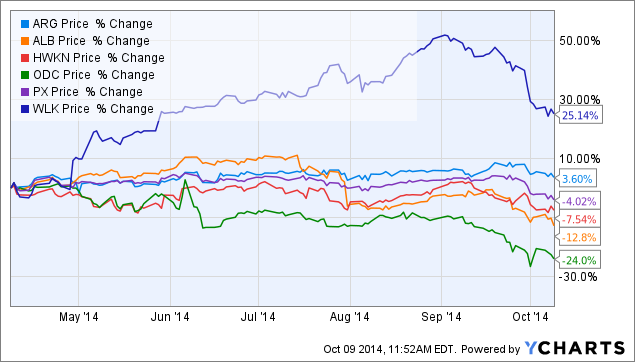 ARG data by YCharts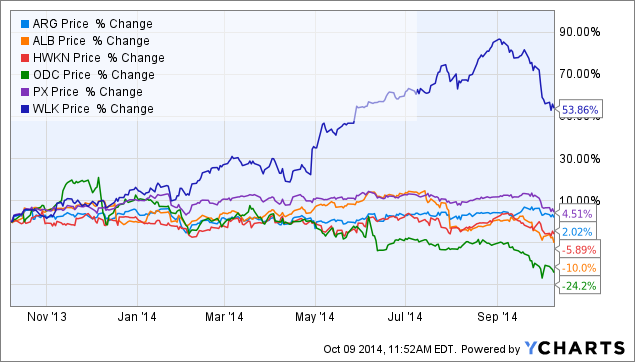 ARG data by YCharts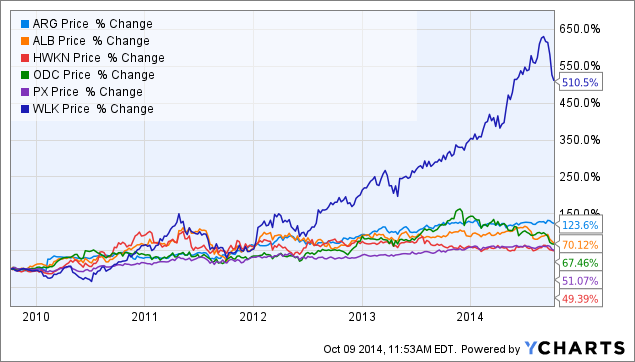 ARG data by YCharts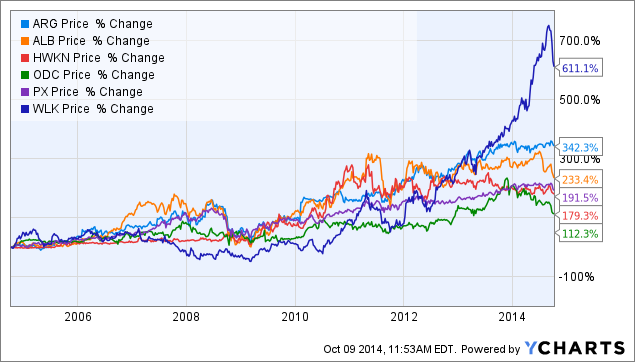 ARG data by YCharts
As always, I suggest individual investors perform their own research before making any investment decisions.
Disclosure: The author has no positions in any stocks mentioned, and no plans to initiate any positions within the next 72 hours.
The author wrote this article themselves, and it expresses their own opinions. The author is not receiving compensation for it (other than from Seeking Alpha). The author has no business relationship with any company whose stock is mentioned in this article.