By Ivan Y.
Experienced oil traders will know that WTI crude oil (NYSEARCA:USO) usually does not perform very well during the shoulder season, which is roughly from the end of Labor Day to the end of October. This is the time after the summer driving season when gasoline demand wanes and also the time when some refineries will go down for maintenance in preparation for the winter heating season.
As you can see from the chart below, oil has fallen in thirteen of the last twenty years in the month of October. And in six of those years, it experienced a significant 10% or greater decline (when the numbers are rounded up). Based on the historical data, there is a 65% chance of oil falling this month and a 30% chance of a significant fall.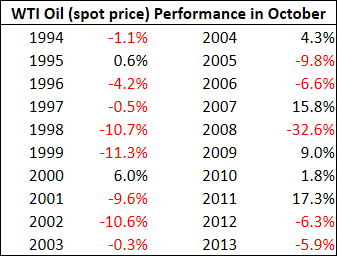 Oil has certainly struggled in these past several weeks. WTI oil has fallen by about 9% since the beginning of September and Brent oil has fallen by about 11%. Besides concerns about falling demand in Europe, Japan, and China, as well as issues during the shoulder season, one additional factor that may explain the weakness in oil is the coming U.S. mid-term election on November 4th. If you are an incumbent up for election, you want gasoline prices to go down leading up to the election so that voters will feel good about the economy and not blame you and kick you out. Besides a scandal, the last thing an incumbent would want before the election is rising gasoline prices. I know this is a bit conspiratorial, but I wouldn't discount it as a factor.
Looking ahead into November, the outlook for WTI oil improves significantly. The chart below shows how oil has performed during the 2-month period from the beginning of November to the end of December. The data is self-explanatory.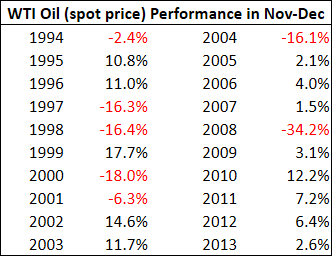 Conclusion
Considering the seasonality trends and the elections, it's possible that oil could continue to struggle for a few more weeks before the election and then make a turnaround to the upside in early/mid November.
Disclosure: The author is long USO.
The author wrote this article themselves, and it expresses their own opinions. The author is not receiving compensation for it (other than from Seeking Alpha). The author has no business relationship with any company whose stock is mentioned in this article.