In the last few weeks, I have read an endless list of articles from different web sites. All of them have something in common. They claim the coal market is going to improve in the near term. The authors also claim to have a favorite player for such a market. I have read comments like "Don't worry this is a small little stumble, the coal market will rebound". I am not against their opinions. I do think the coal market at some point will have to rebound. What I am saying however, is that there is no way it's going to happen in the short term.
I have delved into the financial statements of companies such Peabody Energy Corporation (NYSE:BTU), Alpha Natural Resources, Inc. (ANR) and Alcoa Inc. (NYSE:AA) and if I can conclude anything, it's that their costs far outpace the profits they can make selling coal at current prices. They now have two options: incur more debt or sell more stock and dilute the current stockholders.
Struggling industry
U.S. thermal coal is under pressure. A model generated by Bloomberg New Energy Finance based on the new regulations expects slightly more than a 57 gigawatts loss by 2017. This figure represents a possible loss of about 91 million tons in coal demand.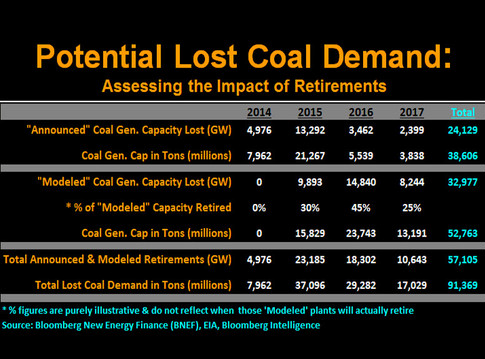 Source: Bloomberg
EPA's rule costs the industry $8.8 billion
On June 2 the Environmental Protection Agency (EPA) unveiled a new rule that forces states to cut power industry emission 30% from 2005 levels by 2030, costing the industry as much as 8.8 billion, according to the Energy department. (Read more here)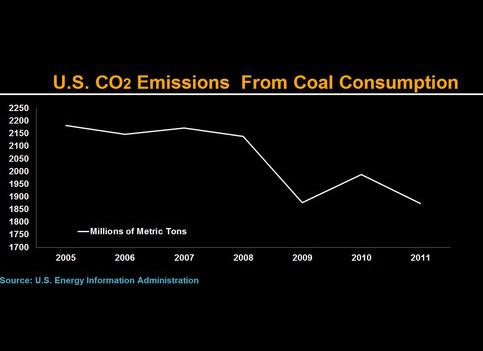 Source: Bloomberg
Opportunity for new sources of energy
Meanwhile, more doors are being opened for Gas, Solar, Winds and Nuclear energy on coal's retirement.
Source: Bloomberg
Key drivers in coal prices
I have been analyzing some data compiled by Bloomberg about the industry, and I found some facts that could put more pressure on current prices:
The prices of the coal has been decreasing since 2010...

Source: Bloomberg
...however the total coal stock has remained stable.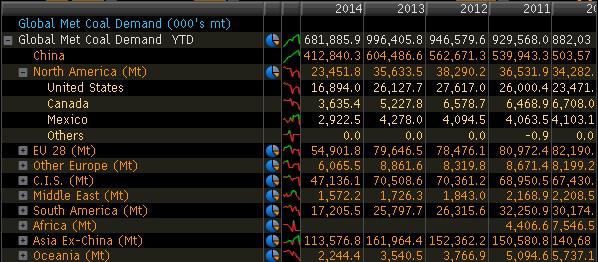 Source: Bloomberg
China has kept a stable stock of coal, reducing imports and putting more pressure on American companies.

Source: Bloomberg
Real outlook of the coal market
The growth outlook for coal has continued to fade in 2014. This sentiment is driven by weak coal prices and the poor overall outlook for the commodity. The future of the coal market will be most sensitive to Chinese and Indian imports, with countries such Australia and Indonesia as main suppliers.
Oversupply has pushed coal prices lower, and this is likely to persist through 2020. A total of 290 million metrics tons looks to be added to an already saturated market. A highly competitive market is more likely to put pressure on companies to cut costs, hitting already depressed margins.
Source: Bloomberg
More than 90% of coal produced in the U.S. is priced and committed for the present year compared to only 50% for 2015. This situation opens the door for producers to lose pricing power which can translate into losses due to the weak prices.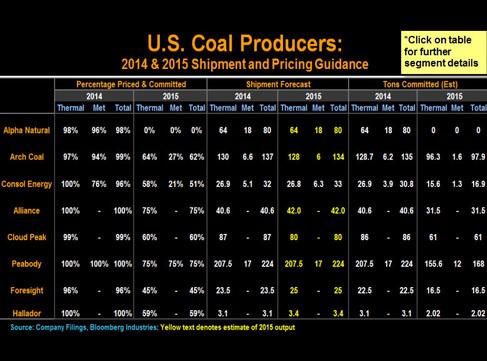 Source: Bloomberg
Past performance
The Global Bloomberg Intelligence Coal peer group has fallen 16% so far this year, compared with a drop of (31%) in 2011, (19%) in 2012 and (36%) in 2013. Like I said before, falling prices and low margins have forced companies to shut down entire plants.
Personal opinion on the coal market
I do not think the coal market is the best place to invest right now given recent developments. Put simply, there are thousands of companies out there spending millions, trying to find a better way to produce energy. Take a look around you, everyone is talking about renewable energy, green energy, etc.
Although alternative energy may seem like a somehow distant concept, it is a new course that cannot be ignored. So personally, if I wanted to invest in energy, I would start looking beyond coal.
Conclusion
Although I do not think the coal market will collapse, I think the oversupply and an overcrowded market will lead to more struggles in the near term. You may have you favorite player, but I advise you to review the market fundamentals.
Disclosure: The author has no positions in any stocks mentioned, and no plans to initiate any positions within the next 72 hours.
The author wrote this article themselves, and it expresses their own opinions. The author is not receiving compensation for it (other than from Seeking Alpha). The author has no business relationship with any company whose stock is mentioned in this article.