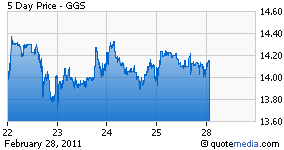 Global Geophysical Services (GGS) provides three-dimensional land and transition zone seismic data acquisition. This service can be accessed internationally and domestically. This company sells itself on technology. Global started trading back in April of last year. This company has a market cap of 508 million. They trade for a forward PE of 18.7. Four analysts covering the stock have and estimated earnings per share of $.36 for 2011. Five analysts have average earnings per share of $.75 for 2012. I would be a bit leery of this stock as they have missed badly the past two earnings periods in September and December of 2010. The IPO price for this stock was around $12. It dipped and found support in September, as most companies in this sector did, and has since rebounded to $14.07.

Global looks to have been in the right place at the right time. The environment is definitely good for oil and gas service companies. It seems that oil companies are making a lot more money these days based on higher oil prices. These exploration and production companies are investing cash flow to delineate where reserves are located. The much more difficult areas to drill need comprehensive 3-D analysis to find the resource to get it out of the ground. In shales and deep sea resources much of this has become very important. The 3-D analysis done by Samson (NYSEMKT:SSN) has helped to reduce fears and even helped them access a deal with Chesapeake (NYSE:CHK) to sell acreage, and Halliburton (NYSE:HAL) to drill the area.

Global basically creates a three-dimensional image of the subsurface and in doing so shows oil companies where the hydrocarbons are. Global has worked with some of the biggest names in the business, including ExxonMobil (NYSE:XOM) and ConocoPhillips (NYSE:COP). Global provides industry leading data processing. It provides seismic analysis and interpretation. Global has multi-client data library services. It also has a leading shale franchise. Global has experience on every continent, the United States market looks to have enough work for years. Global is placing emphasis on the enormous shale resources the U.S. has to offer. These locations are:
Eagle Ford-3250 sq. miles
Fayetteville Shale-870 sq. miles
Niobrara Shale-830 sq. miles
Bakken Shale-780 sq. miles
East Texas Bossier-590 sq. miles (tight sands)
Barnett Shale-395 sq. miles
Green River Basin-170 sq. miles (tight sands)
Anadarko Basin-140 sq. miles
Marcellus Shale-60 sq. miles
Global's RG3D "patch" is more than four times larger then traditional "patch" geometry. This requires larger channel counts and other special capabilities to produce this more in depth picture. Global is able scale up with reference to bigger projects, depending on the company's needs. This produces higher resolution and more accurate spatial fidelity. Deeper targets are seen while minimizing shadow zones. Since better data is produced it allows for a higher geo-mechanical understanding of the resource. This company's patented Azimuthal Data Processing is especially capable with respect to complicated shale zones.

Global has already found more than two billion barrels of oil for its clients. It seems this number will continue to increase. Since seismic is such a small portion of expenses for oil and gas companies to start producing, it is thought that exploration and production companies would benefit from these expenditures. Not to mention, seismic can help to increase production and overall resource to be extracted from the ground. Average shale well drilling and completion costs are from $16,000 to $55,000 per acre. Land leases cost between $2,500 and $10,000 per acres. A seismic program can cost as little as $100 per acre. The cost of one failed well can exceed the cost of a seismic program on an entire field. These are the types of metrics that make me very bullish on the seismic space.

North American shale plays have become profitable for oil and gas exploration and production companies due to the evolution of three techniques:
Fracture/Stimulation
3D/4D Seismic
Horizontal Drilling
This is important because of the "Shale Renaissance" in the United States. Not only does the U.S. use a very large amount of oil, but current economic indicators (budget deficit) will continue to motivate this country to keep producing oil to fill its country's needs. Also, seismic has been somewhat slow to embrace by many of the larger oil production companies, as they have other techniques relied upon to find its resource. By using seismic on these properties before drilling, it is much easier for the company to find the toe of the resource and pull it back from the heel. By doing this, initial drilling numbers are greater and most importantly overall resource garnered will increase significantly. In other words, seismic decreases error and thus pays for itself.

Global's RG-3D Reservoir Grade with Microseismic is a unique service offering. This provides on demand frac monitoring. This improves microseismic positioning. It also provides for improved well spacing and pattern. Plus this provides continuous monitoring of fracs and reservoir changes. The STRM technology gives tomographic natural fracturing technology. This provides imaging of induced and natural fractures. Software allows for analysis and interpretation. The AutoSeis HDR is a high definition recorder that is much more durable, weighs less and has a lower investment cost then other competitive models. It has almost unlimited scalability and flexibility. Compatiblity with all seismic recording systems and deep water systems is currently in development.

The top shale plays in the United States still have very low levels of seismic data shot to date:
Haynesville-less than 30%
Eagle Ford-less than 20%
Marcellus- less than 10%
Bakken-less than 10%
The Eagle Ford shale has had a marked increase in interest with respect to seismic activity. Global began in July of 2009 with several leading oil companies. As this started several other customers have shown interest. This expansion has decreased Global's cost per square mile, and increased area has improved data resolution. The Eagle Ford currently covers over 15000 sq. miles so there is still significant upside. This system separates levels and identifies targets.

Global has seen impressive growth over the past few years. Channels have increased from 85,000 in 2007 to 160,000 in 2010. The seismic data library has increased from 400 sq. miles in 2008 to 7,200 sq. miles in 2011. Looking at company revenues, the timing to invest could be perfect. Global has seen a marked increase since the market fall after 2008. Its average revenue per quarter in 2008 is consistent with the revenue produced by Global in the fourth quarter of last year. If trends continue, and I think they will, this could be the beginning of a long term run in the seismic space. Its backlog increased significantly since the beginning of last year, and this has also increased steadily from quarter to quarter, culminating in largest number the company has seen since 2006.

In summary, market trends are supporting the seismic space. As oil companies continue to reap large profits, they will spend this money on techniques that could increase their overall resources. In my opinion, the oil market experienced a hiccup of sorts from the last recession. Barring a double dip, these companies will continue to see work on all sorts of projects across the globe. With increased work and backlog comes increased pricing. Increased pricing increases margins and so on and so forth. In a nutshell, there is plenty of work out there for Global, and since much of the easy resourced have been taken, Global looks great into the foreseeable future.

Disclosure: I have no positions in any stocks mentioned, but may initiate a long position in GGS over the next 72 hours.