To be sure, one of the most exciting new features released in Tesla Motor's (NASDAQ:TSLA) big reveal this week was the "auto pilot" feature. The event included the unveiling of the Tesla D, which stands for "dual motor," and gives the new model better performance and all-wheel drive capabilities. During Friday's trading session, however, the market reacted very negatively, seeing shares down as much as 8% and down 6% as of this writing. The question for investors is whether the sell-off is warranted, and where the stock is likely to go from here. While I have been bullish on shares for some time, even at much higher prices, I believe this dip represents yet another long-term buying opportunity - I am sticking with CEO Elon Musk, and believe over the next few quarters investors will be well rewarded.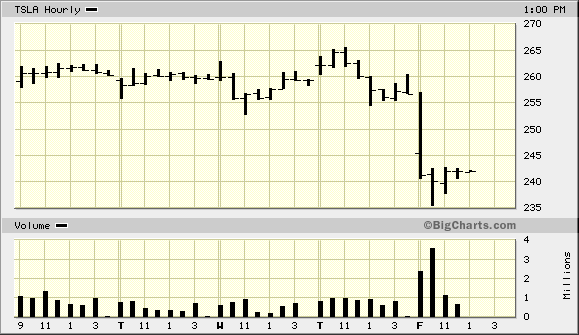 What's All the Hype About?
The latest Tesla buzz was created by a tweet from Musk that read, "About time to unveil the D and something else." Ever since, speculation has abounded as to what was coming out of the tech company that happens to make cars, although now that the D, "auto pilot," and enhanced safety features have been announced, some analysts are claiming they just see Tesla playing catch-up. Bank of America wrote, the upgrades are "largely as expected," in a piece that was the analyst's attempt at a written yawn.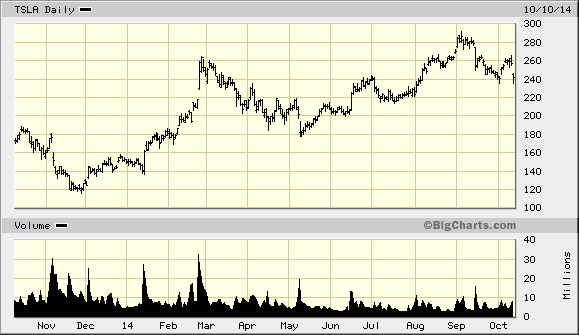 While features like all-wheel drive and lane departure warning are nearly standard on vehicles in the Tesla Model S's segment, it seems disingenuous to suggest nothing about the reveal was noteworthy. As Musk pointed out, where most AWD systems add weight and often hurt performance, in this case, performance got better in terms of speed, acceleration and energy efficiency. The top-end model, still a luxury ride worthy of any high-end competitor, is capable of going from 0 to 60 mph in 3.2 seconds. That's on par with many exotic sports cars, meaning owners will be able to pack the kids in the back seat, the groceries and golf clubs in the trunk, and still blow away nearly anyone in the next lane looking for a little muscle flexing. Not a yawn to me, but we each have our preferences.
Where the Tesla event moved from fun to truly innovative was with "auto pilot." In this video, you get a look at what the system can do, including read speed limit signs and adjust speed accordingly, drive within a traffic lane with no driver input, change lanes when the turn signal is engaged, and come to a complete stop when an obstacle is detected. Not quite a fully self-driven car, but particularly when combined with all of the other goodies, Tesla is likely to have some big fans.
The Stock
While it is hard to know if the initial reaction was simply a case of buy-the-rumor-sell-the-news, the sell-off has the classic look and feel of an overreaction. Perhaps analysts were hoping for more - likely, given some of the highly critical comments that have come out already - but shares seem to have stabilized quickly and appear to be struggling higher already. While the price action over the next several sessions will be telling, I maintain my view that over the next few quarters, Tesla is going to perform and push much higher. What this means for investors is that while the drop is costly here, it is a buying opportunity and offers great upside potential. For investors who have been waiting after the big push the stock has made this year, now looks like a good time to take a position.
Disclosure: The author has no positions in any stocks mentioned, and no plans to initiate any positions within the next 72 hours.
The author wrote this article themselves, and it expresses their own opinions. The author is not receiving compensation for it (other than from Seeking Alpha). The author has no business relationship with any company whose stock is mentioned in this article.