The advent of ETFs has been a great addition to the trader's toolbox. I find ETFs quite useful when looking to quickly gain exposure to a trend of interest. One of my favorite trends is the growth of the middle class in emerging markets. As their wealth increases, consumption of items such as autos, housing and travel increase. The Brazil Consumer ETF (NYSEARCA:BRAQ) is a great way to leverage that trend in one click.
There are many other benefits, especially when attaining information on investments is difficult or when stocks of interest are not traded on U.S. exchanges. In spite of the benefits, individual investors can easily outperform ETFs, if they are willing to do the work.
I have been following the Nasdaq OMX CEA Smartphone Index (QFON) since it was created last year. It is a benchmark for the telecommunications sector focused on wireless, mobile devices and advanced communication functionality. It includes companies that are primarily involved in building, design and distribution of handsets, hardware, software, and mobile networks associated with the development, sale and usage of smartphones. An ETF (NASDAQ:FONE) based on this index was just launched a few weeks ago.
From day one, I realized that the Smartphone Index was flawed. The index only looks at the consumer side of the equation. The enterprise side may not be as large, but it may be more valuable for a savvy investor. This point became more apparent while reading Aruba Networks' (NASDAQ:ARUN) most recent earnings press release. The CEO said the following:
We continue to see broad demand for our mobility solutions across all major geographies, as evidenced by our record revenues, 50% year-over-year growth and 13% sequential growth. Enterprises are facing intensified proliferation of tablet and smart phone devices, and IT's ability to rapidly and affordably deliver secure mobile access for these devices is critical. This requires a user-, device- and application-centric approach to the network edge. We believe that the enterprise network is transitioning from a wired centric to a mobility centric architecture and the market is recognizing Aruba's unique ability to address the requirements of this new architecture. During the quarter, we saw robust growth from the general enterprise and our core verticals, an increase in the number of larger potential deals in the pipeline, and the addition of a record 1,000+ new customers.
Over a thousand new customers! Mobile growth in the enterprise is exploding and it is not represented in a newly created ETF. That's an oversight that is not excusable. On the other hand, that creates an opportunity for the individual investor to outperform.
As discussed in a previous post, I am leveraging the smart phone trend through my "Eight Ballers of Mobile" portfolio. I used last week's weakness to give the boot to an underperformer and filled my remaining open slots.
New Adds:
Sina Corporation (NASDAQ:SINA): It is very frustrating not being able to invest directly in some of the hot social media companies like Facebook or Twitter. However, Sina has gained attention as a Chinese version of Twitter.
[Click all to enlarge]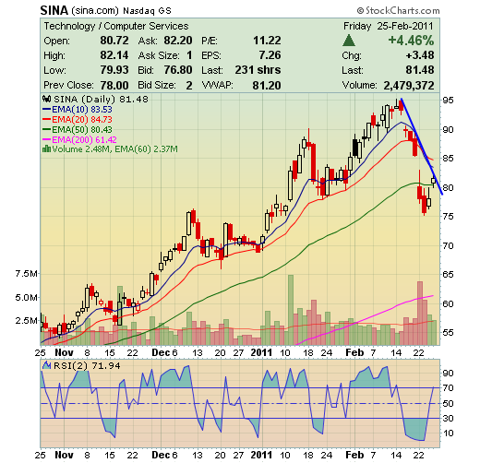 ARM Holdings (NASDAQ:ARMH) is a no-brainer and should have been included in my original portfolio. ARM designs are used in more than 95% of the world's mobile phones.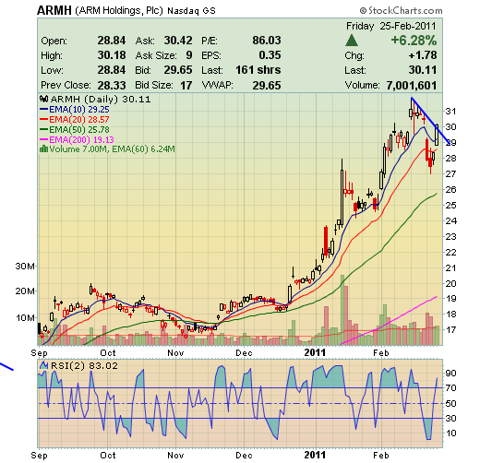 Aruba Networks: If the CEO's statement above didn't get you excited, listen to its conference call.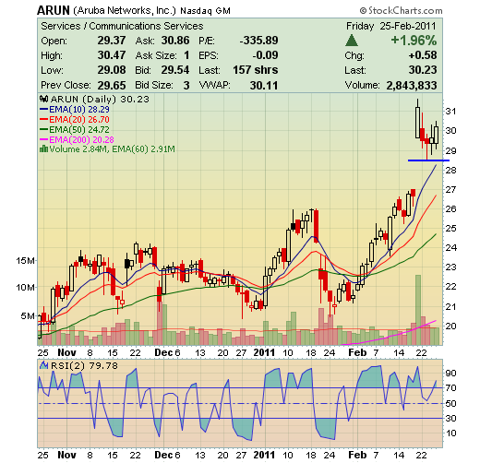 Deletions:
F5 Networks (NASDAQ:FFIV) – Should have been removed after its last earnings call (see here), but better late than never.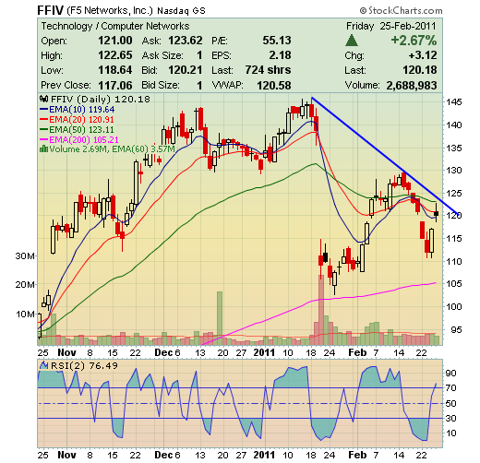 Eight Ballers of Mobile

Note: This is an intermediate/long term strategy. I trade many other mobile stocks on a short term/swing basis.
Semiconductors underly the entire mobile ecosystem powering the devices and networks.
Networks provide the basic infrastructure to enable anytime, anywhere computing.
Apps, or software ranging from office productivity to games and social networking.
Platforms, providing a framework that enables developers to create apps.
Disclosure: Currently long all stocks in Eight Ballers of Mobile portfolio. Also long F5 on a swing basis.