Big Lots Inc. (NYSE:BIG) - The wholesale company that has been above 40 since its announcement that it has received buyout offers is slated to report earnings this week with YOY growth expected at 1.38 vs. 1.31 from one year ago. While the earnings are important for the company, the real news or expectations from the company may be what they are going to report in association with their possible buyout. Will they announce the buyout is going through, sending shares soaring, or disappoint by passing up the deal? The key here is that this is the perfect time to announce what they are looking to do, and the stock could move tremendously into and out of earnings. They report earnings Tuesday evening.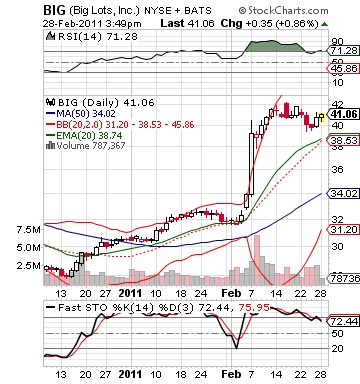 Foot Locker (NYSE:FL) - The company is slated to report earnings that show 50% growth in EPS YOY with an EPS at 0.36 vs. 0.24 one year ago. The key to Foot Locker moving into earnings and out of earnings is what they did last quarter. The company shocked everyone with an almost 100% beat on earnings in Q4 of FY 2010, and the company will be hard pressed to report similar exceptional gains. Moving into earnings, though, the company could see some buying interest on expectations of big gains, and it may make a nice trade there. Yet, with an RSI at 66 already, and a price near a 52-week high, Foot Locker may be setting itself up for a failure rather than another blowout quarter. Sporting goods have done well this quarter and shoe companies also have done well, but the company currently has a lot of overvaluation. The company reports on Wednesday.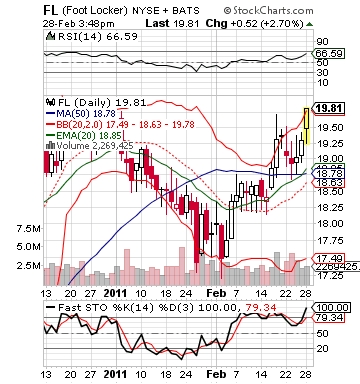 Joy Global (JOYG) - One of the largest companies reporting this week, the machinery company is looking strong moving into earnings. They are expecting a solid gain YOY at 1.07 EPS vs. 0.73 from one year ago. The company, additionally, had a pullback from 100 that is giving the company some cushion moving into earnings. Analysts seem bullish as UBS reiterated a Buy on Monday, and the stock is getting strong price action. Their report will be key to the market, and they are likely to be expected to do well with Caterpillar (NYSE:CAT) having strong earnings. The company is well connected to growth markets, and it should be a solid report from the company. They report earnings on Wednesday.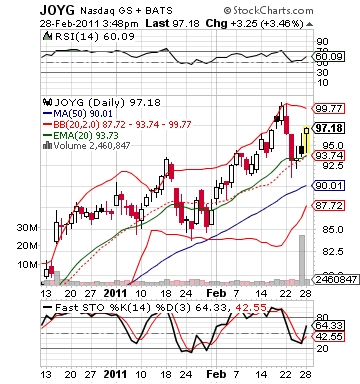 Sina Corp. (NASDAQ:SINA) - The Chinese Internet media giant will be reporting earnings on Tuesday evening, looking for a large YOY gain in EPS at 0.45 vs. 0.31 a year ago. The company is at the end of the season for a sector that has performed well, and expectations have to be high for SINA. The company is in one of the best growth markets, and we would be shocked not to see a beat. The company will make a nice move post-earnings as they have had a large pullback. The stock should get even more help with an understanding of what we can expect on Monday evening from Yoku (NYSE:YOKU).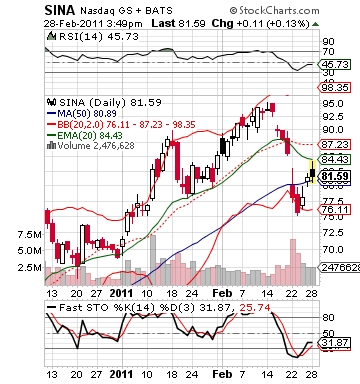 Disclosure: I am long SINA.