In 2009, Purdue Pharma's Oxycontin, an opioid pain reliever, reached annual sales that topped $3 billion. That represents a 300% increase over annual sales in 2001. Clearly, prescriptions for opioid drugs have increased without relent. But along with robust sales there has also been widespread and accelerating abuse. Tempering those abuses has been a focus for recent pharmaceutical development, as several companies seek to advance their "tamper-proof" products into the marketplace.
Widespread Opioid Abuse
The FDA is keenly aware of the abuses and misuses of Oxycontin and has been monitoring the issues for years. According to the Drug Abuse Warning Network ("DAWN"), oxycodone abuse resulted in over 40,000 visits to US emergency rooms in 2004. In 2008, the number of visits jumped to over 100,000, growing more than any other class of narcotic pain reliever.
images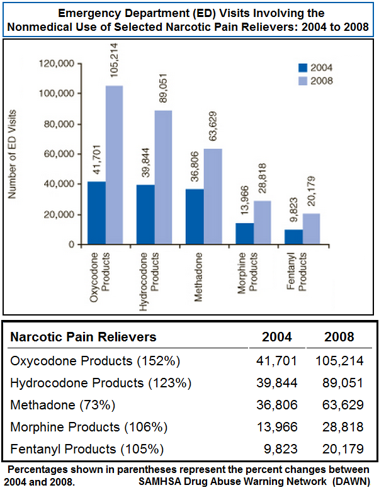 Government-Sponsored Research
Disclosure: I am long ABT, OTC:BNVI, DEPO, DRRX, MRK, NGSX, PTIE, SNTS.