OpenTable (Nasdaq: OPEN) is currently the premier online restaurant reservation company in the US. Last year, they acquired Toptable.com for $55M as a way of buying market share in Europe. Their online reservations business has experienced heady growth, but current rich share valuation prompted a closer look.
On the surface, growth in subscribers is healthy, but per Barron's:
OpenTable management declined to provide revenue and earnings guidance, but said that it expects Q1 will be a "strong quarter of seated diners" but that year-over-year revenue growth is unlikely to be as strong as in Q4, given that the year-ago Q1 was particularly strong, and given inclement weather.
In OpenTable's recent annual report, 2010 net operating income was $17.9 million. The company sports a 2.06 BILLION market cap. Yes, you heard it right, company's earnings are about 0.86% of the market capitalization you're paying for as a shareholder: ($17.9M/$2.06B).
In other words, an investor could invest in a CD and have the same yield without the risk of a huge decline in equity value.
Competition?
Our recent research reveals that it is likely that a competing and possibly FREE online restaurant reservation reservation model may be introduced that could essentially eliminate the need for a "pay-per-diner-reservation" model (see below). But first, some general analysis:
OpenTable or OpenFable?
The stock has had an incredible run, having surged almost 400% since January 2010 as more diners are making dinner reservations online.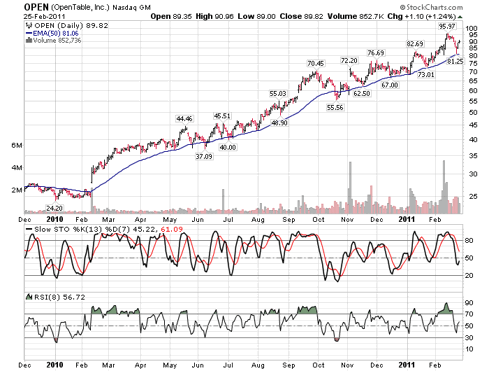 At current share prices, the stock sports a trailing P/E of about 155 and a forward P/E of about 54, depending on whose forecasts you want to believe.
That's where the catch is: Forward P/Es are based on ANALYST PROJECTIONS, many of which can be flawed or can be tainted by the motives of the analyst's firm. For example, does the analyst's firm do investment banking for the companies they cover, or do they plan to get IB business in the future?
In the case of OPEN, most of the forward projections from analysts conveniently overlook the possibility that OPEN could run into very strong competition this year. Rather, the assumption in forward earnings projections is that OPEN will have no pricing pressure or competing free reservation systems coming to market.
A recent fluff article by Forbes Magazine ("OpenTable Set For $95 With Toptable In Pocket") is another case in point. With a swagger, they projected hypothetical growth in OPEN's restaurant reservations model out to year 2017, with no consideration for the possibility of competing (and even free) reservations systems coming online.
Though OpenTable's press releases label their service as a " free" reservation service for diners, it costs the restaurants, not the consumer. But in the end, the cost of each reservation needs to be factored into the price of dining at each restaurant, so it's technically not "free."
Additionally, growth projections for OpenTable's business model have been woefully lacking the key notion of "addressable market." Granted, there are about 960,000 restaurants in the US, according to the National Restaurant Association who claims almost half of those restaurant locations as NRA members.
In OpenTable's last earnings report, the company indicated that 13,795 North American restaurants use their reservation services, a 27 percent increase year over year. At first glance, one might conclude that there is a huge market out there waiting to be tapped if there are 960,000 restaurant-equivalent establishments, right? Wrong.
OpenTable's reservation service costs restaurants money ($1.00 per seated diner when the reservation is done through OpenTable's website, and $0.25 per seated diner if through the restaurant's website as a front-end to OpenTable's reservation system). Not all restaurants can afford that overhead on top of the cost of serving every meal.
Low Hanging Fruit have been picked?
If one considers the overhead each OpenTable reservation adds to the cost of each customer, one quickly realizes the addressable market for online reservations (at that price) is primarily for mid-to-high-end restaurants. After all, how can McDonald's (Nasdaq: MCD) at $4.00-$8.00 per meal or the family Chinese or Mexican restaurant make money on a $10-$12 dinner if it costs them $1.00 per meal for a reservation? Furthermore, the fast food restaurants do not usually accept reservations.
One can safely assume the vast majority of restaurants in that 960,000 are most likely small restaurants and fast-food chains. So, clearly, the addressable market for OpenTable's reservation system is much less than 960,000. In fact, there may come a time sooner than most people think that the low-hanging fruit in OpenTable's business model have already been picked and there are fewer and fewer mid-to-high-end restaurants that haven't already signed up.
Competition: Low Barriers to Entry
There is nothing unusual or high-tech about an online reservation business model. This is not 1999 when internet e-commerce ideas were new and primitive. Companies like Priceline (Nasdaq: PCLN) and Expedia (Nasdaq: EXPE) have been doing online reservations for years.
On the contrary, it's relatively easy for competitors to start the same business model as OpenTable has. In other words, for competitors, there are low barriers to entry. It's not as if OpenTable manufactures Intel (Nasdaq: INTC) Pentium dual core CPU chips which require millions of engineering hours and many years to develop.
Enter: National Restaurant Association as a FREE competitor.
OK, now, let's get on to our recent discovery that may indeed cause OPEN's surge in share price to reverse -- and even collapse.
THESIS: It is VERY likely that the National Restaurant Association (NRA) could be WORKING ON a restaurant reservations system for its member restaurants, and it could be FREE as part of a NRA membership.
Follow the logic here:
1. Recall that the NRA has almost half of the 960,000 North American restaurant establishments in their membership. If the NRA can offer a FREE or very low-cost online restaurant reservation system to their members, their total membership will increase because online restaurant reservation capability will be a great new offering that could be packaged in the membership fees. NRA is in the business of increasing restaurant membership in their organization and helping member restaurants operate profitably, so they have every incentive to make this offering to its members.
2. Hans Lindh was very recently appointed as the Senior VP of Membership & Industry Relations for the NATIONAL RESTAURANT ASSOCIATION on February 14th. Click here for the press release. In that press release, the NRA mentions:
We are excited to have Hans join us full time to further enhance our member value propositions and partnerships with other industry organizations. As the restaurant industry is recovering from the economic downturn, it is more important than ever to offer value-added services that help our members boost profitability.
3. What kind of "value-added services" might the NRA want to offer, and who is Hans Lindh?
Hans Lindh worked for Livebookings.com prior to his new position at the NRA. Click here for a recent Youtube video from January 24, 2011 showing Hans Lindh interviewed as a representative of Livebookings.com. The connection between Hans Lindh and Livebookings and the NRA would therefore be fairly obvious to even the dullest of individuals. He has solid expertise in online restaurant bookings and he's also been tapped as the one to help the NRA "offer value-added services to help our members boost profitability."
What could that offering by the NRA be -- other than launching a direct competitor to OpenTable's business model that could conceivably be FREE as a part of NRA membership?
Having a direct relationship with its 380,000 restaurant members, the National Restaurant Association would be able to lock up most of the addressable market for restaurant on-line reservations and help make restaurants more profitable rather than to have to subscribe to OpenTable's $1.00 per diner pay-to-reserve model.
If you go to the livebookings website you'll see they claim 8,000 restaurants use their software, so they are not just a small contender to OpenTable's 13,795 North American restaurant clients. Next, click on their "Our Management Team" web page and you'll see the list of the current managers, but you won't see Hans Lindh. Why not?
Well, if you click on the Google-cached version of "Our Management Team," you'll see Hans Lindh is listed as management with the following text, so he was recently on Livebookings' management team before they took his name off their management list:
Hans Lindh
Senior Advisor and Acting Country Manager USA

Prior to joining Livebookings Hans spent ten years with American Express in New York and London, charged with developing the company's merchant and trade relationships across the full service restaurant industry, ranging from initiatives with celebrity chefs and casual chains to serving on industry boards. Before joining American Express, Hans held senior hospitality roles across Europe with Steigenberger and ITT Sheraton but he rates his years as waiter, bartender and maitre'd as some of the most fun and rewarding. His favorite restaurants include The Inn at Little Washington and Thomas Henkelmann in Greenwich, Connecticut. Alongside his current role, Hans is also a Special Advisor to the National Restaurant Association.
(You can find the same results if you Google "Hans Lindh livebookings" and click on "cached")
So, it is becoming evident that Hans' new appointment on February 14th to the NRA (and his subsequent de-listing on Livebookings' website) means either:
a) he will assist the NRA to make their own restaurant reservation website, or
b) he will help integrate the Livebookings reservation system into the NRA as a joint partnership.
Clearly, since he has prior ties to Livebookings, it would be unlikely that he is considering an NRA relationship with OpenTable, which is a Livebookings competitor.
4. This final point is purely anecdotal, but a message board poster here on Yahoo cited the following quotation, presumably from an email from Hans Lindh (interested parties are encouraged to contact Mr. Lindh to reiterate this phrase):
"We are constantly looking into opportunities to better serve our members and help them streamline their operations, reduce costs and increase customer satisfaction. When it comes to online reservation systems, we're evaluating all options currently on the market. We're always open to new ideas and welcome feedback from our nearly 400,000 member restaurants."

Hans Lindh
SVP, Membership & Industry Relations
National Restaurant Association
This was at a time when various short posters on the Yahoo OpenTable message board were suggesting calling or emailing the NRA to encourage them to build a free restaurant reservation model to compete with OpenTable.
If the foregoing logical speculation is true, an announcement by the NRA will be devastating to OpenTable as investors will realize no restaurant will want to pay OpenTable $1.00 per seated-diner for an online reservation when a cheaper or FREE alternative exists.
CONCLUSION:
OpenTable, at these nosebleed stock prices, is a house of cards ready to collapse; not only on its valuation -- but also its business model vulnerabilities and the likely introduction of a substantial competitor via the National Restaurant Association. Such an announcement could cause a precipitous drop in OPEN's shares.
Disclosure: I have no positions in any stocks mentioned, but may initiate a short position in OPEN over the next 72 hours.