I love a nice, firm, round bottom. Don't you?

What!? What did you think I was talking about? Sheesh!

I'm talking about the round bottom in Toll Brothers (NYSE:TOL):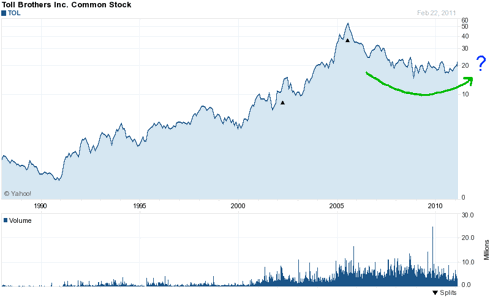 I know that a certain percentage of you are freaking out about one of two things:
Technical analysis is garbage! It's witchcraft and I think it's silly!
Housing is a disaster and it's not done going down and I hate it and all these stinkin' homebuilders!
On that first point, if you think technical analysis is pointless, I'm not going to try and change your mind. I'm the world's biggest advocate for finding investing strategies and techniques that work for you. There's no right way to do this. Also, relax-- we're going to get to some fundamentals in just a moment.

And as for the second point, I completely agree that real estate has been a disaster since the bubble highs and there are still plenty of challenges at present. But today we're going to look at some numbers and facts and if you can't separate the data from the dogma, then I can't help you. If you're bitter about your negative equity situation and it's coloring your view on the future of housing, I can't help that either.

I get it. What has happened to real estate in recent history is indisputably ugly, but the goal here is to assign some probabilities on what may happen in the years ahead.

The technicals

I'm a long-term guy, so when it comes to technical analysis I use the long-term toolbox. This includes things like historical trendlines and broad areas of support and resistance. I haven't done any wonky stuff here like fibonaccis and Elliott waves. I'm not pooh-poohing that stuff, I'm just saying I'm keeping it simple today. I am simple, long-term, and boring. When you're reading someone's analysis and opinions, it helps to understand their general perspective on things.

Here's a simple trendline: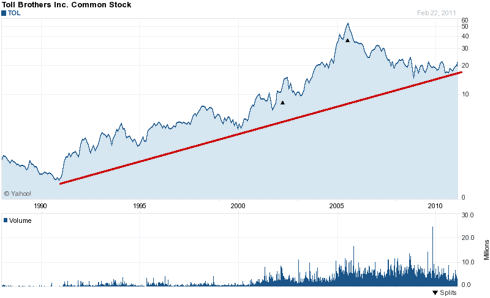 Not only does it appear to be making a round bottom, it's also right alongside its historical trend support. Obviously, if the stock violates this trend, it's bad news. But this is a spot upon which it could stage some honest growth.

We all know that Toll Brothers is linked to the fate of the U.S. Housing Market and that stocks look forward, discounting future earnings rather than what's happened in the past. After the carnage of the housing bust, how much worse is it going to get for these homebuilders? Seriously. Isn't most of the damage done? Haven't we already sort of discounted the housing apocalypse?

The round bottom could be suggesting this.

The fundamentals
Toll Brothers has gone from a record $6.1 billion of revenue in 2006 to $1.5 billion last year, which is pretty amazing. This is about what the company was generating over a decade ago in 1999. That makes a little bit of sense, as we've wiped out a decade worth of housing growth and have basically pushed the reset button to around the year in terms of price.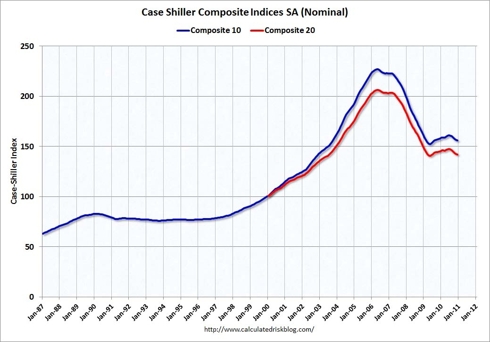 It has slashed costs, of course. I listened to an interview with its CEO a couple weeks ago on Bloomberg Radio. He said the company has gone from 7,000 employees to 1,600. Crazy.

He also admitted that buyers are still concerned and still not too confident. He said it feels good right now after a good Q4, but it needs to chain together a few really good quarters. So before we get too far into this, temper your expectations.

The market

I wrote about all of what follows in much greater depth here. Long story short, the current inventory in the housing market is high. It's never been higher. When you add in the shadow inventory you start to understand why this market is going to take several more years to clear.

But it will clear.

And I think this round bottom we've seen is the market's starting to accept that fact.

We all know the facts about housing affordability. It's been a long, long time since it's been this favorable for qualified homebuyers. Mortgage rates are still near historic lows and the median home price to income ratio is finally back where it belongs. That's all well and good, but why not just buy a house or REIT instead of a homebuilder like Toll?

The U.S. has a growing population. New households are formed every year and this means that the long-term trend for housing demand will be positive. Right now, this growth in demand dramatically exceeds expected growth in supply. But because the market is temporarily super-saturated with inventory, the excess supply is absorbing any and all growth in demand.
Click to enlarge



The red line is a conservative historical trendline for number of new housing units demanded. If you look at projections from the Census Bureau you can also back into this number of new homes per year that will be demanded.

Nobody's building houses right now, but at some point somebody's going to have to. Right? After the carnage of the last few years, I know it's hard to imagine an environment where supply is chasing to catch up with demand. But if these homebuilders don't get busy in the next few years there's going to be an artificially low supply in the market.

If you have paid attention to these companies, they've been rather savvy in the last few years, acquiring land at discounted prices with the expectation that some day they're going to need it to develop communities on. This is alongside all the operational adjustments they've made to run leaner and meaner.

The competition

Why Toll Brothers (TOL) and not Lennar (NYSE:LEN) or KB Home (NYSE:KBH) or Pulte (NYSE:PHM)? These guys have suffered bigger drops and are making even rounder bottoms?

They're fine too. I only selected Toll Brothers because it's been the best long-term performer:
Click to enlarge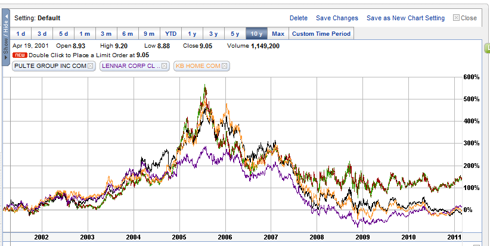 Toll also has a generally healthier balance sheet with less debt and a better multiple than the competition. I also like that its product (luxury tract homes) dominates a niche in which there is a bid right now: executives who didn't lose their job and still have good earning power and understand the difference between value and price. These guys want to spend a little more for a nicer house but still want to get good value. My friends in the construction business tell me that Toll's product is highly respected within the industry.

That's not to disparage the other builders. This thesis works just fine for them too.

There are also a couple of homebuilder ETFs to look at. SPDR offers (NYSEARCA:XHB) and iShares offers the (BATS:ITB). Those are fine too -- they also include housing-related companies like Home Depot (NYSE:HD) and TempurPedic (NYSE:TPX).

But they don't have nice, firm, round bottoms!

Anyway, if you take a look at who owns Toll Brothers stock, it's dominated by low-turnover, long-term, deep value investors.

Is that you? If so then give this idea some thought. Are you an active, momentum-chasing trader who is more comfortable running with the herd? Go find another stock. Netflix (NASDAQ:NFLX) is in a nice little dip right now.

Disclosure: I have no positions in any stocks mentioned, and no plans to initiate any positions within the next 72 hours.