The rapid, and unexpected, decline in oil has investors selling anything Energy as new headlines speculate about the impact of falling oil on shale profitability and producer leverage. Over the past few months, there have been many EIA reports highlighting the abundance of US supply, which the markets shrugged off. The recently lowered demand estimates, along with Saudi Arabia's unilateral actions, has now put fear into the oil markets as some point to either a significant supply/demand imbalance or manipulation to flush our marginal producers.
The MLP Sands have been the leading candidates for sell now-ask later investor profiles. The chart below illustrates the performance of Emerge Energy Services (NYSE:EMES) and Hi-Crush Partners (NYSE:HCLP)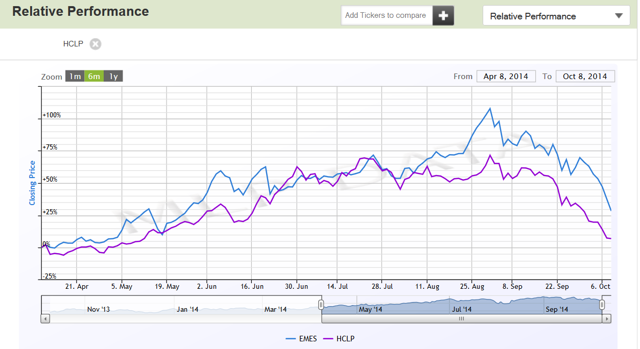 The two tables below illustrate the historical performance for each of the units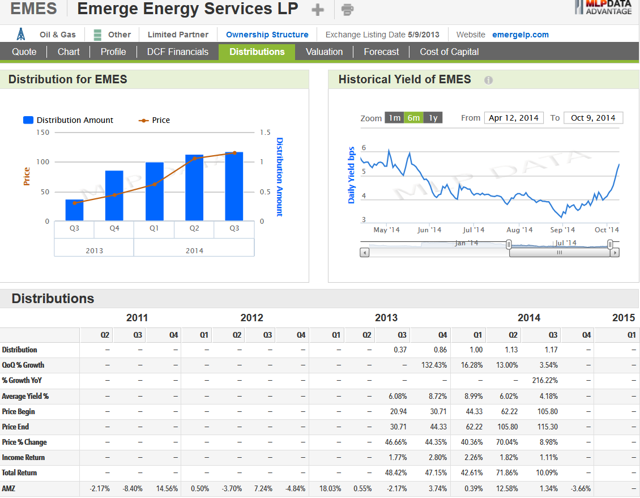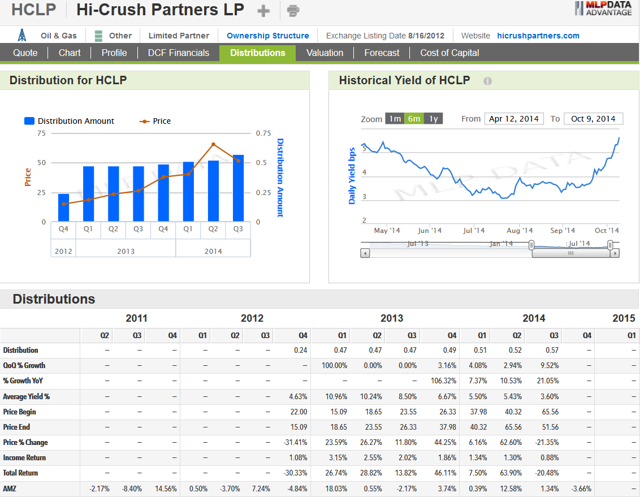 source: MLPData
As you can see, both have generated 20%+ distribution growth, which became transparent and expected in the early Q2 period. Once the growth rate increased, yields dropped by 35% as the market assumed a continued forward distribution growth rate. The current yield is now suggesting 10% growth rates, which are similar to that of the early Q2 forecast.
The August Fear of Sand
The expectant fear is that at lower crude prices, energy companies will decrease their levels of exploration and drilling, leading to reduced demand for sand used in the fracking process of horizontal drilling. The counter to that argument is the fact that the amount of frac sand used per well is increasing rapidly, with drillers now using up to 2-4x as much sand per well stage compared to one or two years ago. The injection of larger amounts of sand per well increases the efficiency of horizontal drilling resulting in significantly higher production per well drilled. The bottom line is that using more frac sand will allow drillers to profitably bring in more wells with lower costs per barrel. As a result, lower crude prices will push drillers to use more sand for increased efficiency and lower productions costs. A report published by an energy analyst just this week predicts that frac sand demand will increase by 300% between now and 2016.
Will the Growth rates Drop in Half in 2015/2016?
Let's look at Hi-Crush, which has provided 2014 Q4 distribution guidance of $2.30-2.50 per unit. In Q2, they reported that 88% of their revenues were from the Permian and Marcellus regions, two of the lower cost shale plays. Below is their forecasted plans for capacity expansion. Presently, of the 7.5MM of 2014 forward capacity, 6.6MM is fully contracted for 2015 through 2019, which is a 25% increase over 2014. So over the next 5 quarters, HCLP appears likely to increase distribution growth by at least 20% (we assume higher coverage in 2015), assuming 900k will be sold on the spot market. If this were to occur, the growth rate would be the same as prior to fall in price. In spite of the recent market action, one indication of continued buyer demand is the recently announced take or pay extension of the Haliburton agreement, which now runs through 2018.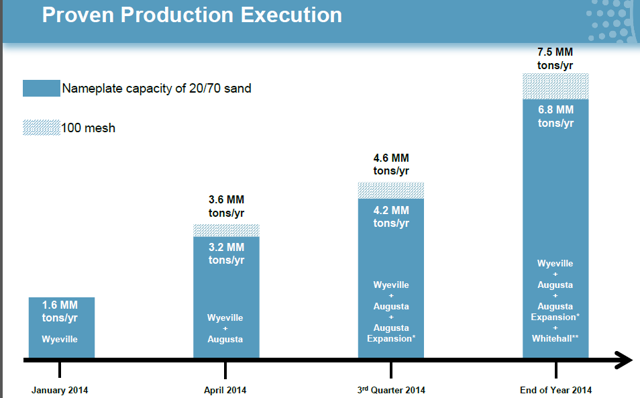 source: Hi-Crush company presentation
Emerge Energy Services has 7.4 millions tons per year under contracts with an average length of 4 years, with 1.1MM tons of capacity available for the spot market. Almost 6MM of the 7.4MM was added in the 7 months preceding the Q2 earnings call. They expect to increase supply by 2.5MM, with production starting in early 2015. Management has previously mentioned they do not add capacity on speculation, so it is highly likely that they will be announcing new contracts for this capacity once it is available. They also expected price to increase 5-10% for the new capacity. While it is more difficult to assess the 2015/2016 EMES contracted growth, it seems likely that the 10% rate the market has applied is very pessimistic.
While it is speculative to forecast where oil goes from here and what lower prices could mean, the market has oversold these names when considering their current yield and expected growth rates over the next 24 months, offering diligent investors with attractive entry points.
Disclosure: The author is long HCLP, TEP, ETE, USDP, CONX.
The author wrote this article themselves, and it expresses their own opinions. The author is not receiving compensation for it (other than from Seeking Alpha). The author has no business relationship with any company whose stock is mentioned in this article.