The Motorola Mobility (NYSE:MMI) XOOM, the first tablet powered by Google's (NASDAQ:GOOG) tablet-specific Honeycomb operating system, went on sale at Best Buy (NYSE:BBY) and Verizon (NYSE:VZ) stores on February 24th. Investors now have another development to get excited about: The XOOM is now sold out at many Best Buy stores.
I popped in to my local Central Pennsylvania Best Buy on February 25th, hoping to play around on the new XOOM. However, an associate informed me they had already sold the units that they had, and there wasn't a floor model in the store yet. I figured that this out-of-stock might be an isolated phenomenon; after all, I don't think that the success of the XOOM is determined by how it plays at Penn State. However, after looking into it, it seems as though many of the closest Best Buy stores are already sold out; here are the results of Best Buy stores closest to Penn State:
Click to enlarge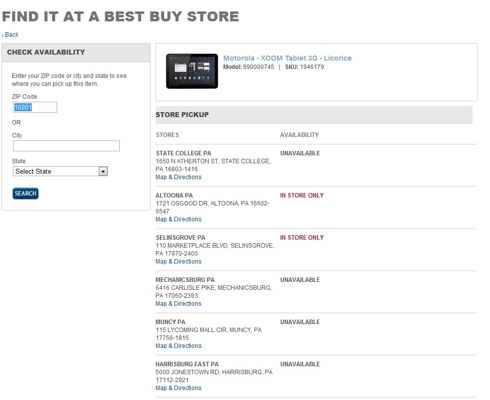 The "unavailable" descriptor indicates that a store is out-of-stock; "in store only" is shown for stores that still have XOOM tablets.
I decided to check Best Buy stores in a slightly more civilized area to see if they had exhausted their initial supply of XOOM tablets. A search for a Pittsburgh zip code indicates that stores there have already moved their initially-allotted XOOMs:
Click to enlarge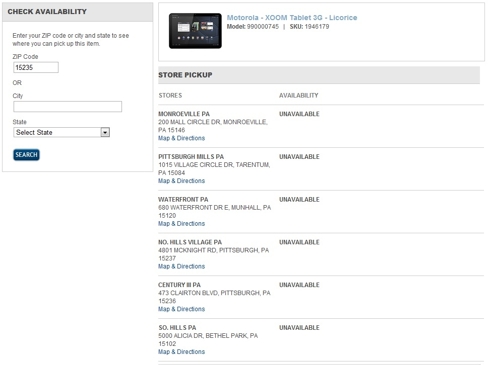 Every Best Buy in the Pittsburgh area appears to be XOOM-less. I confirmed one store's XOOM availability by calling the Monroeville location; the salesperson who answered the phone confirmed that all XOOM tablets had been sold and a re-order had been placed, but she was not sure when the next delivery would occur.
The XOOM also seems to be popular in the New York City area:
Click to enlarge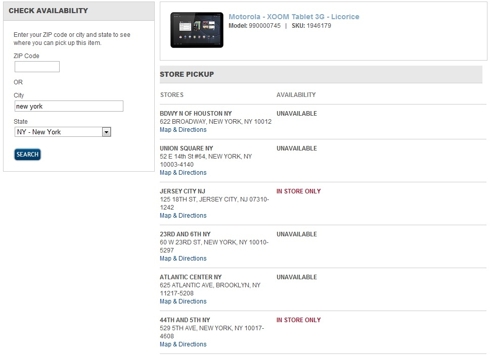 All of these out-of-stock situations seem to indicate a successful launch for the XOOM. While I was not able to get a concrete number for the initial quantity of XOOMs per store, selling out completely can't be a bad thing. But if Motorola wants to sell XOOMs, the tablets need to be available for consumers to purchase - so hopefully stores are restocked quickly. I would tend to believe that the current issue is more likely to be related to some mistakes in Best Buy's initial regional/store-level demand estimates rather than a nationwide shortage of the tablets. When I spoke to the salesperson and she said that tablets had been "re-ordered," I assumed that she meant that tablets were being shipped to the store from a Best Buy distribution center.
At this point, I think that MMI shareholders should start to get excited about the XOOM launch and the prospects for MMI shares. The XOOM's launch was certainly not flawless, but this evidence of early sales success is very encouraging and seems to alleviate much of the concern over pricing and features that surfaced during the last month.
I don't believe that the investment community expected this type of initial success and I think that it's strange that these sellouts aren't being reported more widely; after all, when consumers line up for iPhones, it becomes the biggest news in the country, and conversely, Verizon's CEO recently
seemed to defend
the lack of lines during the company's iPhone launch. Motorola's CEO helped to shed some light on the XOOM's launch when he
told industry analysts
on February 28th that sales were "off to a good start" - so my observed sales success seems to be corroborated by management.
The lack of coverage of initial sales may actually present a good opportunity for existing longs to pick up a few more shares or for new interested buyers to enter MMI stock; shares trade for the same price today as they did on February 23rd, the day before the tablet went on sale, before any evidence on the success of the launch was available. While there are other elements of Motorola Mobility that will contribute to share price movement, the success of the XOOM tablet, which I believe is becoming apparent, has the potential to positively affect shares in the near future.
Disclosure: I am long MMI.