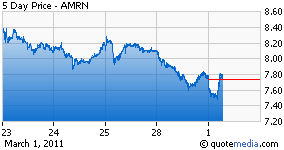 After spiking to highs of over $8 on positive trial news back in December, and then flying even higher after a positive update on another ongoing trial hit the wires in January, shares of Amarin Corporation (NASDAQ:AMRN) opened March on the decline, closing below the eight dollar mark for the first time since early January.
Amarin's immediate potential lies in AMR101, a treatment for very high triglycerides that the company CEO predicts will become a "first in class" treatment for that indication, based on the results of the recently completed MARINE Phase III trial.
That trial's early completion led to Amarin's December spike, and it's also highly likely that the ongoing ANCHOR Phase III trial will be completed early, putting the company on track to file a New Drug Application with the FDA at some point this year.
Previous estimates had Amarin filing in 2012.
With the prospects of a second quarter release of ANCHOR results, according to timelines released by the company, AMRN's current slide may be offering investors an opportune time to add before the news hits.
It's generally expected that the ANCHOR trial is going to produce positive results in line with the MARINE trial, which would cement Amarin as a good, but still speculative, FDA play for this year, and as a nice growth story further into the future, should AMR101 receive an FDA nod of approval.
In addition to the positive speculation about the trial results and FDA approval process, Amarin is high on the list of potential merger and acquisition targets.
According to CEO Joe Zakrzewski in a recent conference call, more companies are interested in Amarin's assets than Amarin has employees, which number 17, so AMRN could be looked at just as much for its potential as a short term M&A stock as it is for its long term pipeline potential.
It may just be the a pullback in general market conditions that is resulting from global geo-political fallout that has AMRN sinking in price at this time, and if that's the case, investors may be looking at a solid deal right now - especially if its sinks even further.
Like Apricus Bioscience (NASDAQ:APRI), Amarin is shaping up as one of the most talked about biotech/pharma stories of 2011.
Disclosure: I am long APRI.