In Hong Kong, China, frustrated students have set off a wave of protests and civil unrest. If current trends continue, this could put Hong Kong retail equities in serious jeopardy.
Structural Weaknesses Increasingly Evident
Analysts have long warned of potential economic pitfalls for China. Experts have highlighted a number of structural weaknesses in the Chinese economic model.
With regards to Hong Kong's economy specifically, second quarter GDP had decreased by 0.1% from the previous quarter. This represented a year over year increase of 1.8%, which was down from the year over year increase of 2.6% in the first quarter. In terms of the property market, the number of sale and purchase agreements in Hong Kong has been slightly lower in the first half of 2014 than during the same period of 2013. Current events are drawing even greater attention to these weaknesses.
With Hong Kong's "Occupy Central" movement, the city faces the most potent unrest it has seen since the 1960s. Today, the Hong Kong protests are students opposing Beijing's agenda-claiming that its leaders are reneging on their commitment to maintain Hong Kong's unique system of openness and democracy.
Hang Seng Index Reflects Fears
On October 3, the Hang Seng Index (HK:HSI) marked the end of its worst week in over six months.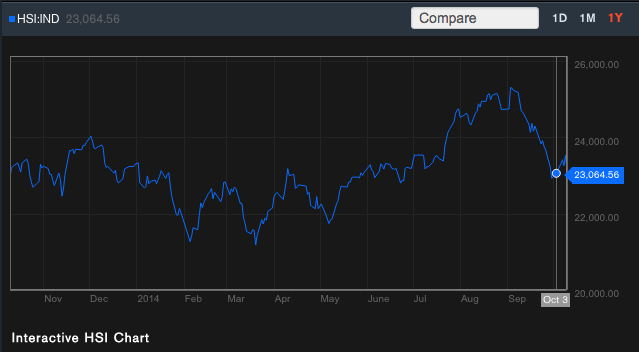 (Bloomberg.com)
The pro-democracy protests have certainly frightened many traders into taking holding positions or enacting even more cautious tactics.
Despite some value opportunities, there is a chance the Hong Kong market could continue to deteriorate.
Retailers Suffer Worst Effects
In the midst of this chaos, Hong Kong retailers are suffering the most. According to analysts from the Australia and New Zealand banking group (ANZ), retailers may have lost as much a 2.2 billion Hong Kong dollars (~$280 million USD) in the past week. This represents an appreciable six percent of retail sales for this important month.
The protests took place during China's National Day holiday week, and data shows the number of mainland Chinese tourists entering Hong Kong only increased by 6.8% year over year, in comparison to an 18% increase last year. Interestingly, nearby Macau, a hub for casinos, was enjoying no such slowdown, as the number of mainland tourists increased 17% year over year for the holiday week.
This data comes at a time when the overall financial outlook for Hong Kong has shown a few cracks. Compared to last year, Hong Kong's retail sales have fallen one percent in the first eight months of 2014. Interestingly, Hong Kong's markets show signs of resilience, even in the face of intense volatility.
For example, HK's liquidity tightness is easing in the fourth quarter, as shown by a fall in Hong Kong's one-month interbank rate.
The most optimistic financial analysts believe that Hong Kong has established the fundamentals for a vibrant fiscal future. However, events on the ground have a way of changing forecasts. Also looming is the potential for a slowdown in mainland China, where on the retail front, During the National Holiday week, retail sales increased 12.1% this year compared to 13.6% in the same period last year.
Specific Companies At Risk: JMEI, VIPS
JMEI
Jumei.com (NYSE:JMEI) is one major Chinese retailer that could face troubled days ahead. Despite this moderately positive benchmark, the company is quite vulnerable to the effects of fundamental instabilities in the Chinese economic system. The largest Chinese seller of beauty products, Jumei saw its share price fall from $38 to $23 in approximately six weeks.
(Bloomberg.com)
Like other Chinese retailers, Jumei has faced some controversy related to the spread of counterfeit goods in the Chinese retail market. It also experienced some negative publicity in mid-September when the Beijing Consumer Association announced that it suspected JMEI of misleading customers with regards to its return policy. In its earnings report for Q2, Jumei achieved earnings-per-share of 0.13, beating a consensus forecast of 0.11.

VIPS
VIPshop (NYSE:VIPS) is another Chinese retailer that may not have the fundamental strength to weather the vicissitudes of China's developing unrest. In Q4 2013, VIPshop had an EPS of 0.17, only to see that number drop to 0.06 for Q2. Though the retailer's stock has risen steadily in the past year, it has declined from the all-time high of 229.18 that it hit on August 13th, and there is reason to think that the stock's $195 selling price is somewhat inflated.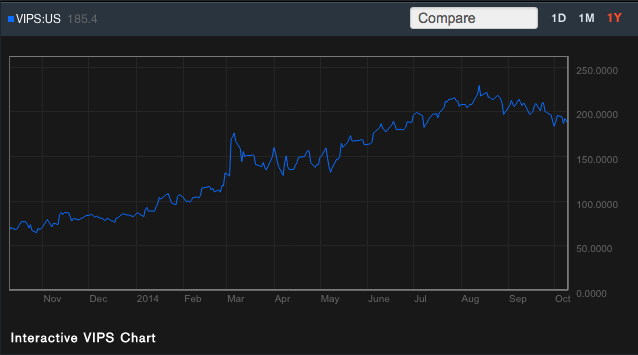 (Bloomberg.com)
VIPS seeks to stand out from the e-commerce crowd with its flash sales business model, which essentially involves selling a limited amount of specially-priced goods for a limited time. According to the company's most recent annual report, it hosted 20,122 flash sales events in 2013 and it generally sells goods at a 30%-70% markdown from retail price.
The company also notes in its annual report that it enjoys an early mover advantage in the flash sales space, but competition is rapidly evolving. VIPS names Dangdang (NYSE:DANG), Jingdong (NASDAQ:JD) and Tmall, which is an Alibaba (NYSE:BABA) company, as competitors that sell similar products and services. Thus, although these other companies may not follow the flash-sales model to the same extent as VIPS, they can still sell similar goods at a discount and are therefore considered competitors.
Conclusion: Consider Taking Profits
Interestingly, in the time since August 13th to the close on October 8th wherein VIPS dropped approximately 16.1%, JD declined by about 13.4% and DANG plummeted roughly 31.7%. The other Chinese e-commerce stock discussed above, JMEI, fared no better during this time, sinking 32.4%.
Therefore, although VIPS has seen negative performance recently, perhaps it is caught in a broader downtrend among Chinese e-commerce stocks. From this perspective, it could be framed that VIPS is enduring a sectoral downtrend better than its peers, because the market sees reason for relative optimism in company-specific factors.
In both cases, investors should be wary about the volatility and vulnerability of JMEI and VIPS and consider taking profits before the trend worsens.
We invite readers wishing to join the discussion on Chinese retail equities to click the +FOLLOW button above the title of this article, and those looking for the latest updates to click +Get real-time alerts.
Disclosure: The author is long BABA. The author wrote this article themselves, and it expresses their own opinions. The author is not receiving compensation for it (other than from Seeking Alpha). The author has no business relationship with any company whose stock is mentioned in this article.