I reiterate my bullish stance on ConAgra (NYSE:CAG); the company has been making successful efforts to support its top-line numbers through its continuous productivity and efficiency improvement measures. Also, CAG's focused approach to enhance the performance of its well-known brands and expand into international markets will further improve its revenues. Moreover, CAG has been targeting cost savings to support its bottom-line growth in the long term. Furthermore, the company has been sharing its success with shareholders through share repurchases and dividends; CAG currently offers a dividend yield of 3.0%, which is backed by its solid cash flows.
Top-Line Story…
The company's top-line growth has been facing challenges in the recent past from private label brands; however, through the ongoing improvements in productivity and the efficiency of its commercial segment, CAG has been successful in moderating the top-line number decline. In 1QFY15, the company's commercial segment revenues increased by 2% year-on-year, which resulted in total sales decline of only 0.4% in the quarter, as compared to a sales decline of 2.8% in the corresponding period last year.
The strong performance of CAG's Lamb Watson business has been a primary driver for its commercial segment's sales growth. CAG has been consistently strengthening the Lamb Watson Business by targeting new markets. In this regard, the recent expansion of Lamb Watson to Portland has been successful. Also, with its recent acquisition of Chinese potato processor, TaiMei Potato, the company remains confident of expanding in developing markets.
The company has been offering pricing discounts to support its private segment results; the pricing discounts weighed on the segment's top-line growth. The growing competition in cereal category remains a headwind for the segment's top-line growth. However, with the completion of the Ralcorp acquisition, CAG has now become the largest private label brand in the North American Packaged Food market, which I believe will improve its market power and positively affect its long-term growth prospects. In the consumer segment, with its merchandising, product innovation and packaging efforts, the company has been building brand loyalty and attracting more customers, which will also portend well for the segment's long term growth.
The healthy performance of the company's commercial segment will support its top-line growth in coming quarters. Also, the company's private and consumer segments are also likely to benefit from CAG's growth efforts in the future.
Margins and Bottom-Line
On the margins front, CAG's ongoing productivity improvement efforts such as supply chain management techniques have been helping the company improve the cost structure and margins. In 1QFY15, CAG, through its cost control efforts, successfully lowered SG&A expenses by 120bps year-over-year. Also, CAG's operating margin improved to 8.30%, up from 8.10% in the same quarter previous year, and helped the company beat analyst consensus EPS estimates by 11.40% in 1QFY15.
As the company's management has been aggressively working to support its top-line growth, along with its cost control efforts, it will positively affect its margins and EPS growth in the future.
Moreover, the company expects that the synergies from the Ralcorp acquisition will exceed $350 million for FY15 and will attain an annual run rate of $300 million by FY17. Based on the synergies from the acquisition and the growth potentials of organic categories, analysts are anticipating CAG's earnings growth rates to outpace its peers, in the long run, as shown in the table below.
| | |
| --- | --- |
| Companies | Earnings Growth |
| CAG | |
| Kellogg (NYSE:K) | |
| General Mills (NYSE:GIS) | |
| Kraft Foods (KRFT) | |
Source: Nasdaq.com
Investor Friendly
CAG has been consistently sharing its success with shareholders through dividend payments and share repurchases. The company's strong FCF base is backing its shareholder-friendly policy. During 1QFY15, although CAG's share repurchase activity was muted due to growth expenditures related to acquisitions and expansion in international markets, the company still had share repurchases of $181 million left under its ongoing share repurchase plan.
But the company delivered its dividend commitment by returning cash dividends worth $105.5 million during 1QFY15, backed by its strong cash flow base. Also, CAG recently announced a quarterly dividend payment of $0.25/share; currently CAG offers a decent dividend yield of 3.0%. The following chart shows that the company's dividend payments have been backed by its cash flows over the past three years.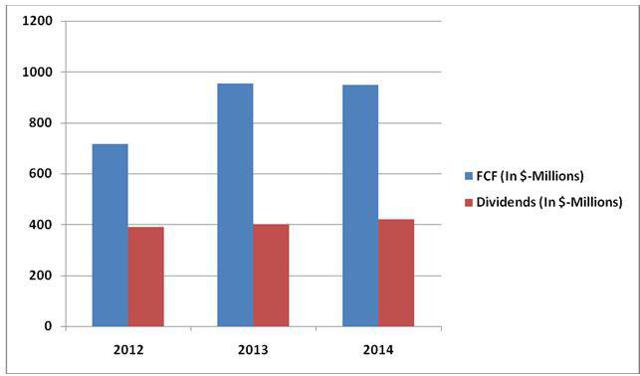 Source: Company's Yearly Earnings Reports
Moreover, the ongoing debt repayment by CAG has been strengthening its balance sheet position. The company is targeting to reduce its debt by $1 billion by the end of FY15. Also, the company is expecting total debt to reduce by $2 billion once the Ralcorp acquisition is completed. Moreover, the company does not have any significant debt maturities in the near future, as shown in the chart below.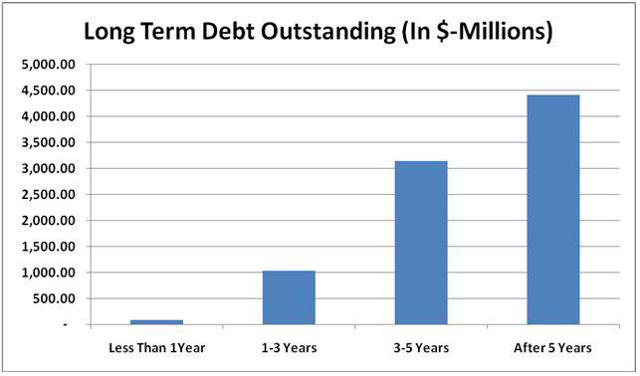 Source: Form 10-K
Going forward, the management remains committed to keeping dividend-seeking investors satisfied through more share repurchases and dividend payments. The company's CFO, during the 1QFY15 earnings conference call, said:
As we enter fiscal 2016 with a stronger balance sheet we expect to have more flexibility in our capital allocation to consider dividend increases, share repurchases and additional growth investments.
Conclusion
The company's ongoing top-line improvement efforts in all segments are likely to portend well for its long term top-line growth. Moreover, the cost reduction efforts by CAG, combined with synergies from Ralcorp, will fuel the company's EPS growth in coming years. Also, CAG has been actively sharing its success with investors through dividend payments and share repurchases. The company offers a decent dividend yield of 3.0%, which makes it a good investment for dividend investors. Due to the aforementioned factors, I am bullish on CAG.
Disclosure: The author has no positions in any stocks mentioned, and no plans to initiate any positions within the next 72 hours.
The author wrote this article themselves, and it expresses their own opinions. The author is not receiving compensation for it (other than from Seeking Alpha). The author has no business relationship with any company whose stock is mentioned in this article.