By Chris McKhann
The iShares Dow Jones U.S. Real Estate Index Fund (NYSEARCA:IYR) hit a new two-year high this morning before retreating and attracting a big put spread.
The IYR exchange-traded fund hit $60.79 this morning at the open, its highest level since the collapse of late 2008, but the price has been dropping since and is now down 1 percent to $60.01. The fund has been on the rise from $45 back in July and rocketed higher over the last few sessions after dipping below $58 on Thursday.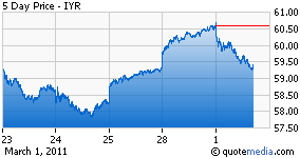 Our systems have seen 23,000 options change hands so far today, more than twice the IYR's daily average, with puts outnumbering calls by almost 10 to 1. Topping this volume is a large put spread.
A trader bought 5,000 September 60 puts for $4.15 and sold the same number of September 54 puts for $1.95. The volume at both strikes was more than 10 times the previous open interest, so this is a new position.
The put spread cost the trader $2.20, which is its maximum risk and will be lost if the IYR is above $60 at expiration. If shares are below $54, the position will pay out $3.80. This could be a partial hedge against an existing long position in the IYR, which would protect it down to $54, a level last seen in mid-December.