After publishing our article on independent European tobacco manufacturers Swedish Match (OTCPK:SWMAF) and Karelia Tobacco (OTC:KCIGF), we felt it might be a good idea to look at some of the other international tobacco companies, such as Philip Morris, Imperial Tobacco (OTCQX:ITYBY) and British American Tobacco (NYSEMKT:BTI) as well. These companies are substantially larger, and operate in a larger number of markets than the aforementioned companies. Together with Philip Morris international (NYSE:PM) and Japan Tobacco (OTC:JAPAY), they pretty much dominate the international tobacco market. How do these Big Four of international tobacco stack up against each other? Our intention is to take a look at these four major players, their geographic strengths, financial performance and brand portfolios to determine their strengths and weaknesses. Because an in-depth analysis of all four companies is not practical for one article, we will take a look at these companies one at a time. We will conclude our analysis with a cross-comparison to determine which one is positioned most favorably to profit from international tobacco consumption trends in the final article. The international market as discussed in this article excludes the USA and Chinese tobacco markets, since these are mostly separated (although for different reasons) from the international market. In this part, Philip Morris will be the subject of analysis.

The four largest international tobacco companies with combined share of 70.7% of the world cigarette market (excluding China and the USA: Japan Tobacco Annual Report 2013)
Philip Morris International
Philip Morris was a tobacconist who ran a tobacco shop in the 1870s on Bond Street in London. Its manufacturing site was located on Marlborough Street in the same city. Both locations gave their names to cigarette brands that were marketed by the company. Marlborough (the name was later changed to Marlboro when the company became American) was, for the first part of its life, sold as a woman's cigarette with a cork-tipped filter. In 1901, the company opened its first business opened in the USA, but was still a company of very modest size in the tobacco market at the time. The future of Philip Morris would be changed dramatically when American Joe Cullman Jr. bought control of the company Benson & Hedges in 1941. Cullman Jr. and his son Joseph Cullman III sold Benson & Hedges to Philip Morris in 1954 (which had long before become an American company), gaining a large block of PM shares and board seats in the process. The combined company was then the fifth-largest tobacco company in the United States. Under the leadership of Joe Cullman III, Philip Morris would ride from the bottom to the pinnacle of the tobacco industry within three decades, largely on the strength of the ingenious marketing campaigns that drove the Marlboro cigarette brand to the no. 1 US sales position in 1976. This success was subsequently repeated in many countries the world over by its international division that commenced sales in 1955. Flash-forward to the present time: Philip Morris International is now the world's largest cigarette company, but is no longer a part of its American parent. The spin-off of Philip Morris International from U.S. parent Altria (NYSE:MO) in 2008 was motivated by the Altria board as primarily driven (but not exclusively) by the "different market dynamics" in the U.S. and international markets, as mentioned in the spin-off statement at the time. Philip Morris has, since becoming its own public company, performed aggressive buybacks of its own stock ($35 bn. from 2008 to Q1-14), has raised the dividend in a very significant way (up from $1.84 in 2008 to $4.0 currently) and has undertaken a number of acquisitions to boost its presence in markets where it was underrepresented. Philip Morris has remained a U.S. listed stock, though, reporting in U.S. dollars and with its headquarters in New York, but its operational center in Lausanne, Switzerland. Altria's CEO in 2008 was Louis Camilleri, who stepped down to become CEO of Philip Morris post-split. In 2013, Mr. Camilleri stepped down from this position as well, but remained chairman of the board, and was succeeded by André Calantzopoulos as CEO. Philip Morris has a truly global cigarette business that has a dominant market presence in many European countries, as well as Latin American countries such as Mexico and Argentina, and Asian countries such as the Philippines and Indonesia. It arguably has the strongest brand portfolio as well, having ownership rights (excluding the USA) of such international brands as Marlboro, L&M and Chesterfield.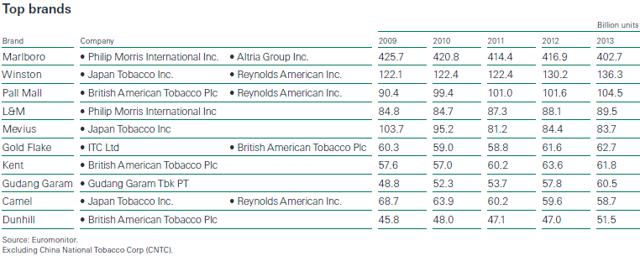 From the Japan Tobacco Annual Report 2013: The largest cigarette brands in the world
As can be seen above, PM's Marlboro brand is the largest cigarette brand in the world by a very wide margin. It has been called the only global cigarette brand, due to its market presence in many countries. Although it is certainly dominant in the USA and large parts of Europe, there are also many countries in which it doesn't hold large market share. Of the more than 400 bn. sticks of Marlboro shipped in 2013, Philip Morris International accounted for 291.1 bn., with the rest attributable to Altria's Philip Morris USA subsidiary. L&M is also a very strong Philip Morris brand that has been quite successful over the past years in growing its volumes. This brand is positioned in the mid-price range of the branded cigarette category, whereas Marlboro is decidedly positioned in the premium segment. L&M is the fourth-largest cigarette brand, but when deducting Pall Mall USA sales from the international total, L&M is probably the third-largest international brand (excluding China and the USA), after Marlboro and Winston.
Below is an overview of Philip Morris total cigarette volume in 2013, including available data per brand and per geographic segment. Marlboro sales volumes account for almost 33.1% of total Philip Morris cigarette volumes. Not all brand volumes are included in this overview. Total 2013 volume came in at 880.2 bn sticks (PM AR 2013).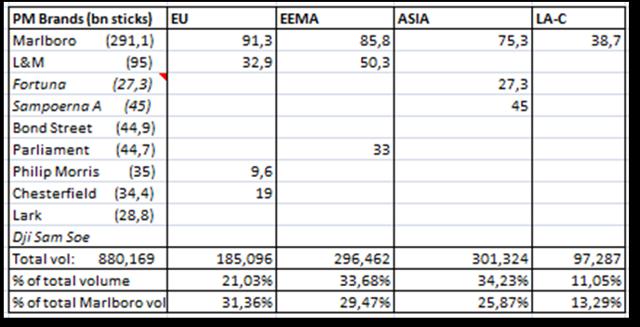 Geographic strengths and performance
Philip Morris' largest geographic regions by volume shipped are Asia and Eastern Europe/Middle East and Africa. The EU region has traditionally been a strong region for PM, but has seen volumes decline for many years now, due to lower total markets. The Latin-America and Canada region (LA-C) is relatively small compared to the other three. Marlboro sales are relatively weighted more towards the EU and LA-C regions, indicated by the higher relative % of total Marlboro volumes. Asian volumes are weighted less towards Marlboro, due to large sales volumes of local brands in the Philippines (Fortuna) and Indonesia (Sampoerna).

Philip Morris market share number per country and geographic segment. Numbers as reported by PM (from the Annual Report 2013 and Investor Day presentations). Only the largest markets are included (plus some additional countries, such as Czech Republic and Slovakia: data for those last two are from Philip Morris C.R. Annual Report 2013).
As can be seen in the above overview, Philip Morris holds quite impressive market shares in the EU region, which is comprised of all EU member countries (minus Bulgaria, Romania and the Balkans), plus Norway, Iceland and Switzerland. The company has a strong market share leadership position in this region, with a total share of 38.5% of the cigarette market. Marlboro is the largest cigarette brand in the EU, holding 19% of the total market. PM has seen pressure on its market share in the EU in the past 5-6 years, but this trend was reversed in 2012, bottoming out at 38%. Pressure on Marlboro sales were to an important degree responsible for this decline, due in part to pressure on the premium cigarette segment, which was caused by both price increases related to higher excise taxes, as well as (possibly) an aging consumer demographic. The economic crisis has exacerbated down-trading in the European cigarette market, both due to lower disposable income and the government's intent on raising tax money through excise increases. The effects of pressured volumes have been especially notable in Southern European countries, where consumers have not only down-traded, but have increasingly turned to illegal cigarettes as well. PM has countered by pushing its branded OTP product, such as RYO tobacco, and an increasing focus on mid-priced L&M. PM also intends to revitalize the Marlboro brand globally by introducing a new brand architecture in 2014 (Marlboro 2.0), which features a new pack design accompanied by the Red is Here and the existing May be Marlboro advertising campaigns. For PM, the most important markets in the EU are Germany, Italy and France, in all three of which Marlboro leads the market. PM grew market share in each of these markets in 2013, and also grew share in Spain and Poland (where it leads the market with L&M). The only large EU market where PM trails the competition is the U.K., where its share of 7.3% consists almost entirely of Marlboro sales. The other three big tobacco companies are very well established in the U.K., leaving PM in an uncharacteristic fourth place. The overall cigarette market in the EU is in decline.
In EEMA, Philip Morris has generally been less reliant on Marlboro than in the EU, because its mid-price brand L&M, low-priced Bond Street and (super)premium brand Parliament have also performed very well. Still, Marlboro is the largest PM brand in this geography as well, and has slowly been gaining market share over the past years: in 2013, it held 7.1% of the total EEMA cigarette market. Overall PM share in this geographic area has been trending up, driven by its premium brand portfolio, most notably Marlboro and Parliament, and currently has a narrow no. 1 market share position in this geography as a whole. PM holds strong market shares in important countries such as Russia, Turkey and Ukraine, and has steadily increased its market presence in the frontier markets of Africa in the past 5 years. PM has a leading market share in Turkey with a 45.5% share, and in Ukraine as well at 33.5%. Saudi Arabia is a bastion for PM, with share leadership of 46% and Marlboro at 21.8%. In Romania, its share of market is at 19.2%. The Russian market is by far the largest market in this segment, and is the second-largest cigarette market in the world (after China). PM has a very wide brand portfolio in Russia, led by low-priced Bond Street, which holds a 6.5% share of the total Russian market. The premium brand Parliament has done well in this market as well, but Marlboro has notoriously failed to gain traction in the Russian market, with a share of just 1.7% in 2013. For PM as a whole, market share in Russia is around 26.1%. PM has also been building up market share in quite a rapid fashion in the North African markets of Egypt, Algeria, Libya, Morocco and Tunisia, coming in at 26.5% in 2013, with Marlboro at 15.3% and L&M share of 9.1%. The overall market of EEMA has generally showed stable-to-slightly rising volumes.
In Asia, the most important markets for PM are Indonesia (4th-largest cigarette market), Japan (5th-largest cigarette market), South-Korea (8th-largest cigarette market) and the Philippines (9th-largest cigarette market). Given PM's strong presence in these four markets, it also holds market share leadership in Asia as a whole, with some 24.9% of the total market. Marlboro is not as dominant in Asia as it is in Europe, with only 5.3% of the Asian market. Especially Indonesia is of vital importance to PM's performance in Asia, since it is such an incredibly large cigarette market that has been growing as well. In 2005, PM acquired the largest national cigarette producer, Sampoerna, and has since integrated this business into its operations. Indonesian cigarette sales are mostly made up of so called kretek cigarettes (which consist of a mix of tobacco and clove), whereas "white" cigarettes as we know them are just a small, but growing segment of the market. Banking on its strength as the market leader, PM has grown Marlboro to 5.5% of the total market (and an impressive 77% of the "whites" category) in this country. The Philippines is comparable to Indonesia to the extent that PM has merged its local business with Fortuna Tobacco into PMFTC to become the strong market leader with 79.3% of the market, and because of this, also sells a lot of local Fortuna cigarettes. Its share, however, has been under a lot of pressure, due to sharp excise tax increases that have motivated its most important competitor, Mighty Corporation, to under-report its sales volumes to the fiscal authorities, thereby evading taxes and stealing market share from PMFTC. PM definitely has some major issues in the Philippines that have been extensively reported by the company. In South Korea and Japan, PM competes with national incumbents KT&G and Japan Tobacco respectively, and has done so quite successfully, growing share in both countries over the past years. However, in Japan, PM sales got a strong boost in 2011 due to JT's supply chain problems caused by the tsunami. This caused a temporary spike in market share that has eased back towards pre-tsunami levels. These market share issues in the Philippines and Japan combined with declining emerging market currencies (and Japanese yen) vs. the U.S. dollar have been important contributors to reported disruptions in PM's sales and profit performance since 2013. The overall Asian market has shown growth over the past years.
In the L-America and Canada region, PM has very strong market share leadership positions in both Mexico (73.5%) and Argentina (75.6%), due in part to strong Marlboro market shares in both countries. Marlboro is especially strong in Mexico at 52.3%, and has a good market share in Argentina with 23.8% as well. In Mexico, local Delicados is an important brand with 11.2% share of the market, whilst namesake brand Philip Morris holds a whopping 41.5% of the Argentine market. In Canada, the 2008 acquisition of Rothmans Inc. has boosted PM's presence in a major way, now holding 37.2% of the Canadian cigarette market for a No. 2 market share position, even though its flagship brand, Marlboro, has no major presence in Canada. The two largest PM brands in Canada are Canadian Classics (10.1%) and Next (9.9%) that came with the Rothmans Inc. acquisition. In Colombia, PM also holds a strong market share since acquiring local manufacturer Coltabaco in 2005/2006, and now holds a share leadership position of 50.8%, a large part of which is made up of local brand Boston sales with a 21.1% share, while Marlboro's share of market is at 6.9%. In the large market of Brazil, PM seems to be trailing the competition by a wide margin, though, with only a 15.7% share of market, of which Marlboro holds an 8.7% share. PM has gained market share in both Colombia and Brazil over the past years, driven in part by larger share for Marlboro. PM also is the market share leader in smaller countries in this region, such as Guatemala, El Salvador, Costa Rica and the Dominican Republic, while gaining market share in Peru and Bolivia. For the region as a whole, PM holds the No. 2 market share position with 38.1% of the total market, after British American Tobacco. The cigarette market of Latin America & Canada as a whole has seen volumes decline over the past years.
Financial Performance
Philip Morris' stock has generally done quite well since the spin-off in 2008. Altria traded around $73.83 prior to the split in 2008, and post-split, PM was valued around $51.44, while the new Altria was valued around $22.49. Since then, PM has distributed net cash dividends totaling $18.74, with a current quarterly rate of $1.00 per share. The stock is somewhere near $85 now, so the total return including dividends is $103.74 since the split. This is roughly a 100% return on a PM investment since Q1-2008, while the Dow Jones Industrial Average returned about 36% during that period (excluding dividend). However, after a strong performance in 2012, foreign exchange devaluations on emerging market currencies, as well as operational troubles in various Asian countries forced PM to lower earnings guidance in all four quarters of 2013. In the first quarter of 2014, it then slightly upped earnings guidance for the year, only to guide down in the second quarter again. Current diluted EPS guidance is for earnings to hit a range of $4.87-$4.97 for FY2014, which is down from $5.26 in 2013. Excluding the currency hit of around $0.90, underlying income would be up slightly vs. 2013. The market currently values PM at 17x-18x earnings for the current fiscal year. Due to these setbacks, the stock has not been getting a lot of love from the market, and after peaking in the high $90s in 2013, it has traded in an $80-$90 range during most of 2014, with a dip below $80 during the first months of 2014.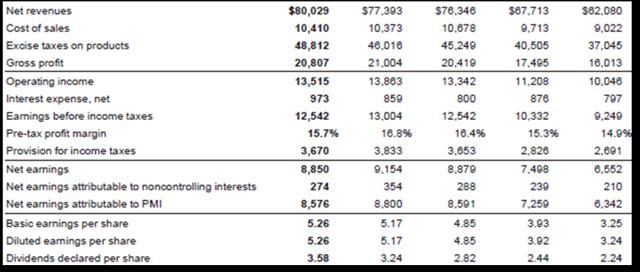 The 5-year income statement of Philip Morris: 2013 is on the left (PM Annual Report 2013).
The income statement over the past 5 years shows quite strong revenue growth, as well as gross profit, operating income and net earnings. Gross revenue growth can be attributed mostly to higher prices and higher excise taxes (which are included in net revenue), as well as higher volume. Upwards to 2012, the margins show quite strong improvement on higher cigarette prices. In 2013, this trend reversed due to foreign exchange impacts, which hurt profits in all regions except the EU. The only major currency that gave PM an earnings lift during the year was the euro, which traded higher against the dollar for the most part of 2013. This was also the case in H1 of 2014, but the euro reversed against the dollar in Q3 of this year, possibly giving rise to additional currency headwinds for Philip Morris. In order to get a feel of the currency volatility that PM is experiencing, we took a look at some graphs for PM's major currencies.
Euro/Dollar: Rate shows declining Euro in H2-14 (left)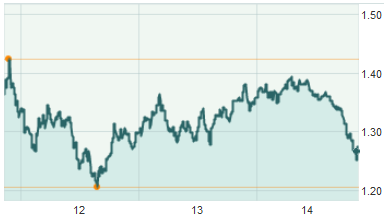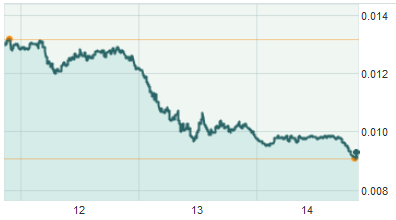 Yen/Dollar: Yen has been pressured by "Abenomics" (right)
USD/Philippine Peso: Dollar up strongly in 2013 (left)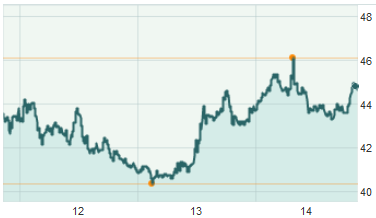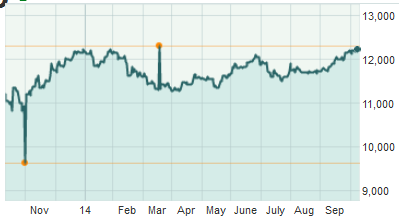 USD/Indonesian Rupiah: Last year shows rising Dollar (right)
The euro was quite strong versus the dollar in 2013, but the second half of 2014 has shown a strong decline for the common currency of eurozone members, thus reversing the trend in the only major currency that provided PM with backwinds in 2013. Important Asian currencies peso, rupiah and yen were all down strongly against the dollar in 2013, and show further weakness in 2014 (the peso and rupiah are to be interpreted exactly opposite to the euro and yen graphs, due to the graphs showing the currency pairs in reverse). Indonesia is PM's largest market in terms of volume. The Philippines and Japan are the third- and fourth-largest volume markets.
USD/Argentinean Peso: Dollar up strongly (left)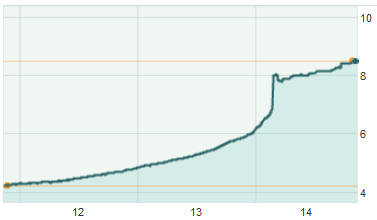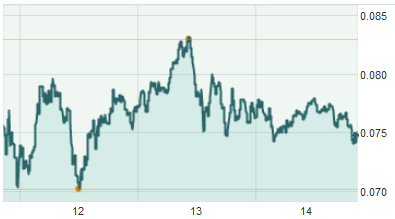 USD/Mexican Peso: 2014 Peso wins back some ground (right)
USD/Colombian Peso: Peso declines more in 2014 (left)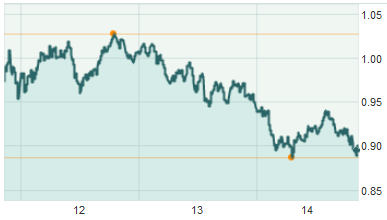 Canadian Dollar/USD: Canadian Dollar declines also (right)
Important Latin American and Canada currencies like the different pesos and the Canadian dollar were also generally weak against the American dollar, both in 2013 and in 2014. The exception is the Mexican peso, which showed declines in 2013, but is stronger in 2014. Please be aware to interpret the Canadian dollar graph in reverse (All graphs were pulled from Marketwatch.com: Unfortunately, not all currency pairs were available with the dollar as the second currency). The EEMA currencies Russian ruble and Turkish lira were very weak in 2013 already, and have declined further against the dollar in 2014. Especially the ruble has taken a big hit, explained in large part by the political tensions in Ukraine. Russia is the second-largest volume market for Philip Morris.
USD/Russian Ruble: Ukraine-crisis hits Ruble hard (left)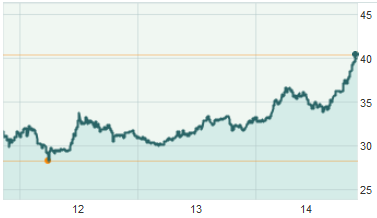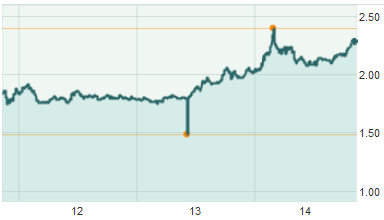 USD/Turkish Lira: The Lira is down further vs. 2013 (right)
To sum up the currency story for PM: since the company reports in US dollars, all of its major operating currencies have given it significant headwinds in 2013, except for the euro. Starting in Q2 and accelerating in Q3 of 2014, the euro has now turned into an additional headwind for Philip Morris. The strength that can be seen in the US dollar since 2012/2013 displays an important vulnerability in Philip Morris: since the spin-off from Altria, the company cannot rely on a dollar-based operating division anymore. There is literally none or almost no operating income that is being earned in US dollars, while the company does pay out dividends in dollars and has substantial amounts of debt denominated in US dollars. In the table below, it can be seen that only the Mexican peso and the South Korean won have gained against the US dollar in 2014. The euro has year-to-date slid some 8%-9% against the dollar, which removes the softening effect this currency had on foreign exchange issues in 2013.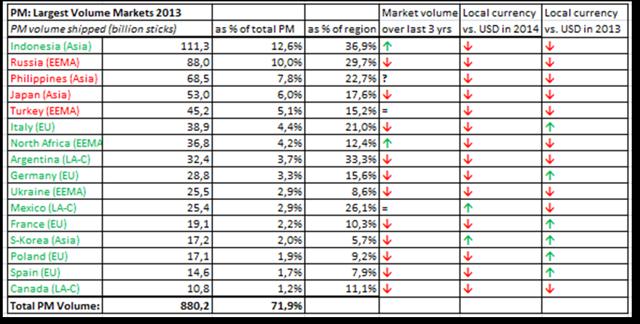 The above table shows PM's largest volume markets, with volume in billions of sticks. Volume is also calculated as a % of total PM volume shipped in 2013 and as a % of operating region volume. The final three columns show total market change over last 3-year period, as well as currency movements against the dollar in 2013 and 2014. Country names are displayed in either red or green to indicate whether PM gained or lost market share in 2013.
The table shows how important emerging markets have become to Philip Morris. Indonesia, Russia and the Philippines combined contribute more than 1/3rd of total PM cigarette volume. Even though cigarette prices are, on average, lower in these countries than they are in mature markets such as the EU countries, Indonesia, Russia and the Philippines, besides being enormous volume drivers, also offer PM a large opportunity of converting customers from local and low-priced brands to more premium brands. These countries are also a significant reason for Philip Morris' ability for upward pricing, on account of these markets being faster economic growers than more mature markets, thereby giving Philip Morris the ability to move cigarette prices up, in line with increasing per capita income levels. The importance of emerging market performance for Philip Morris can hardly be overstated. To add to the concerns over foreign exchange issues, cigarette volume has dropped in 2013, due largely to business issues in the Philippines, the market share drop in Japan and lower EU cigarette markets overall. We think that volume growth is going to become increasingly difficult to achieve on an organic basis going forward, because more and more cigarette markets show declining overall consumption. Since the EU and LA-C regions have been declining for years now, Philip Morris has relied on Asia and EEMA to grow volumes. In light of the declining Russian market, our best guess is that the EEMA region will start showing slightly declining volumes over time as well. In Asia, volume growth may still be achievable for Philip Morris, but much will depend on how the Indonesian market develops (since it accounts for almost 37% of PM volume in Asia). This means that going forward, Philip Morris will have to rely more on market share gains to soften the declining markets, as well upward pricing to drive revenue growth in order to hit its financial target of 10%-12% adjusted EPS growth per year. Both market share gains and strong pricing power are pillars on which the business has successfully relied for years, though, as seen below.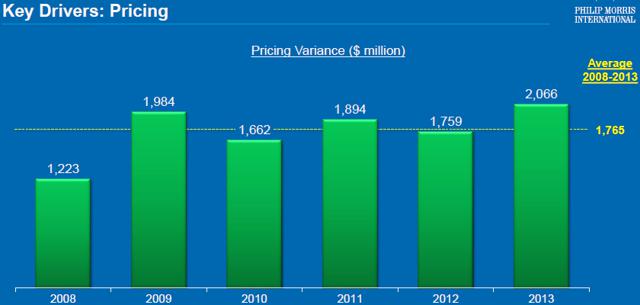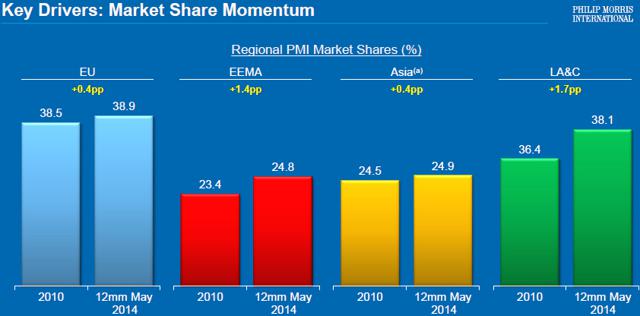 Graphs from PM Investor Day 2014 presentations show Annual Pricing Variance and Market Share Gains since 2010. First of all: Philip Morris has $1.6-$1.7 bn in annual upward pricing ability (which translates into 6%-7% of net revenue, excluding excise taxes). Secondly, PM has also been successful in growing its share of market by leveraging its strong brand portfolio and marketing expertise, softening volume hits in declining cigarette markets. Thirdly, PM has focused on cost cutting to increase its operating margins, as evidenced by the graph below. Annual productivity improvements are in addition to rationalisation of the cost structure by way of closing plants (between 2012 and 2014, eight manufacturing sites were closed, most recently in Holland).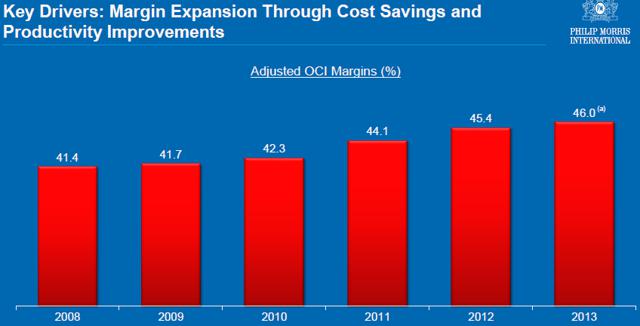 (click to enlarge)

These are the cigarette volume numbers for Philip Morris from 2006-2013, with 2013 at the bottom of the table. Numbers are in millions of sticks. Also shown are regional volumes and global share of market, excluding China and the USA (data compiled from PM AR 2008-2013).
The table clearly shows that PM has been quite successful in growing its cigarette volume over the past 7 years. What's also clear is that EU volume has been in a long decline, and that LA-C volume appears to have peaked in 2010 as well. EEMA volumes have been stable-to-slightly growing, while Asian volumes have soared, driven to no small degree by Indonesia. The drop in 2013 volume vs. 2012 was largely due to an enormous hit in Asian volumes, which can be explained in large part by the Philippines, but volume declines in the EU were quite steep as well.
Conclusion
Given the still-existent foreign exchange headwinds in many of PM's largest markets, we do not expect a noteworthy increase in Philip Morris' financial performance anytime soon. It seems that given the rise of the dollar against most currencies in 2014 and especially against the euro in Q2 and Q3 of this year, operating profits will remain under pressure. This pressure has already induced Philip Morris to scale back on its share buyback program to $4 billion this year (down from $6 bn in 2013) in order to retain its credit rating (since PM has relied in part on additional debt to finance the buybacks). The political and economic upheaval in Russia and the Ukraine also do not help Philip Morris' performance, especially since the ruble got hit so hard. The Russian economy is under a lot of pressure from the sanctions that were introduced by both the EU and the United States after the supposed Russians interventions in Ukraine and Crimea. These political tensions may also introduce negative sentiments against American brands in the minds of Russian consumers, which is an additional risk to Philip Morris. However, we will have to wait and see what the Q3-2014 results will bring, in order to get a better view on the currency situation and regarding news on the Russian and the Philippines businesses. PM stock currently trades between $84 and $85. This level doesn't seem very expensive, given the strong dividend yield around 4.75% and the relatively defensive nature of the tobacco industry with strong business economics. We still regard Philip Morris as a top-quality business in the tobacco sector and the consumer goods sector overall. However, we do not currently recommend the stock for a buy, mostly due to the negative foreign exchange overhang going into the next year. We would consider initiating a position in the stock below $80, due to the fact that the 5% dividend that the stock provides at that level is very attractive in the consumer goods sector. If the currency situation regarding the dollar changes in the future, we might revisit our analysis of Philip Morris.
Check back soon for Part II of our series on international tobacco for an analysis of British American Tobacco.
Disclosure: The author has no positions in any stocks mentioned, and no plans to initiate any positions within the next 72 hours.
The author wrote this article themselves, and it expresses their own opinions. The author is not receiving compensation for it (other than from Seeking Alpha). The author has no business relationship with any company whose stock is mentioned in this article.
Editor's Note: This article discusses one or more securities that do not trade on a major U.S. exchange. Please be aware of the risks associated with these stocks.