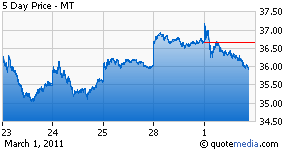 ArcelorMittal (NYSE:MT) is currently the largest steel manufacturer in the world, formed by the merger of two steel giants, Arcelor and Mittal in 2006. The company competes with other international steel giants like BaoSteel, Posco (NYSE:PKX), Nippon Steel (OTC:NISTY) and ThyssenKrupp (OTCPK:TYEKF).
We recently updated our price estimate for ArcelorMittal's stock to $40.67 after the company released full year earnings for 2010. This price includes the effect of the company's spin-off of its stainless steel division as the newly formed company Aperam. Our price estimate is roughly 10% above market price.
ArcelorMittal's Geographical Diversification Greatly Reduces its Revenue Risks
ArcelorMittal produces over 100 million metric tons of steel annually and has operations in 20 countries on four continents. Steel sales in the Americas and Europe each contribute to more than a third of its total annual revenue. In comparison, its sales revenue from countries in Asia, Africa and the Commonwealth of Independent States (AACIS division) for 2010 was less than $10 billion – just about 13% of its total revenue of $78 billion [1].
But in the years to come, we believe ArcelorMittal's AACIS division will become a much bigger source of revenue due to the economic growth expected in countries in Asia – particularly China and India.
Based on our model, the AACIS division contributes to more than 21% of ArcelorMittal's value and represents the biggest revenue opportunity for the company. Below we highlight upside and downside scenarios for our ArcelorMittal price estimate based on the outlook for drivers affecting the company's earnings from Asia, Africa and the CIS.
7.5% Downside – Slow Recovery in EBITDA Margins
ArcelorMittal's AACIS division has historically shown the highest EBITDA margins among all of the company's operating divisions. While other divisions have never managed even a 19% EBITDA margin in the past, the AACIS division reported margins in excess of 23% before the global economic recession of 2008. In fact, the division's EBITDA margin was highest in 2008, at 28%.
We expect the division's EBITDA margin to reach the pre-recessionary value of 22% in 2011, and then increase slowly to almost 26% by 2017. However, if the recovery in EBITDA margins is slower, and the value increases gradually from its current value of 14% to reach 22% by 2017, this would knock almost 7.5% off of our estimated price for ArcelorMittal's stock. This represents a reduction from our current price of $40.67 to less than $38.
5% Upside – Strong Increase in Demand for Steel
ArcelorMittal sold 20 million tons of steel products in each of 2006 and 2007. This sales figure fell drastically to 13 million tons in 2008, as the steel industry felt the effects of the global economic downturn. Even in 2010, ArcelorMittal reported sales of just over 13 million tons for its AACIS division – representing a slower recovery in the demand for steel from the region.
This, coupled with the increasing competition for ArcelorMittal from large steel manufacturers like Baosteel, POSCO and Nippon Steel in Asia led us to conclude that the division's sales could grow by a nominal 5% in the years to come. This suggests that the AACIS division could ship almost 19 million tons of steel by 2017.
However, if the recovery in the demand for steel in Asia and Africa is quicker than what we currently estimate, the sales for ArcelorMittal's AACIS division should also see great improvement. Considering the scenario in which the company records 10% growth for its AACIS division sales, vs. our base case estimate of 5% growth, ArcelorMittal would reach sales of about 23.5 million tons of steel by 2017 in Asia, Africa and the CIS.
This scenario would present a 5% upside to our estimated price, raising our value estimate to $42.60.
Notes:
ArcelorMittal reports full year and fourth quarter 2010 results, ArcelorMittal Investor News, Feb 8 2011
Disclosure: No position