This article examines the relationship between Return on Equity, Price to Book ratio and Price to Earnings Ratio, which may not be obvious to everyone. As a value investor, I want to maximize ROE while minimizing P/B and P/E. While working through the theory I will try to demonstrate why AT&T (NYSE:T) meets this criterion.
Return on Equity (ROE)
One of the most important profitability metric, Return on Equity reveals how much profit a company earned in comparison to the total amount of shareholder equity found on the balance sheet. Shareholder equity is equal to total assets minus total liabilities. It's the sliver between assets and debt which shareholders "own". Shareholder equity is a creation of accounting that represents the assets created by the retained earnings of the business and the paid-in capital of the owners. Return on Equity is an important measure for a company because it compares it against its peers. With Return on Equity, it measures performance and generally the higher the better. Some industries have a high ROE as they require little or no assets while others require large infrastructure builds before they generate profit. For this reason ROE is best used to compare companies in the same industry. Performance ratios like ROE, concentrate on past performance to get a gauge on future expectations. The formula for Return on Equity is: Net Profit ÷ Average Shareholder Equity for Period = Return on Equity
A business that has a high return on equity is more likely to be one that is capable of generating cash internally. For the most part, the higher a company's ROE compared to its industry, the better. This should be obvious to even the less-than-astute investor If you owned a business that had a net worth (shareholder's equity) of $100 million dollars and it made $5 million in profit, it would be earning 5% on your equity ($5 ÷ $100 = .05, or 5%). The higher you can get the "return" on your equity, in this case 5%, the better. In the case study given below, AT&T is earning an return of equity of over 20%.
The higher the ROE, the more easily, the company will be able to raise money for growth or/and return money to shareholders.
Price to Book (P/B) Ratio
The price-to-book ratio measures a company's market price in relation to its book value. The ratio denotes how much equity investors are paying for each dollar of "equity". Book value, usually located on a company's balance sheet as "stockholder equity," represents the "theoretical" total amount that would be left over if the company liquidated all of its assets and repaid all of its liabilities. A company with a low price-to-book ratio (P/B ratio) compared to similar companies could indicate a stock that is currently undervalued or could also mean that something is fundamentally wrong with that company. Also "book value" is an accounting construct, i.e., it may have no relation to the actual value of a company. For example, a company which has a lot of intellectual property would have an artificially high P/B as value of home grown intellectual property (such as patents, brands etc) are not reflected in the book value. Conversely a company with a lot of obsolete of low value inventory could have a low P/B ratio and the inventory is being held at a inflated value.
Price to Earnings (P/E) Ratio
The price to earnings ratio is a simple and useful tool with surprising predictive power. The P/E Ratio provides a numeric representation of the value between the stock price and earnings. To derive the P/E Ratio you divide the share price by the company's EPS or Earnings Per Share. The formula looks like this: P/E = Stock Price/ EPS.
A high P/E value may indicate high market expectation of future growth from the company. A current example may be Tesla (TSLA) or Gilead (GILD); or a high P/E Ratio can indicate a given stock is priced to high and ready for a correction.
Conversely a low P/E Ratio may indicate a lack of confidence in the future of the company or it may indicate that the potential of the company is not recognized by the company.
Combining ROE with P/B
I reasoned that since ROE measure the efficiency with which a business turns shareholders equity into earnings and price to book ratio measures the premium (or discount) prospective equity buyer is paying for that equity, why not combine the two to get a composite measure. So, without further ado, viola - ROE/PB. By dividing ROE by P/B you get what I call "Return on Price" or RoP. RoP gives you an idea of what the business will earn on every dollar you invest in it now. The following table gives AT&T RoP over time.
| | | | |
| --- | --- | --- | --- |
| Fiscal Period | ROE % | P/B | RoP % |
| Dec-99 | 30.53 | 6.31 | 4.84 |
| Dec-00 | 26.15 | 5.31 | 4.93 |
| Dec-01 | 22.29 | 4.05 | 5.50 |
| Dec-02 | 17.03 | 2.71 | 6.28 |
| Dec-03 | 22.24 | 2.26 | 9.85 |
| Dec-04 | 14.53 | 2.11 | 6.89 |
| Dec-05 | 8.75 | 1.47 | 5.96 |
| Dec-06 | 6.37 | 1.19 | 5.36 |
| Dec-07 | 10.36 | 2.19 | 4.74 |
| Dec-08 | 13.35 | 1.74 | 7.66 |
| Dec-09 | 12.3 | 1.62 | 7.58 |
| Dec-10 | 17.79 | 1.56 | 11.44 |
| Dec-11 | 3.74 | 1.70 | 2.20 |
| Dec-12 | 7.86 | 2.04 | 3.86 |
| Dec-13 | 20.06 | 2.04 | 9.85 |
| TTM/current | 19.46 | 1.93 | 10.08 |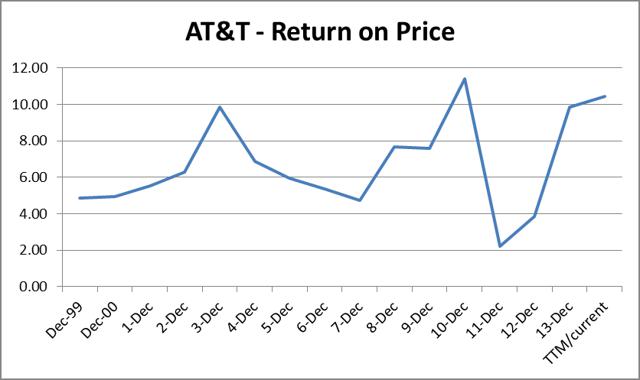 So as you can see you are getting a return of 10.8 cent for every dollar you are investing in AT&T equity today. This was only exceeded briefly in the depth of the financial crisis where you got 11.44 cents in 2010. So AT&T appears to be an excellent value for my money at this point of time. In today's market I can tell you that a double digit RoP is rare.
Pulling it all together
Now here is the interesting part. Expanding the RoP equation below - you can see that RoP is essentially the same as Earnings / Price (inverse of the P/E ratio) expressed as a %. This is also known as earnings yield.

The Earnings Yield or RoP is quite useful as it help us compare a stock's yield to a bond yield. It can help an investor's decide if he is being compensated enough for taking a risk on a stock over say, the yield of a 10 year bond. We can also get a quick idea of the amount of earnings a stock such as AT&T is paying out as dividends. Infra is a chart which pulls all these measures (Price, P/E, P/B and ROE) together for AT&T. The chart clearly demonstrates that currently AT&T is looking very attractive - a stock with high ROE and low P/E.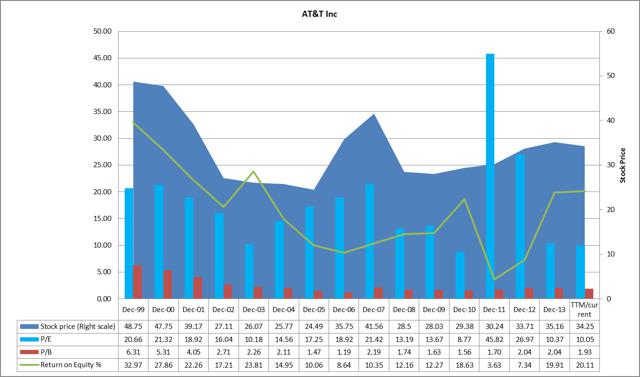 Conclusion
Screening for companies which have consistently high ROE and low P/E (and low P/B) can throw up some interesting bargains particularly in times of market stress (we seem to have entered such a period now). If this article generates interest, I will post such a screen with investing ideas in the near future on seeking alpha.