It is Thanksgiving Day in Canada. In contrast to our American friends, Thanksgiving Day in Canada is not about Pilgrims and Indians: it's about turkey and stuffing!
There is not one historical event being celebrated. Various events have been cited through the years as the holiday has bounced around to different days. For Canadians, Thanksgiving is a harvest festival of giving thanks and enjoying the bounty of the land, our country, and celebrating with family and friends. Though the aisles at Costco (NASDAQ:COST) would tell a different story, it's still a long way until Christmas and this is a good time to take a break from school and study to visit. I am thankful for so very many things and have experienced the advantages of being born in a safe and beautiful country to caring, hard-working parents. I am also thankful for the dividends provided by Canadian companies, the focus of this article.
Currently 47% of my portfolio is in Canadian assets, which is about where I would like to be, half-Canadian, half-American. The funds are spread across 15 Canadian-based companies and some cash awaiting deployment, as follows.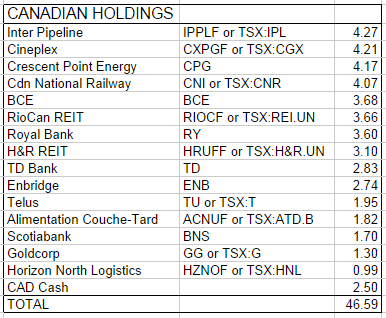 Much of my international exposure is through American companies, as not many of the Canadian companies are truly international. Notable exceptions to this are the international exposure of Alimentation Couche-Tard, (OTCPK:ANCUF) and Scotiabank (NYSE:BNS).
Of these 15 holdings, the vast majority, ten, are holdings that I would consider core holdings. I might occasionally trim these holdings, but in general do not intend to sell as long as the company and its dividend remain "safe" and profitable. Two are more cyclical and were purchased mainly for growth. I do not know how long these will be kept and I expect to sell at advantageous times. Three more are holdings purchased exclusively for capital gain. This table, inspired by Dennis Miller, shows this division of my Canadian holdings.

The first 10 holdings are the main subject of this article, and can be easily divided into 4 sector groups: Energy & Pipelines, Banks, Telecoms and REITs. The stocks of these 10 companies are widely held in income portfolios in Canada.
Energy and Pipelines (IPL, ENB, CPG)
There is one main reason for holding Crescent Point Energy (NYSE:CPG) in a portfolio: the well-managed company's dividend, of $0.23 monthly, currently 7.5%. There has been no growth in the dividend since 2007, but there have also not been any cuts. In the past year, the company has received criticism for being a serial acquirer of other companies, and for diluting the shares by share issuance and their advantageous DRIP program. With these risks understood, I will continue to purchase shares and enjoy the dividends that arrive monthly. I DRIP very few companies -- so far just the REITs below -- but this is one I plan to set up in a non-registered plan and DRIP, hopefully by the end of the year.
The pipelines, represented by Inter Pipeline (OTCPK:IPPLF) or (TSX:IPL) and Enbridge (NYSE:ENB) in my portfolio are widely held for their toll-road nature, giving off consistent earnings and dividends. IPL has a dividend of $0.11, which translates to a current yield of 3.85%. With IPL, I am thankful for not only the reliable dividend, but the significant capital gain it has experienced in the couple of years as well.
Enbridge is a favorite among Canadian dividend investors for good reason. The combination of consistent growth and a solid, growing dividend has provided excellent returns. The dividend is $1.40 with a yield of 2.78%. I plan to increase my holding in ENB to be equivalent to IPL in the near term.
Banks (RY, TD, BNS)
There is much to be thankful about as a long-term holder of the Canadian Banks. I will not go into great detail on the banks, as I recently published an article entitled Scotiabank: Adding to a Core Holding. My earliest bank purchase that I still hold was TD bank in March 2013. I had traded the banks a few times knowing they were solid holdings, but thinking they were too slow to suit my purpose and needs. As my understanding of dividend-growth investing as a strategy increased; the incredible benefits of slow and steady with solid dividends, dividend-growth, and dividend reinvestment, coupled with purchasing at advantageous times grew. I began to realize it was foolish to trade or approach the banks with a trading mentality. Fortunately, the main cost for all that trading was only opportunity cost, and I have been increasing bank holdings along the way in both depth (adding shares) and breadth (in more of the Canadian banks). As it stands, my bank holdings are 8.2% of my portfolio with the plan of increasing that soon.
Telecoms (BCE, T)
The three Canadian telecoms BCE (NYSE:BCE), Telus (NYSE:TU) or (SX:TT) and Rogers (NYSE:RCI) or (TSX:RCI.B) control over 90% of the mobile market in Canada, but digging into these companies shows much more than just wireless systems. Last summer's taper tantrum, interest rate increase scares, as well as rumors of Verizon (NYSE:VZ) coming into Canada have all conspired to keep the Canadian telecoms share price under control. Fortunately the dividends have not suffered and BCE raised its dividend by 6% for April and Telus 5% for June, which was its second raise over the year. I doubled my initial BCE holding from September 2012, last summer as well as adding more this summer. The dividend for BCE is now $2.47 with a yield of 5.18%. The dividend for Telus is $1.52 with a yield of 3.95%. I intend to increase my Telus holding soon, hopefully by 50%.
I am thankful for the buying opportunity last summer and look forward to continuing to buy these companies on dips for years to come.
REITs (REI.UN, HR.UN)
REITs are common holdings for income-oriented investors on both sides of the border. These are the only holdings that I currently DRIP and I am pleased to buy extra shares each month, especially during these unusually volatile times for REITs. RioCan (RIOCF or REI.UN) is commonly known as the largest and highest-quality REIT and usually trades at a premium. I have made a number of purchases since the first in May 2013. This was not the best of timing, but it has been a great example of averaging into a larger holding over 4 separate purchases. Even now, I have a small capital gain and a nice dividend to show for it. RioCan's dividend is $0.12 paid monthly or 5.41%.
H&R REIT (OTCPK:HRUFF) or (TSX:HR.UN) has been regularly added to since June 2013. Instead of adding yet again to RioCan, I decided to branch out. H&R has a monthly dividend of $0.11 with a current yield of 6.14%. It has been interesting to watch these holdings grow from that first initial purchase to be a sizable holding by DRIPping shares and occasional purchasing. It is clearly demonstrating the power of averaging in. It is everyone's ideal to have large positions, but the reality of a portfolio in the acquisition phase is more gradual.
I would like to increase my REIT holdings, but may try for some diversification and add an industrial REIT such as Pure Industrial (OTCPK:PDTRF) or (TSX:AAR.UN) or a senior's housing REIT like Chartwell (OTC:CWSRF) or (TSX:CSH.UN). I am undecided and have a little time to make the decision before funds arrive in the target account in a few months. I am thankful for the higher dividends of the REITs and the stability of these holdings.
Conclusion
The Canadian landscape is providing some interesting opportunities for entry points into quality dividend paying companies, suitable for income investors. I have mentioned which ones I intend to increase or have recently purchased. Not all of these companies are at a great entry point, but some of them are getting there quickly. I am thankful for quality companies to partner with on both sides of the border and around the world, but since it is Thanksgiving Day in Canada, I am especially thankful for my Canadian dividends.
Disclosure: The author is long CPG, BCE, TU, ENB, TD, RY, BNS, IPPLF, RIOCF, HRUFF, CPXGF, CNI, GG, ANCUF, HZNOF.
The author wrote this article themselves, and it expresses their own opinions. The author is not receiving compensation for it (other than from Seeking Alpha). The author has no business relationship with any company whose stock is mentioned in this article.
Editor's Note: This article discusses one or more securities that do not trade on a major U.S. exchange. Please be aware of the risks associated with these stocks.