There is blood on the streets, and people are selling off like crazy …
So it must be time to buy!
I have recently taken note of the substantial drop in oil prices and the consequent drop in value of just about every stock that has anything to do with the oil and natural gas industry (ONG). Some looks into the ETF opportunities in ONG led me to examine C-corporation ETFs, so I will interrupt the series of growth-oriented sector-specific ETFs and look at these takes on ONG plays.
I believe one should wait before diving in just yet.
MLPs' Taxing Issues1
A master limited partnership (MLP) is a tax-advantaged entity that is required to have at least 90% of its cash flows from real estate, natural resources and/or commodities. The majority of MLPs are in the oil, natural gas and coal industries. The tax advantage realized is that revenues received by the MLP (after expenses) are distributed to its unitholders, and no taxes are paid on those revenues by the MLP.
In turn, unitholders receive distributions from the MLP. The distributions themselves are considered returns of invested capital, and are not taxed (initially) - they represent repayments of the investor's cost basis. Only when the aggregate of distributions exceed the cost basis of the investment does one pay capital gains taxes (on the distributions in excess of cost basis).
The unitholder is not out of the tax woods, yet - there are corporate taxes to be paid on the income received by the MLP, and since the MLP doesn't pay taxes, someone else has to (the I.R.S. is not going to let someone earn money without paying taxes, after all). The unitholder is expected to pay the (unitholder's share of) corporate taxes on the MLP's revenues.2
All information needed by the I.R.S. is supplied to the unitholder on a form K-1 supplied by the MLP's general partner.
The Downside of MLPs
The upside to MLPs are clear: no tax on the income until that income exceeds the cost basis; and MLPs typically pay nice returns (as high as 15% or more per year). But there are a few disadvantages to MLPs that may make them undesirable in a retirement portfolio.
First, technically, the unitholder is responsible for paying state income tax on the MLP's revenues in every state through which the MLP realizes cash flow.3 Even nonresidents.
Second, MLPs - if held within a tax-deferred or tax-advantaged account - may place an unwanted burden on the account. The unitholder's share of taxable corporate revenue becomes "unrelated business taxable income" (UBTI). An IRA or 401K is allowed to have up to $1,000.00 in UBTI in a year, but beyond that, taxes must be paid - the "unrelated business income tax" (UBIT). The filing of UBIT is handled by the account's custodian, and is paid as due, which means the loss of some money from the account.4
A third downside (minor, compared to the other two) is simply the form K-1. The MLP is required to send the K-1 to unitholders no later than March 15 of each year. This could make it inconvenient for those who prefer to get their taxes out of the way early (necessitating an amended return?), or causing a delay for people who wait until all of their tax forms are in before doing their taxes.5
MLPs and the C-Corporation ETF
The Investment Company Act of 1940 established the rules and regulations that defined the registered investment company (RIC). One of the constraints placed on RICs was that they could not structure their funds such that they had more than 25% of their assets in certain types of investments. This meant that an ETF could not have holdings that contained more than 25% of its assets in MLPs.
A way around the RIC constraints was to establish an ETF that was a C-corporation. In this way, the ETF would not be bound by the 25% limit on MLPs, although this would come at the expense of the "pass-through" nature of the distributions it makes. The C-corporation ETF must treat the distributions it receives from its holdings as taxable revenues, and must pay the taxes due. The distributions made to shareholders are from post-tax earnings.
The advantages of this type of ETF are notable:
Distributions are taxed as dividends;
The investor could have the holdings in a tax-advantaged account without having to pay "premature" taxes (no issue of UBTI);
The only capital gains/losses the investor need be concerned about would be those associated with the sale of shares;
Tax preparation is simplified (investor receives a 1099 instead of a K-1).
There is, however, one major disadvantage: the MLP ETF will have an extremely high expense ratio as a result of being liable for all taxes on the revenue it receives from its holdings. This ultimately means that there is less money to be distributed to the fund's shareholders.
In short, there is a price to pay for simplification.
Select C-Corporation MLP ETFs
The concept of a ETF structured as a C-corporation is fairly new. The oldest MLP ETF so structured is ALPS Portfolio Solutions Distributor, Inc.'s Alerian MLP ETF (NYSEARCA:AMLP).6 There are four other MLP ETFs I will discuss here:
Although there are over 100 MLPs in the U.S., none of the five MLPs discussed here have more than 39 holdings; three are limited to 25. From their selections, it is clear that distributions count heavily in the selection process - as they should.
None of the funds presented here have been in existence for five or more years; long-term annualized performance data is not available.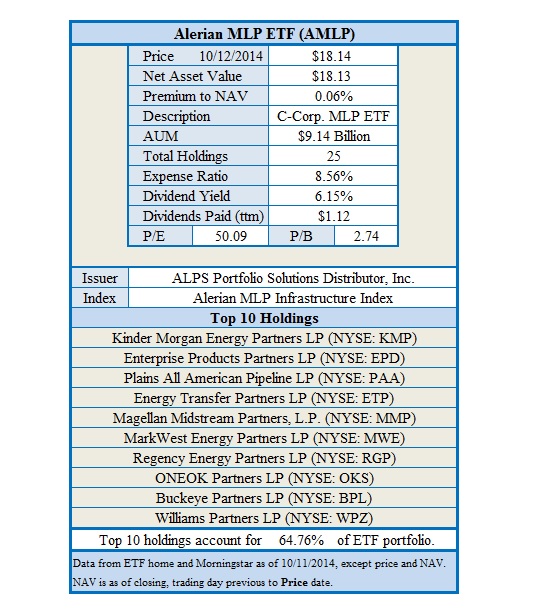 Alerian is the grand-daddy of the MLP ETFs - if one can call a four-year-old-plus fund a "grand-daddy." The focus for the fund is the mid-stream (transportation, storage, processing) subset of its index.11 The fund's holdings are fairly equally divided between core, growth and value MLPs.
Alerian is the largest of the ETFs, with over $9 billion in assets. It also sports the highest ER in the group, in return for which one receives a yield of more than 6%.
The fund has a one-year performance rate of 14.61 %; year-to-date (YTD) it is up 1.91%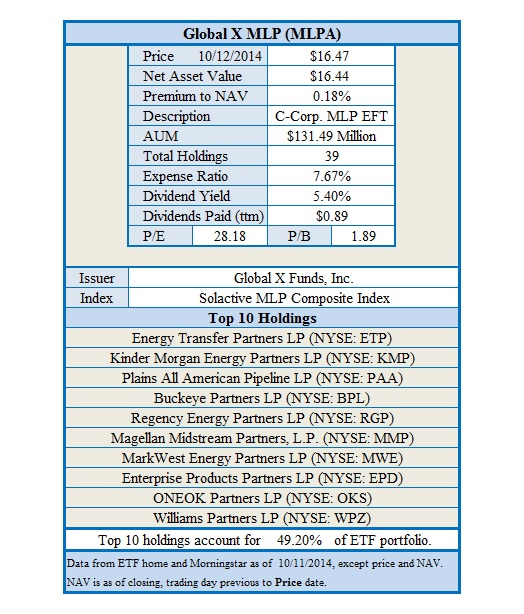 Global X has the most holdings of the group under consideration with 39 MLPs. Its holdings are from the broad range of natural-resource MLPs; it has the 25 MLPs that are contained in AMLP (in fact, its top ten are the same as AMLP's) plus 14 that round out the natural-resource industry. As with AMLP, the fund divides its holdings fairly evenly amongst the core, value and growth holdings, although it does add a few small-cap MLPs.12
Global X has a lower ER than AMLP's, but not by much; at the same time, its AUM is substantially smaller than the elder ETF's. The fund has a one-year performance of 12.62%, with 1.67% YTD. Its yield is 75 bps lower than Alerian's.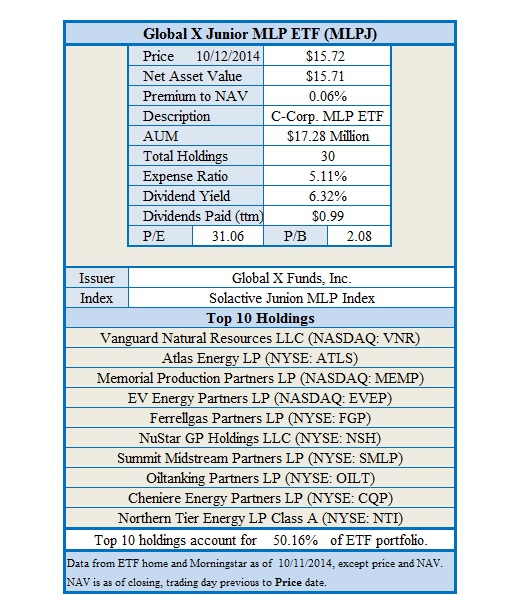 Global Jr. is structured with MLPs having a market cap between $250 million and $2.5 billion - mostly small cap with a few mid-caps. There are fewer core holdings here, with most of the MLPs being growth or value. The fund has the lowest AUM of the five listed here.
Despite the smaller (and fewer) holdings, Global Jr. provides a larger yield than its "big brother," outstripping both Global X and Alerian.
Global Jr. has seen growth on the order of 11.76% over the past year, although YTD, its performance has been in the negative, at -1.49%.
As with Alerian, Yorkville Infrastructure focuses on MLPs involved with the transportation, storage and processing of energy commodities. Its holdings differ from Alerian's in that Yorkville Infrastructure contains a mix of large- mid- and small-cap MLPs, fairly evenly pulled from growth, value and core holdings. Although its index is equal-weighted, the fund uses its own proprietary weighting system.
Although Yorkville Infrastructure is pretty much in the middle of the pack in terms of AUM, ER, and yield, it is outperforming the other members of this group 15.85% over the past year, and 2.67% YTD.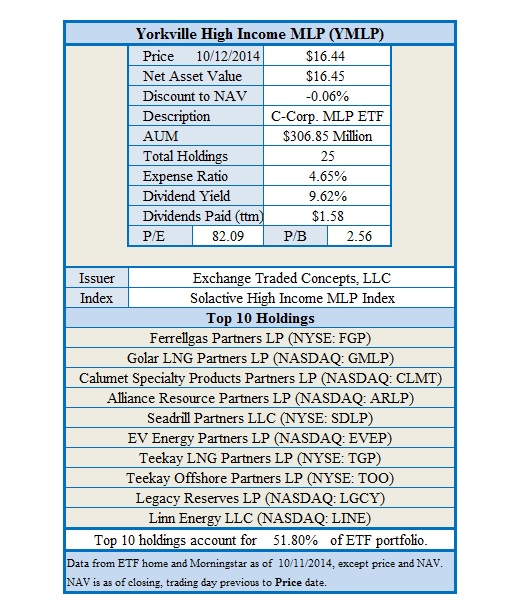 Yorkville High leads the pack in almost all categories but performance, where it lags everyone. It has the lowest ER and the highest yield; its AUM is second only to Alerian's. All but four of its holdings are small-cap, and most of them are value-oriented.
Performance-wise, its small-cap gambit may have hindered the fund, as Yorkville High has grown by only 2.04% over the past year, and has shrunk by approximately -11% YTD.
Honorable Mentions
Two MLP ETFs were initiated this year, one in January and the other in October. Neither fund has existed long enough to be able to determine their tax loads, so their expense ratios are incomplete. There is simply not enough data to give reasonable performance records (particularly for the one that started this month!).
The two funds are:
Direxion Zacks MLP High Income ETF (NYSEARCA:ZMLP), by Direxion Investments;
InfraCap Active MLP ETF (NYSEARCA:AMZA), by ETF Issuer Solutions.
InfraCap is the first actively managed MLP ETF, and was initiated this month.
Given the newness of these two funds, and particularly given the lack of functional data for them, I do not recommend that one try either fund until they are able to put together some sort of track record.
Assessment
I like all five funds presented above. They all have their particular takes on the MLP market. Clearly, Alerian is an excellent choice - it has the most experience, is focused on a solid segment of the MLPs, and has the largest AUM. There is much to like here.
Both of the Yorkville funds are interesting, YMLI for its breadth in MLP capitalizations, and YMLP for its substantial yield. YMLI may be something of a sleeper - it will be interesting to see how it fares once the current economic situation settles and oil prices stabilize.
I am currently considering each of these three funds for my ETF retirement portfolio.
However …
I do not think this is the right time to buy. To be sure, there are bargains to be had, but with the current situation in the oil market - when added to the already-volatile market in general - I think it might behoove the cautious investor to wait until the market environment settles down.
To further complicate things, Kinder Morgan Inc. (NYSE:KMI) is in the process of consolidating its holdings with the result that its MLPs are to be taken off the market. This affects three of the ETFs here: Alerian, Global X and Yorkville Infrastructure, each of which has not-inconsequential holdings in two of the affected MLPs - Kinder Morgan Energy Partners LP (NYSE:KMP) and El Paso Pipeline Partners LP (NYSE:EPB).
The consolidation is expected to occur by the end of 2014. Current unitholders in either partnership will receive shares of KMI in exchange for their units; this should leave each of the affected MLP ETFs secure in terms of value, but it remains to be seen what will be done by the funds at that point.
My advice for the time being is to wait.
Disclaimers
This article is for informational use only. It is not intended as a recommendation or inducement to purchase or sell any financial instrument issued by or pertaining to any company or fund mentioned or described herein.
All data contained herein is accurate to the best of my ability to ascertain, and is drawn from the ETFs' homepages to the extent possible. All tables, charts and graphs are produced by me using data acquired from the ETFs, ETF.com and Morningstar.com. Data from any other sources (if used) is cited as such.
All opinions contained herein are mine unless otherwise indicated. The opinions of others that may be included are identified as such and do not necessarily reflect my own views.
Before investing, readers are reminded that they are responsible for performing their own due diligence; they are also reminded that it is possible to lose part or all of their invested money. Please invest carefully.
1 I am not a tax authority. The information provided here has been culled from various sources which I believe to be reliable, but inaccuracy is always possible. The reader is advised to consult with their own tax specialist concerning the tax issues involved in owning units of an MLP or an MLP ETF.
2 "MLP Tax Issues Every Investor Must Know," Carla Pasternak, Investing Answers.
3 "A Practical Guide to the Tax Issues of Investing in Master Limited Partnerships," Cohen Fund Audit Services.
4 "Tax Issues for IRA & MLPs," Tim Plaehn, Zacks.
5 This last is the reason I no longer have any MLPs. At one time I owned four, and it was always "exciting" to wait for the K-1s. Different MLPs handle the K-1s differently, too.
6 AMLP homepage.
7 MLPA homepage.
8 MLPJ homepage.
9 YMLI homepage.
10 YMLP homepage.
11 AMLP Index.
12 All Solactive indices can be accessed here.
Disclosure: The author has no positions in any stocks mentioned, and no plans to initiate any positions within the next 72 hours.
The author wrote this article themselves, and it expresses their own opinions. The author is not receiving compensation for it (other than from Seeking Alpha). The author has no business relationship with any company whose stock is mentioned in this article.