Contrarian pair trades require patience and timing. However, sometimes Mr. Market hands you a ripe opportunity. I think the time is right to buy Expedia (NASDAQ:EXPE) and short Priceline (NASDAQ:PCLN).

Priceline has been scaling the overvalued wall of worry for a while. Expedia, on the other hand, continues to be hated by the market. Admittedly, Priceline has been growing faster and has done a better job internationally. Expedia, while still larger than Priceline, did not move aggressively enough internationally. Expedia has made some odd moves (no American Airlines?) but it has powerful brands and assets that will persevere in spite of its recent missteps. In particular, TripAdvisor is an extremely valuable asset at Expedia that is often overlooked.

However, Priceline's enterprise value of $21.5 billion makes it more than 3.6 times as valuable as Expedia at $5.9 billion. If you believe Expedia is fairly valued, you have to make some pretty amazing leaps of faith in Priceline's strategic advantages and profit margin expansion. On the other hand, if you feel Priceline is fairly valued (or, somehow, undervalued) then you should think Expedia is a screaming bargain.

Stock Performance has diverged dramatically since mid-2010: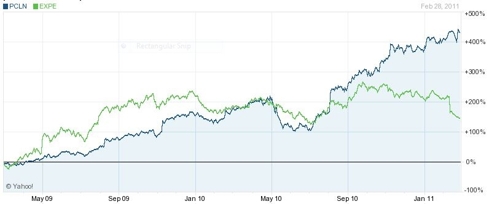 Looking at the stock chart suggests that Priceline is a rocket ship and Expedia is a falling knife. Therefore, this trade will require vigilance. Nonetheless, I think the recent market turbulence provides a great entry point.

Going forward, both companies face some challenges:
Disintermediation. The hotel chains and airlines don't like their profits going to the intermediators and are working to reduce their reliance on the biggest ones by increasing bookings on their own sites and getting better terms from competitors.

Not a natural monopoly. Online travel may become more profitable with scale but it is in no way a natural monopoly. In addition to disintermediation, hotels will continue to expand their distribution. Other competitors are trying hard to best these two leaders - including Ctrip, Orbitz, Travelocity and Yahoo Travel.

New entrants. Aggregators or meta-search sites like Kayak and Bing Travel and emerging competitors Google (NASDAQ:GOOG) and HipMunk are gaining market share and mindshare.

Energy shock. Rising oil prices crimps travel more than almost any other industry. If Peak Oil is imminent, the travel industry will get crushed.

Unrest and Protest. Unrest can be quite unsettling for travelers. Revolutions in the Middle East. Drug killings in Mexico. Riots in Greece and soon the other PIIGS. Saber rattling on the Korean Peninsula. While there is always something going on, it feels more unstable these days!

Frugality and Austerity. Saving money is a theme during these deleveraging times - travel is often the first thing to go. Emerging market growth will need to make up for a maturing developed world.
The upshot is that revenue seems to be coming in light for many companies in this space. Then again, it seems every few months analysts see headwinds for the industry and slowing growth!

Luckily for all the competitors in this space, the internet is a fabulous tool for trip planning and there is still headroom for growth internationally. The international opportunity is actually better as these companies can get better terms with a more fragmented hotel industry. Ironically, part of the reason Expedia's stock took a hit last month was because the company said it planned larger international investments.

For quick valuation analysis, Trefis is a cool new service that I've been toying with. According to Trefis, Priceline is considered fairly valued and Expedia is considered extremely undervalued. I agree with Trefis that Expedia is undervalued. I believe that Priceline's valuation is currently stretched and its high growth is baked into the price. Something to watch is the fact that Priceline's NOL carryforwards are nearing the end of their accounting and cash benefits. Priceline is currently priced to capture well more than 50% of the online travel market valuation which seems unlikely given the growing competition.

Shorting Priceline alone should make money but combined with going long Expedia - it could be a very profitable trade.