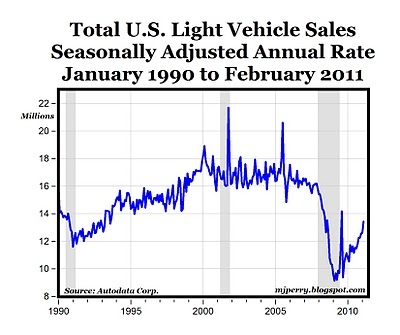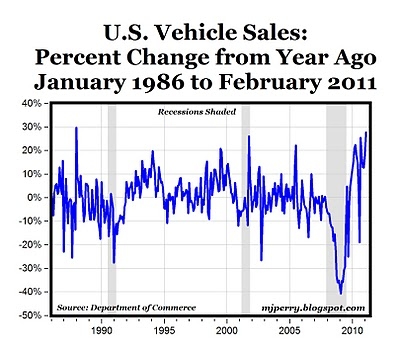 Led by huge year-over-year sales gains from GM (NYSE:GM) (+46.4%) and Toyota (NYSE:TM) (+41.8%), U.S. auto sales increased in February by 27.3% compared to the same month last year, which is the highest annual gain in 23 years for auto sales, since a 29.7% increase in January 1988 (see bottom chart). Except for the artificial increase in August 2009 due to "cash for clunkers," the 13.44 million units sold last month (at a seasonally adjusted annual rate) was the best month for car sales since August 2008, two and-a-half years ago (see top chart).
Truck sales were also strong in February, with a 49% market share and a 31.7% increase over the year-ago level. This is especially noteworthy because according to AutoNation (NYSE:AN) Chairman and CEO Mike Jackson:
Pickup trucks are bought by small business entrepreneurs who have their finger on the pulse of the U.S. economy. It's an expression of confidence in the future of the economy. They don't buy until they see the prospects for business are brighter. This is small business America saying that the worst is over, I see opportunities in the future, I feel confident enough to go out and buy a new truck.
More evidence that the economic recovery is real, "has legs" (see Scott Grannis), and is being led by the manufacturing sector (see ISM report), the "shining star" of the U.S. recovery.