Background
Copper is usually found in nature in association with sulfur. Pure copper metal is generally produced from a multistage process, beginning with the mining and concentrating of low-grade ores containing copper sulfide minerals, and followed by smelting and electrolytic refining to produce a pure copper cathode. An increasing share of copper is produced from acid leaching of oxidized ores.
Because of its properties, singularly or in combination, of high ductility, malleability, and thermal and electrical conductivity coupled with its resistance to corrosion, copper has become a major industrial metal. It ranks third after iron and aluminum in terms of quantities consumed. Electrical uses of copper account for approximately three quarters of its total use. Included uses are power transmission and generation, building wiring, telecommunication, and electrical and electronic products. Building construction is the single largest market, followed by electronics and electronic products, transportation, industrial machinery, and consumer and general products. Copper byproducts are readily recycled and contribute significantly to copper supply.
Global Copper Production/Consumption
A new report released on Friday (2/11/2011) by the Global Industry Analysts states:
The global market for copper is forecast to reach 24.82 million metric tons by the year 2015, driven by increasing demand from existing and niche market applications such as building and construction, electrical and electronic equipment, consumer products, and telecommunications. Future growth in world copper consumption is expected to stem from the possible expansion of copper applications in electric/battery-powered cars, copper cables for digital transmission and renewable sources of energy. Additionally, rising demand for copper from emerging countries of Asia-Pacific, specifically China and India are expected to sustain market momentum on high gear.
Recent analysis from metal miner.com asks the all important question and sums it up pretty well:
In spite of some concerns that Beijing is trying to cool a potentially overheating economy, the commodities super cycle story, driven by Chinese demand, is still going full steam ahead. We're not about to be provocatively contrary to that view, but we have our concerns that all of the presumed drivers may not be quite as full on as headline reports would have us believe, and for that reason we would call into question how much further copper has to go.
Current Drivers
Recent stats from the International Copper Study Group (ICSG) show that while a slight surplus of 200,000 metric tonnes for 2010 will match the expected growth rate, the copper market for 2011 is expected to show a deficit of about 400,000t. This is primarily due to increased economic activity, which is expected to boost demand quicker than expected growth in refined production. All eyes remain on China at the moment which accounts for more than 30% of global refined copper consumption. As inflation becomes an ongoing fight, expectations are for China to do battle by decreasing infrastructure spending, which ultimately has an effect on the dominant impact of the actual growth rate of copper semi-manufactures for China, or further accumulation of inventories in China.
Global refined usage in 2010 was set to increase by about 3.8% and this was attributed to an increase by China and the European Union. The expected 2011 growth rate for China (semi-manufacture production) is expected to grow by about 6%, with global demand rising by 4.49%
Reports from mining companies operating in Chile (the largest producer) said production will be in short supply for at least the next five years -- with as much as a 10% drop in production in 2011 (due to lower ore grades).
Adding to the potential for an up tick in supply and demand pressures are reports by the ICSG from Japan where copper producers have said "the shortage of copper to process has pushed processing fees to the lowest level in almost 40 years" and from China, "treatment and refining charges have dropped to a level that doesn't cover the costs of smelting in China."
Copper Production in the United States
The principal mining states are Arizona, Utah, New Mexico, Nevada, and Montana, and combined they account for more than 99% of US domestic copper production.
According to the Copper Development Association, a breakdown of copper and copper alloy products shows its 2009 usage as follows: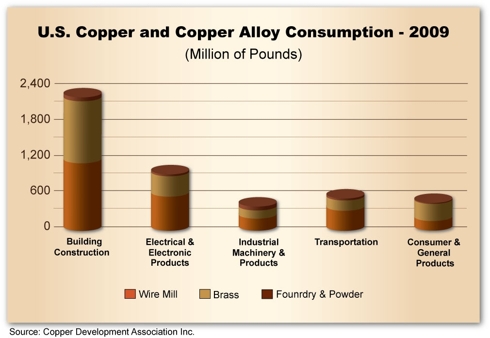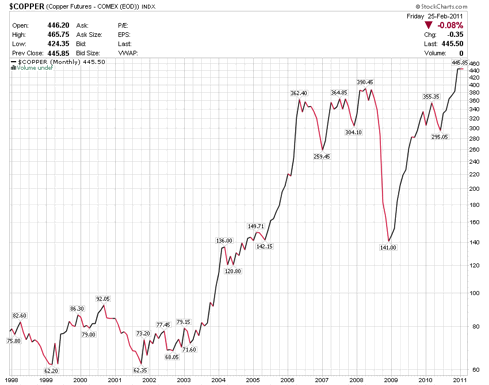 Copper bottomed in December 2008, three months prior to the DJIA and the S&P 500 which bottomed in March 2009.
Copper remains a leading economic indicator - a rise in price signals an economic expansion, while lower prices precede a slowdown. Historically, base metal prices begin to move before data signals weakness or strength within the global economies, since base metals are used in construction for infrastructure, electronics and other growth sectors.
Inflation Pressure
A moderate growth rate contributes to a sustainable economic expansion. The parabolic like rise in copper prices off of the March 2010 lows continue to support a economic recovery, but inflation has begun to surface as the supply and demand outlook for 2011 and beyond remains strong.
Inflation, when passed down through the supply chain, eventually reaches the end user (the consumer), hindering rather than helping the recovery. So, the question becomes, how much can the economy absorb and how long will that take to "trickle" down to an abrupt stop?
Supply Chain
The table below shows a cross section of the copper supply chain. Across the board, the 1 year return figures have outperformed the market by a wide margin.
Technically, it appears that copper has completed a small corrective phase off of the recent highs above 460. Falling neatly into the support zone at 422-440, prices retook and held the 20 MA level at 444. This bodes well with the overall picture of the larger rally picking up again. Expectations allow for the continued backing and filling until a more solid break above 460 occurs. Once accomplished, look for another round of upside acceleration with stronger resistance not expected until the 520 area.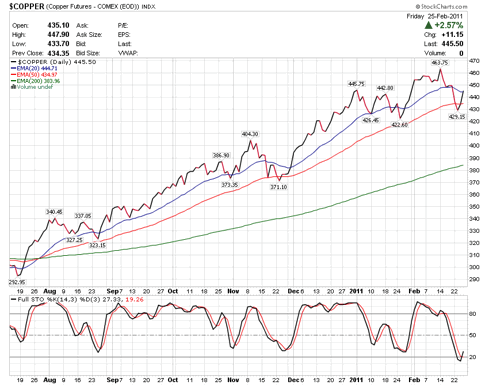 This would suggest that the economy also remains on track to continue the recovery, albeit sluggishly at best.
It has long been my view that the current bull market in stocks will eventually produce new all time highs for the DJIA, S&P 500 and NASDAQ indices. What makes it very different from bull markets in the past is that the markets will churn higher on negative numbers and input.
Disclosure: I have no positions in any stocks mentioned, and no plans to initiate any positions within the next 72 hours.